Las Vegas Strip Map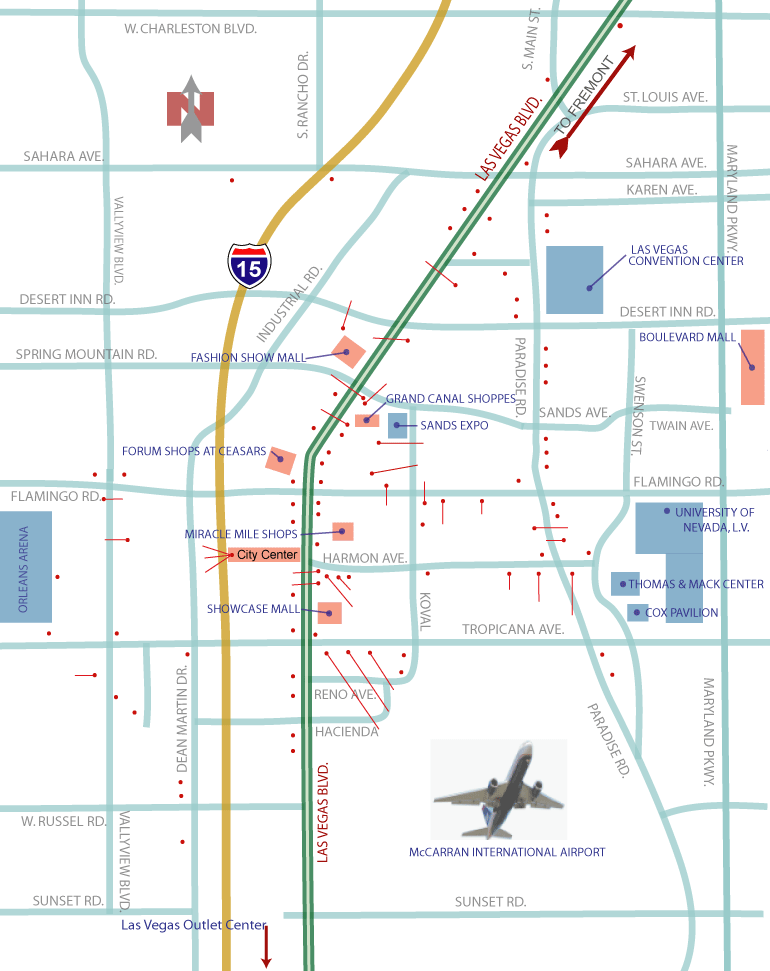 Get Started with

"Nightlife"

Click the links in the left column or on

the map to find Las Vegas bars & clubs

on the

Las Vegas Strip.

Or rollover this icon

Aria
Alexis
Ambassador
America's Best Value
Artisan
Aruba Hotel & Spa
Atrium
Ambassador Strip Travelodge
Bally's
Bellagio
Best Western Mardi Gras
Best Western McCarran
Bill's Gamblin
Caesars Palace
Cancun Resort
Candlewood Suites
Carriage House
Casino Royal
Circus Circus
Clarion
Comfort Inn
Courtyard
Courtyard
Embassy
Suites
Embassy
Emerald
Suites
Emerald Suites
Tropicana
Encore at Wynn
Excalibur
Extended Stay
Deluxe
Fairfield Inn
Fairfield
Flamingo
Four Seasons
Gold Coast
Hampton Inn
Hard Rock
Harrah's
Desert Rose
Hilton Grand Vac.
Hilton Grand Vac.
Hilton Grand Vac.
Holiday Inn
Hooters Casino & Hotel
Howard Johnson
Hyatt Place
Imperial Palace
Jockey Club
La Quinta
La Quinta
Las Vegas Hilton
Luxor
Mandalay Bay
Mandarin
MGM Grand
Marriot Suites
Marriot Grand
Mirage
Monte Carlo
New York
New York
Orleans
The Palms
Palace Station
Palazzo
Paris
Planet Hollywood
Platinum
Polo Towers
Renaissance
Residence Inn
Residence Inn
Residence Inn
Rio
Riviera
Royal Vacations Suites
Sahara
Signature
Stratosphere
St Tropez
Summer Bay
Super 8
Terrible's
Travelodge
Treasure Island
Tropicana
Trump
Tuscany
Vdara
Venetian
Villa Roma
Westin
Wild Wild West
Wyndham
Wynn Las Vegas

Night Clubs
Ghostbar
at The Palms Hotel
4321 W Flamingo Rd
Las Vegas, NV 89103
Ghostbar is a sophisticated and sultry indoor lounge with an outdoor sky deck. The atmosphere is sleek and chic with fresh colors of silver, white, greens and grays.
The décor is contemporary modern ultra lounge. The floor to ceiling windows provide for a dramatic view of the outdoors.
Ghostbar Lounge website

Ghostbar Nightclub

The bar is accentuated with an incandescent cast by backlit panels. An illuminated 30 foot ghost shaped soffit in the ceiling changes colors which adds a mystical touch.

Intimate seating arrangements offer conversational areas, while an exciting DJ eclectic music mix plays. A VIP Lounge is available.

Step out onto the sky deck. Since Ghostbar is located on the 55th floor, you'll experience a panoramic view of Las Vegas skyline and city below. A transparent floor section allows guests to look down to the pool area below.

Proper attire from business casual to dressy nightlife is required.