Las Vegas Strip Map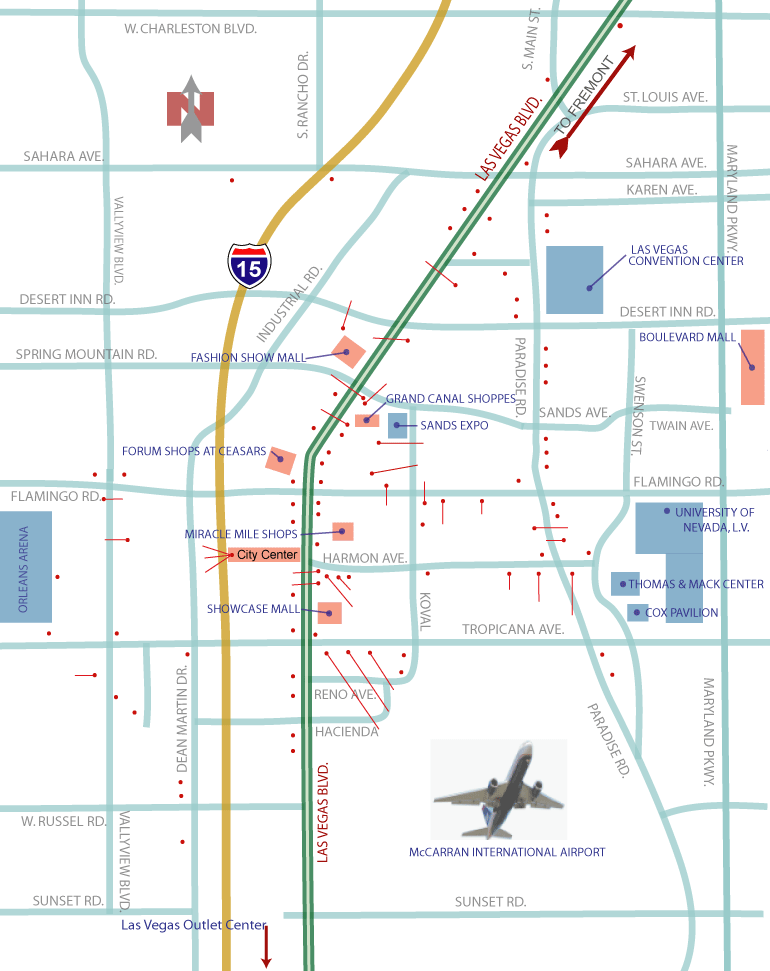 Get Started with

"Nightlife"

Click the links in the left column or on

the map to find Las Vegas bars & clubs

on the

Las Vegas Strip.

Or rollover this icon

Aria
Alexis
Ambassador
America's Best Value
Artisan
Aruba Hotel & Spa
Atrium
Ambassador Strip Travelodge
Bally's
Bellagio
Best Western Mardi Gras
Best Western McCarran
Bill's Gamblin
Caesars Palace
Cancun Resort
Candlewood Suites
Carriage House
Casino Royal
Circus Circus
Clarion
Comfort Inn
Courtyard
Courtyard
Embassy
Suites
Embassy
Emerald
Suites
Emerald Suites
Tropicana
Encore at Wynn
Excalibur
Extended Stay
Deluxe
Fairfield Inn
Fairfield
Flamingo
Four Seasons
Gold Coast
Hampton Inn
Hard Rock
Harrah's
Desert Rose
Hilton Grand Vac.
Hilton Grand Vac.
Hilton Grand Vac.
Holiday Inn
Hooters Casino & Hotel
Howard Johnson
Hyatt Place
Imperial Palace
Jockey Club
La Quinta
La Quinta
Las Vegas Hilton
Luxor
Mandalay Bay
Mandarin
MGM Grand
Marriot Suites
Marriot Grand
Mirage
Monte Carlo
New York
New York
Orleans
The Palms
Palace Station
Palazzo
Paris
Planet Hollywood
Platinum
Polo Towers
Renaissance
Residence Inn
Residence Inn
Residence Inn
Rio
Riviera
Royal Vacations Suites
Sahara
Signature
Stratosphere
St Tropez
Summer Bay
Super 8
Terrible's
Travelodge
Treasure Island
Tropicana
Trump
Tuscany
Vdara
Venetian
Villa Roma
Westin
Wild Wild West
Wyndham
Wynn Las Vegas

Night Clubs
Christian Audigier
at Treasure Island
3300 S. Las Vegas Blvd
Las Vegas, NV 89109
A hip nightspot on the Las Vegas Strip, its décor is a blend of inspirations by tattoo artist Ed Hardy and SMET fashions. Christian Audigier's fashion sense is apparent within this boutique nightclub. An outdoor expansive patio provides a nice view of the Strip. While indoors, guests can enjoy a mix of DJ music, rock-n-roll glam,
intimate dance floor and hot fashions.
Christian Audigier website

Christian Audigier Nightclub

Accents of Audigier's works are evident throughout the club, including customized staff uniforms. The club's décor is dangerously sexy using sequins, crystal, jeweled-eyed skulls, faux black leather, and roses. Colorful vibrant red accessories and large photo depictions of tattooed body parts complete the scene.

Enjoy luxurious bottle and VIP table service, world-class audio and lighting system, and DJ music. Dance the night away or try your talents on one of the requisite stripper poles. Live jellyfish tanks craft a signature style.

Step outdoors onto the patio to get a front row view of the exciting Las Vegas Strip, and the pirate side of the Sirens of TI Show. An outdoor live DJ ensures guests are well entertained while enjoying the fabulous views.

A place where fashion, nightlife and inked skin blend together in a sea of glam.