Las Vegas Strip Map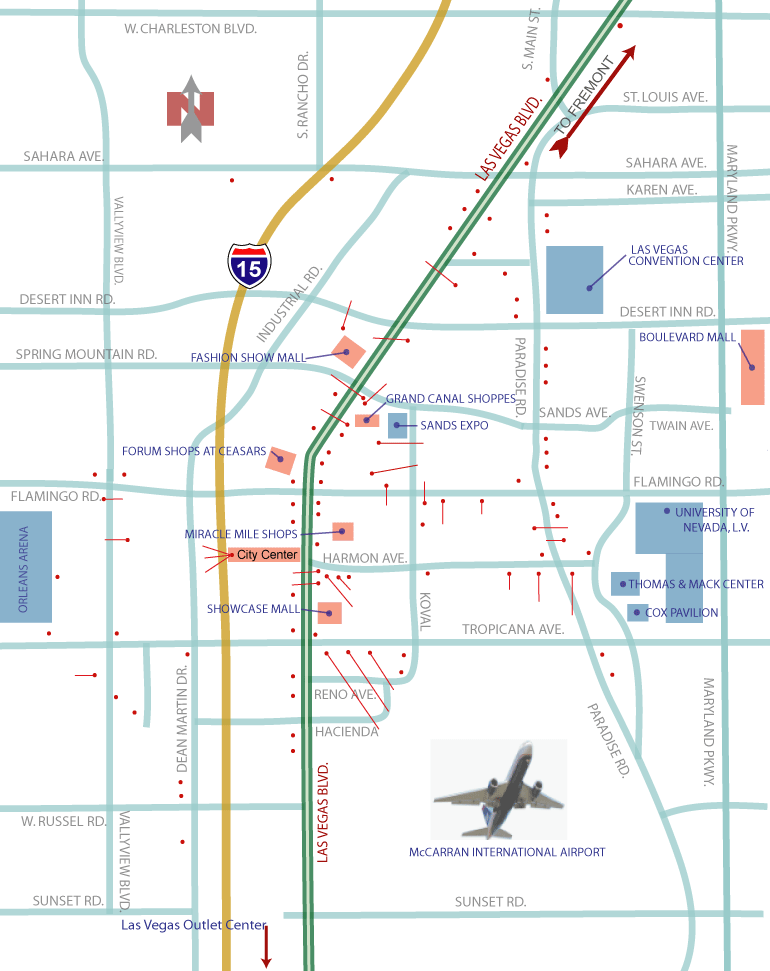 Get Started with

"Nightlife"

Click the links in the left column or on

the map to find Las Vegas bars & clubs

on the

Las Vegas Strip.

Or rollover this icon

Aria
Alexis
Ambassador
America's Best Value
Artisan
Aruba Hotel & Spa
Atrium
Ambassador Strip Travelodge
Bally's
Bellagio
Best Western Mardi Gras
Best Western McCarran
Bill's Gamblin
Caesars Palace
Cancun Resort
Candlewood Suites
Carriage House
Casino Royal
Circus Circus
Clarion
Comfort Inn
Courtyard
Courtyard
Embassy
Suites
Embassy
Emerald
Suites
Emerald Suites
Tropicana
Encore at Wynn
Excalibur
Extended Stay
Deluxe
Fairfield Inn
Fairfield
Flamingo
Four Seasons
Gold Coast
Hampton Inn
Hard Rock
Harrah's
Desert Rose
Hilton Grand Vac.
Hilton Grand Vac.
Hilton Grand Vac.
Holiday Inn
Hooters Casino & Hotel
Howard Johnson
Hyatt Place
Imperial Palace
Jockey Club
La Quinta
La Quinta
Las Vegas Hilton
Luxor
Mandalay Bay
Mandarin
MGM Grand
Marriot Suites
Marriot Grand
Mirage
Monte Carlo
New York
New York
Orleans
The Palms
Palace Station
Palazzo
Paris
Planet Hollywood
Platinum
Polo Towers
Renaissance
Residence Inn
Residence Inn
Residence Inn
Rio
Riviera
Royal Vacations Suites
Sahara
Signature
Stratosphere
St Tropez
Summer Bay
Super 8
Terrible's
Travelodge
Treasure Island
Tropicana
Trump
Tuscany
Vdara
Venetian
Villa Roma
Westin
Wild Wild West
Wyndham
Wynn Las Vegas

Night Clubs
MANDALAY BAY Las Vegas
3950 Las Vegas Blvd S
Las Vegas, NV 89119
Eyecandy Sound Lounge
DJ music (Wide Variety), high tech cocktail lounge, guests may control audio and visual displays on screens above the dance floor (interactive touch screens on guest tables), virtual projections, dance floor and master mixologist.
Eyecandy Sound Lounge
Fleur de Lys
Lounge Restaurant and cozy lounge, DJ music
(sexy, soulful)
Fleur de Lys
House of Blues
House of Blues delivers legendary live entertainment. The concert hall pumps out a staggering range of music from rock, rap, jazz, reggae, blue and more. Each concert offers an exhilarating combination of talent, light and sound to create an unforgettable experience.
House of Blues
Mix Lounge
Mix Lounge has a romantic attitude. Located on the 64th floor of Mandalay Bay it offers breathtaking views of the Las Vegas Strip. Take one of the panoramic
elevators up to Mix Lounge.
Mix Lounge
Rum Jungle
Rum Jungle is a 20,000 foot spectacle for the senses. It is a three-tiered restaurant and nightclub with rhythmic fire and melodic waterfalls. Explore the Tarzan and Jane safari side of life. It's sexy, energetic and animalistic.
Rum Jungle
The Lounge Cocktail Lounge
and billiards room.
The Lounge Cocktail Lounge
Other: Bamboo, Bar Mizuya Sushi Bar & Lounge, Orchid Lounge (coffee & pastries offered)
Other Lounges

House of Blues

Famous headliner performers go live on-stage. House of Blues offers the excitement of a concert hall and elements of a nightclub.

They have theatre style seating, center dance floor area and VIP table bottle service. House of Blues has a capacity of about 1,800 people.

It's live and exciting. The lineup changes. Check the event calendar at Mandalay Bay for a list of upcoming entertainment.
Eyecandy Lounge

Eyecandy Lounge is chic and revolutionary. Step off the casino floor and into this ultra tech lounge with DJ music.

They feature high technology that redefines Las Vegas nightlife. The interactive sensory environment is exclusively unique. Vibrant colors and projected images create an exciting vibe.

Interactive touch tables allow guests to be in control of their visual and audio experience. Guests can create messages and visuals that project images onto a screen above the dance floor.

A fiber optic lit bar presents a shimmering effect, as their master mixologist prepares a tasteful concoction.

Conveniently located in the center of Mandalay Bay's casino floor.
Mix Lounge

Mix is a stylish, fashionable hotspot. This hip astral lounge offers an innovative bar menu, seductive blend of DJ music and an assortment of cocktail concoctions.

The décor is highlighted with black leather and red lighting. Comfortable barstool seating wraps around a curvy bar, enhanced by an elaborate art creation above it.

The unique light fixture rises up from the floor like a bouquet of coral or a vision of volcanic energy. It was installed by helicopter through a specifically made hole in the roof of the tower. It is an amazing piece of art and engineering.

Separate indoor ottoman and table seating offers an incredible view of the Las Vegas skyline. Floor to ceiling windows ensure guests don't miss the fabulous glittering view.

The outside terrace boasts a spectacular panoramic view of Las Vegas. There is bottle service offered at this outdoor lounge. Separate VIP lofts are located upstairs.

It is a wonderful place to kickback, unwind, and enjoy the view. Attire is casual elegant.

Mix Lounge is conveniently adjacent to the French-American style Mix restaurant.
Rum Jungle Nightclub

Live Go Go dancers shake and gyrate in cages as giant Conga drums rise from the floor. The percussionists beat the drums in time to the DJ music. The tropical fantasy begins.

There's lots of rum. Rum Jungle features purportedly the largest and best rum bar in the world. It measures 144 feet long and 19 feet high.

By day, Rum Jungle is an exciting restaurant. It is the place where succulent cuisine is cooked over open fire pits. Enjoy plenty of skewered meat with exotic, enticing spices and rubs.

At night, it is transformed into a wild jungle atmosphere of music, dance and lighting with aerialist flying overhead.

The décor is alive with giraffe print, snake-skin booths, and lush foliage.

Leave the loin cloth behind. Attire is fashionable and upscale nightlife.