Las Vegas Strip Map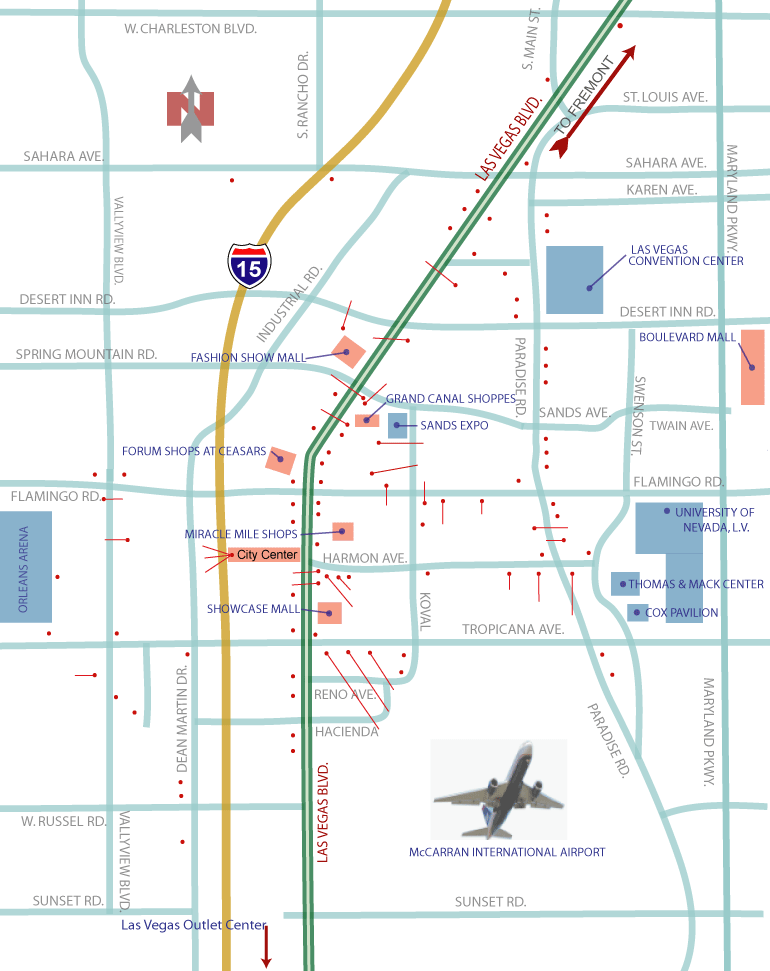 Get Started with

"Nightlife"

Click the links in the left column or on

the map to find Las Vegas bars & clubs

on the

Las Vegas Strip.

Or rollover this icon

Aria
Alexis
Ambassador
America's Best Value
Artisan
Aruba Hotel & Spa
Atrium
Ambassador Strip Travelodge
Bally's
Bellagio
Best Western Mardi Gras
Best Western McCarran
Bill's Gamblin
Caesars Palace
Cancun Resort
Candlewood Suites
Carriage House
Casino Royal
Circus Circus
Clarion
Comfort Inn
Courtyard
Courtyard
Embassy
Suites
Embassy
Emerald
Suites
Emerald Suites
Tropicana
Encore at Wynn
Excalibur
Extended Stay
Deluxe
Fairfield Inn
Fairfield
Flamingo
Four Seasons
Gold Coast
Hampton Inn
Hard Rock
Harrah's
Desert Rose
Hilton Grand Vac.
Hilton Grand Vac.
Hilton Grand Vac.
Holiday Inn
Hooters Casino & Hotel
Howard Johnson
Hyatt Place
Imperial Palace
Jockey Club
La Quinta
La Quinta
Las Vegas Hilton
Luxor
Mandalay Bay
Mandarin
MGM Grand
Marriot Suites
Marriot Grand
Mirage
Monte Carlo
New York
New York
Orleans
The Palms
Palace Station
Palazzo
Paris
Planet Hollywood
Platinum
Polo Towers
Renaissance
Residence Inn
Residence Inn
Residence Inn
Rio
Riviera
Royal Vacations Suites
Sahara
Signature
Stratosphere
St Tropez
Summer Bay
Super 8
Terrible's
Travelodge
Treasure Island
Tropicana
Trump
Tuscany
Vdara
Venetian
Villa Roma
Westin
Wild Wild West
Wyndham
Wynn Las Vegas

Night Clubs
IMPERIAL PLACE Las Vegas
3535 Las Vegas Blvd S
Las Vegas, NV 89109
Karaoke Club
DJ Host, choose from 15,000 songs, memorialize your performance on a DVD.
Karaoke Club
Nomiya Lounge
Cocktail lounge with a relaxing setting.
Nomiya Lounge
Rockhouse
Rockhouse combines the elements of an extraordinary local dive bar with the glamour of the Las Vegas party scene. It's laid back and playful.
The Rockhouse Bar
Other Casino Bars:
Geisha Bar, Ginza Bar, Mai Tai Lounge, Sake Bar, Shangri-la Poolside Bar, Sports Bar (race & sports book), Daiquiri Bar (sidewalk bar)
Other Casino Bars:

Rockhouse Bar and Nightclub

DJ music blends of rock and hip hop get the party in gear. Beautiful bartenders keep the drinks flowing.

Party goers dance and view playful fun going on in the giant bird cage. Some dangling from tire swings suspended from the ceiling adds to its decor.

It's edgy and rock and roll inspired without airs. The main bar and walk-up daiquiri bar, featuring two-for-one specials, ensure a drink and a break in local style.

Drink from an 80 ounce guitar cup and take it home. Plasma televisions provide a venue for sports enthusiasts to sit back and enjoy the game.

Rockhouse is where the guests bring the party to life. It's a fun rock'in spot.

Attire is casual fun.