Las Vegas Strip Map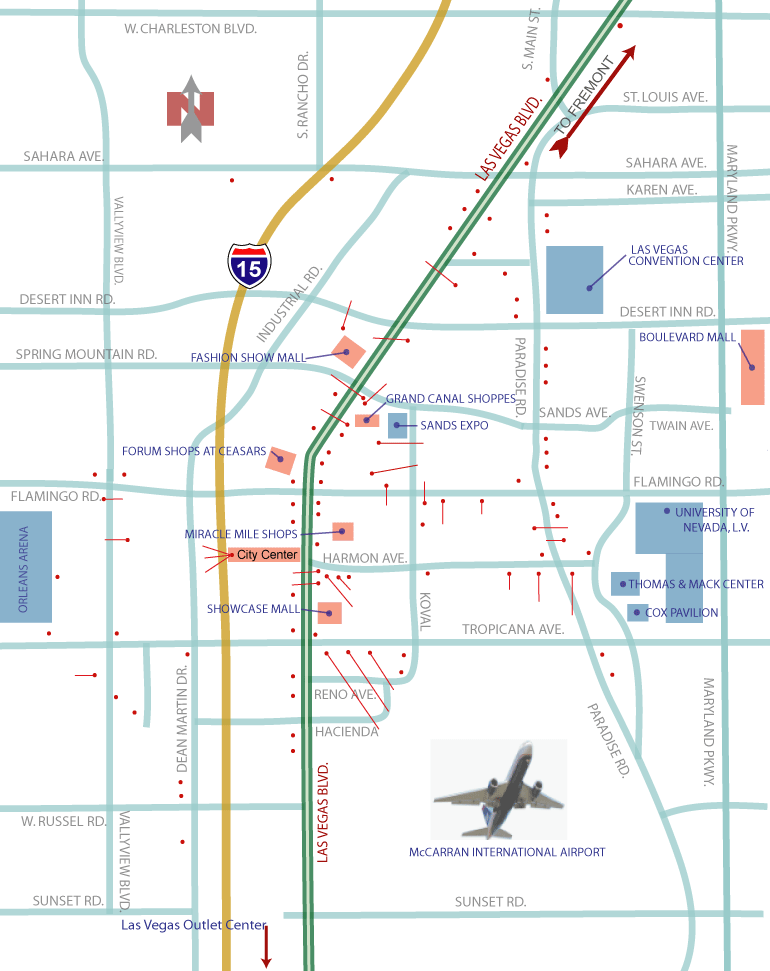 Get Started with

"Nightlife"

Click the links in the left column or on

the map to find Las Vegas bars & clubs

on the

Las Vegas Strip.

Or rollover this icon

Aria
Alexis
Ambassador
America's Best Value
Artisan
Aruba Hotel & Spa
Atrium
Ambassador Strip Travelodge
Bally's
Bellagio
Best Western Mardi Gras
Best Western McCarran
Bill's Gamblin
Caesars Palace
Cancun Resort
Candlewood Suites
Carriage House
Casino Royal
Circus Circus
Clarion
Comfort Inn
Courtyard
Courtyard
Embassy
Suites
Embassy
Emerald
Suites
Emerald Suites
Tropicana
Encore at Wynn
Excalibur
Extended Stay
Deluxe
Fairfield Inn
Fairfield
Flamingo
Four Seasons
Gold Coast
Hampton Inn
Hard Rock
Harrah's
Desert Rose
Hilton Grand Vac.
Hilton Grand Vac.
Hilton Grand Vac.
Holiday Inn
Hooters Casino & Hotel
Howard Johnson
Hyatt Place
Imperial Palace
Jockey Club
La Quinta
La Quinta
Las Vegas Hilton
Luxor
Mandalay Bay
Mandarin
MGM Grand
Marriot Suites
Marriot Grand
Mirage
Monte Carlo
New York
New York
Orleans
The Palms
Palace Station
Palazzo
Paris
Planet Hollywood
Platinum
Polo Towers
Renaissance
Residence Inn
Residence Inn
Residence Inn
Rio
Riviera
Royal Vacations Suites
Sahara
Signature
Stratosphere
St Tropez
Summer Bay
Super 8
Terrible's
Travelodge
Treasure Island
Tropicana
Trump
Tuscany
Vdara
Venetian
Villa Roma
Westin
Wild Wild West
Wyndham
Wynn Las Vegas

Night Clubs
MGM Grand Las Vegas
3799 Las Vegas Blvd S
Las Vegas, NV 89109
Centrifuge
Metropolitan vibe, progressive beats, signature fruit-infused cocktails and professional dance performers.
Centrifuge
Rouge Bar
Signature flavored ice cubes for maximum potency, model servers clad in Tadashi Shoji fashions. Hip urban lounge music and classic cocktails served in a relaxing atmosphere.
Rouge Bar
♠

Studio 54

Studio 54 is an wilder and updated version of the nostalgic original nightclub of the 70s.

It is a modern interpretation of the original that now features state-of-the-art sound, lighting and video. The 22,000 square foot nightclub offers four dance floors and bars. There is a second floor area for exclusive invited guests. Bottle service is available

Studio 54
♠

Tabu Ultra Lounge

Tabu is a classy, intimate sophisticated lounge with a sexy twist and upscale nightcaps. The club features beautiful model servers.

Tabu Ultra Lounge
Vida!
Mexican restaurant daily, but a dance party Friday and Saturday nights. High energy Latin flavored DJ music. Specialty concoctions and signature Margaritas.
Vida!
West Wing Bar
Casual cocktail lounge with urban
lounge music.
West Wing Bar
Zuri Martini Bar
Features with infused vodkas, specialty beers and vintage champagnes. Cigar selections available in their humidor.
Zuri Martini bar

Studio 54 Nightclub

Live Go Go dancers, high energy DJ music, confetti canon and balloon drops, and aerialists add to the updated wilder version theme.

Ball lighting adds ambiance and sexy comfortable club chairs allow guests a welcome relief to relax into. The black and white original Studio 54 pictures add to the décor's appeal that is
reminiscent of the era.

While Studio 54 was considered wildly exclusive in its time, the new version would undoubtedly make the 70s club blush.

The spirit of the old club and its history remains, with opportunities for party goers to reinvent it.

Fashionable club wear is required.
Tabu Ultra Lounge

Gaze at the interactive projections of sensual images on the walls, bars and tables throughout the lounge.

DJ music features top 40 and classic lounge style rhythm. Tabu has a cool and casual vibe that is scaled to be intimate without feeling cramped.

The dance floor is small so finding creative places to dance is encouraged. Jump on a table and get your groove on. It's how its done at Tabu.

VIP seating and bottle service is available.

Fashionable club wear is required.