Las Vegas Strip Map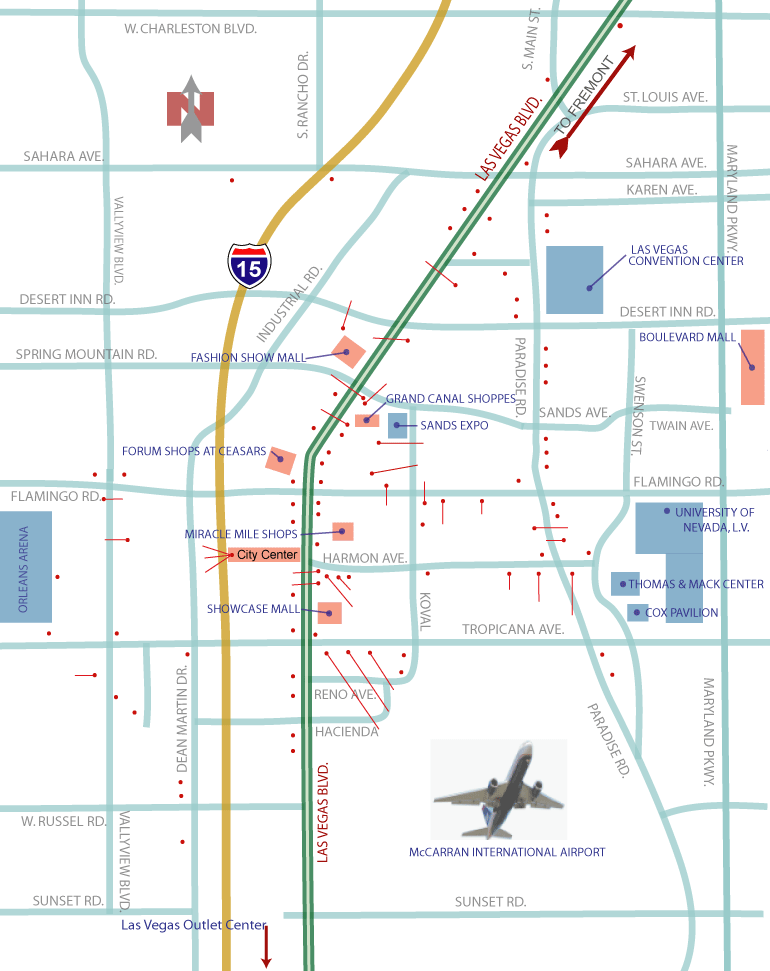 Get Started with

"Nightlife"

Click the links in the left column or on

the map to find Las Vegas bars & clubs

on the

Las Vegas Strip.

Or rollover this icon

Aria
Alexis
Ambassador
America's Best Value
Artisan
Aruba Hotel & Spa
Atrium
Ambassador Strip Travelodge
Bally's
Bellagio
Best Western Mardi Gras
Best Western McCarran
Bill's Gamblin
Caesars Palace
Cancun Resort
Candlewood Suites
Carriage House
Casino Royal
Circus Circus
Clarion
Comfort Inn
Courtyard
Courtyard
Embassy
Suites
Embassy
Emerald
Suites
Emerald Suites
Tropicana
Encore at Wynn
Excalibur
Extended Stay
Deluxe
Fairfield Inn
Fairfield
Flamingo
Four Seasons
Gold Coast
Hampton Inn
Hard Rock
Harrah's
Desert Rose
Hilton Grand Vac.
Hilton Grand Vac.
Hilton Grand Vac.
Holiday Inn
Hooters Casino & Hotel
Howard Johnson
Hyatt Place
Imperial Palace
Jockey Club
La Quinta
La Quinta
Las Vegas Hilton
Luxor
Mandalay Bay
Mandarin
MGM Grand
Marriot Suites
Marriot Grand
Mirage
Monte Carlo
New York
New York
Orleans
The Palms
Palace Station
Palazzo
Paris
Planet Hollywood
Platinum
Polo Towers
Renaissance
Residence Inn
Residence Inn
Residence Inn
Rio
Riviera
Royal Vacations Suites
Sahara
Signature
Stratosphere
St Tropez
Summer Bay
Super 8
Terrible's
Travelodge
Treasure Island
Tropicana
Trump
Tuscany
Vdara
Venetian
Villa Roma
Westin
Wild Wild West
Wyndham
Wynn Las Vegas

Night Clubs
PALMS Las Vegas
4321 W Flamingo Rd
Las Vegas, NV 89103
♠

Ghostbar Lounge

Ghostbar is a sophisticated and sultry indoor lounge with an outdoor sky deck. The atmosphere is sleek and chic with fresh colors of silver, white, greens and grays.

The décor is contemporary modern ultra lounge. The floor to ceiling windows provide for a dramatic

view of the outdoors.

Ghostbar Lounge
♠

Playboy Club

The Playboy Club combines high stakes gaming and nightlife to create a unique Las Vegas experience.

It is located on the 52nd floor of the Fantasy Tower of the Palms. The club features floor to ceiling windows that offer an expansive view of the Las Vegas area.

Playboy Club
Moon
Moon Nightclub transports guests to a futuristic mood of a new dimension. The dramatic surreal environment is located on the top floor of the Palms Fantasy Tower. The exclusive penthouse is high above the Las Vegas Strip rising up over 50 floors.
Moon
♠

Rain

Rain is a 25,000 square foot multi-level contemporary nightclub and concert venue. It begins at the casino level of the Palms. There are performances held by international headliners in this electrifying dance club, along with

resident DJ music.

Rain
The Lounge
Live music, comedy & sexy fashion shows in an intimate cabaret venue.
The Lounge

Ghostbar Nightclub

The bar is accentuated with an incandescent cast by backlit panels. An illuminated 30 foot ghost shaped soffit in the ceiling changes colors which adds a mystical touch.

Intimate seating arrangements offer conversational areas, while an exciting DJ eclectic music mix plays. A VIP Lounge is available.

Step out onto the sky deck. Since Ghostbar is located on the 55th floor, you'll experience a panoramic view of Las Vegas skyline and city below. A transparent floor section allows guests to look down to the pool area below.

Proper attire from business casual to dressy nightlife is required.
Playboy Club

The décor is sophisticated with rich, dark colors, crystal chandeliers and plush sofas. The trademark Playboy Bunny logo is displayed throughout the club's interior. The massive neon bunny head is prominently featured on the side of the building.

Bunny costumed servers mingle throughout the club. Plasma screens display visual images of Playboy magazine highlights.

Blackjack and roulette tables are the featured games at the Playboy club, with Playboy bunny female dealers. You'll enjoy an assortment of beautiful cottontails and cuffs here.

DJ music plays softly so patrons may enjoy a relaxed atmosphere conducive for conversation. Attire is fashionable and upscale.

There is an exclusive VIP area with a fireplace and its own bar.
Moon Nightclub

The main room features a massive retractable roof with a mind blowing view of the stars when open. It opens with a spectacular laser and fog show with theatrical music on to a planetarium view of
outer space.

When the roof is closed, it is a large video screen that reflects live images of the club
excitement in action.

Curtains of shimmering glass beads flow down the floor to ceiling windows. Video's are projected onto the beads to create a changing
photographic landscape.

A glass floor of various sizes and shapes change color via a computerized lighting system as guests walk on them.

The décor is elliptic with a celestial color palate of yellow, gold, nickel and silver. The furniture and accessories appear to be a glimpse into the future.

The VIP room presents a mystical lunar ambiance with its translucent yellow glass mosaic surroundings.

Enjoy the dancing and party in space age style, or step out onto Moon's balcony for some fresh air and view of Las Vegas.

Moon has high-end finishes and sultry sheen that is out of this world. Stylish nightlife attire is required.
Rain Nightclub

Rain offers a multi-sensory experience with powerful special effects. Enter Rain through a tunnel of gold mirrored mosaic. Color-changing lights, fog and sounds echoing the club's energy within may be felt.

The effects continue throughout the club atmosphere. Lavish special effects such as pyrotechnic, more hazy fog and spectacular water elements add interest and excitement.

The furnishings are ultra sleek with a vibrant color scheme of gold, red, black, purple and orange. The vibe holds a tension of energy.

The bamboo dance floor is surrounded by a computer-simulated river of water, dancing jets and fountains. Behind the performance stage is a 16 foot color-changing wall of water.

A variety of private areas may be found. VIP areas with private cabanas and a large bar, offer a view of the Las Vegas Strip.

Skyboxes on the mezzanine VIP level have private balconies that overlook the nightclub below. Access via a private elevator with a thumbprint scanner. The Waterbooth level features sensuous patent leather banquettes filled with water.

Rain offers a dynamic nightclub venue, as well as private get away places throughout the club.

Attire is fashionable dressy.