Las Vegas Strip Map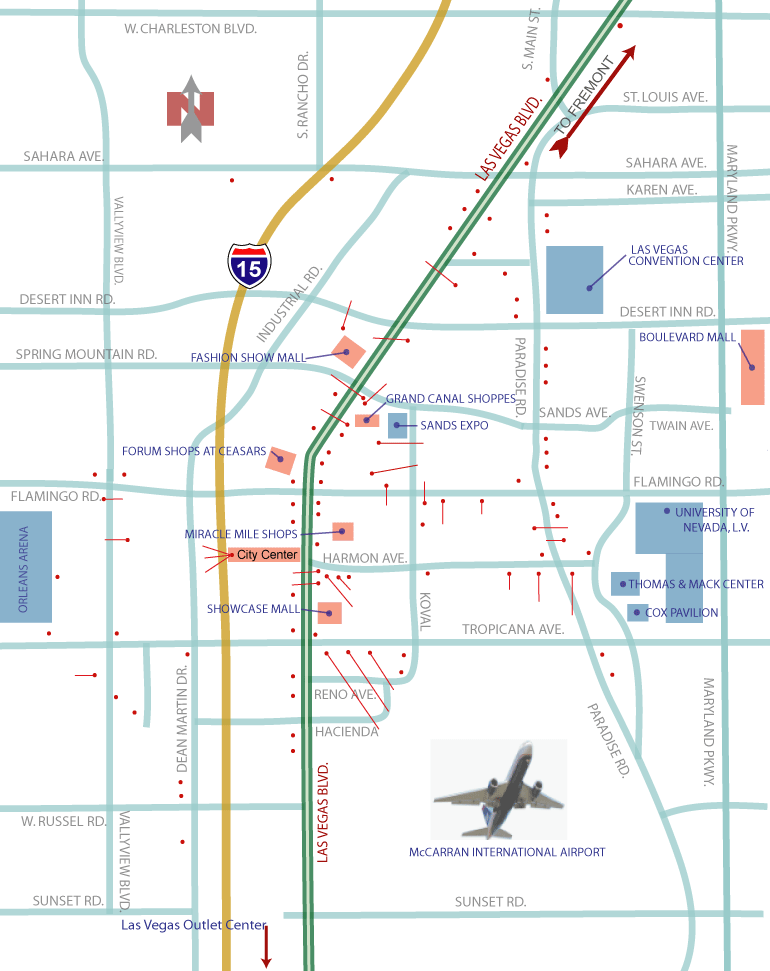 Get Started with

"Nightlife"

Click the links in the left column or on

the map to find Las Vegas bars & clubs

on the

Las Vegas Strip.

Or rollover this icon

Aria
Alexis
Ambassador
America's Best Value
Artisan
Aruba Hotel & Spa
Atrium
Ambassador Strip Travelodge
Bally's
Bellagio
Best Western Mardi Gras
Best Western McCarran
Bill's Gamblin
Caesars Palace
Cancun Resort
Candlewood Suites
Carriage House
Casino Royal
Circus Circus
Clarion
Comfort Inn
Courtyard
Courtyard
Embassy
Suites
Embassy
Emerald
Suites
Emerald Suites
Tropicana
Encore at Wynn
Excalibur
Extended Stay
Deluxe
Fairfield Inn
Fairfield
Flamingo
Four Seasons
Gold Coast
Hampton Inn
Hard Rock
Harrah's
Desert Rose
Hilton Grand Vac.
Hilton Grand Vac.
Hilton Grand Vac.
Holiday Inn
Hooters Casino & Hotel
Howard Johnson
Hyatt Place
Imperial Palace
Jockey Club
La Quinta
La Quinta
Las Vegas Hilton
Luxor
Mandalay Bay
Mandarin
MGM Grand
Marriot Suites
Marriot Grand
Mirage
Monte Carlo
New York
New York
Orleans
The Palms
Palace Station
Palazzo
Paris
Planet Hollywood
Platinum
Polo Towers
Renaissance
Residence Inn
Residence Inn
Residence Inn
Rio
Riviera
Royal Vacations Suites
Sahara
Signature
Stratosphere
St Tropez
Summer Bay
Super 8
Terrible's
Travelodge
Treasure Island
Tropicana
Trump
Tuscany
Vdara
Venetian
Villa Roma
Westin
Wild Wild West
Wyndham
Wynn Las Vegas

Night Clubs
CAESARS PALACE Las Vegas
3570 Las Vegas Blvd S
Las Vegas, NV 89109
Cleopatra's Barge
Floating dance floor, replica of Egyptian ship, live music & DJs playing latest hits
Cleopatra's Barge
Galleria Bar
Relaxing lounge that is open 24 hours
Galleria Bar
♠

PURE

Pure Nightclub is a dynamic nightlife destination. It's not uncommon to see famous celebrity faces in the crowd enjoying the pulse quickening sounds of the hottest DJ music.

Pure Nightclub
Pussycat Dolls Lounge
Pussycat Dolls Lounge is connected by a terrace to PURE Nightclub. The Pussycat Dolls are a famous burlesque cast of sultry singers, dancers, servers and dealers.
Pussycat Dolls Lounge
Seahorse Lounge
360 degree view aquarium (1,700 gallon with Australian Pot Belly Seahorses, specialty martinis, 20 champagnes, full cocktail menu, specialty coffees & espressos, fresh seafood appetizers
Seahorse Lounge
Shadow Bar
Silhouetted dancers perform behind lit screens, seductive atmosphere, flair bartenders, appetizer menu
Shadow Bar
Spanish Steps
Outdoor meeting place, Roman market theme, light fare food take-out window
Spanish Steps

Pure Nightclub

You'll find three venues at Pure Nightclub. The Main Room caters to upscale clientele. It is decorated in shades of white with lush oversized beds surrounding the dance floor. Floor to ceiling sheer drapery creates a feeling of privacy and cabana luxury.

The Red Room is a private VIP haven. Guests enjoy luxury and refined style that is secluded from the main nightclub. The décor is sophisticated and sensual with rich reds and champagne colors. Taste the luxury of the privileged at its elite bar.

Ride upstairs in a glass elevator or ascend a dramatic twisting staircase to Pure's Terrace. It is situated four stories high and provides an incredible view of the Las Vegas Strip. Party under the stars at this outdoor, year round nightclub. Cabana and booth style seating provides comfort on its fabulous 14,000 square foot terrace.

Reserve a VIP table and bottle service. Attire is dressy and fashionable.

The popular Pussycat Dolls Lounge is adjacent to Pure Nightclub.
Pussycat Dolls Lounge

They entertain guests and distract gamers with their sexy live performances. The costumed Dolls sing and dance provocatively on stage. Interesting props and elevated platforms add sizzle to their spontaneous performances.

Swings hanging from the ceiling and a champagne glass tub are a sample of the props used.

The décor is hot red with large photographic portraits of the Dolls. Besides the sexy performance area is a gaming pit. Scantily clad dealers and servers add another seductive element to this nightclub hotspot. Pussycat Dolls Lounge is alive with enticing sexuality.

Attire is chic casual.