Las Vegas Strip Map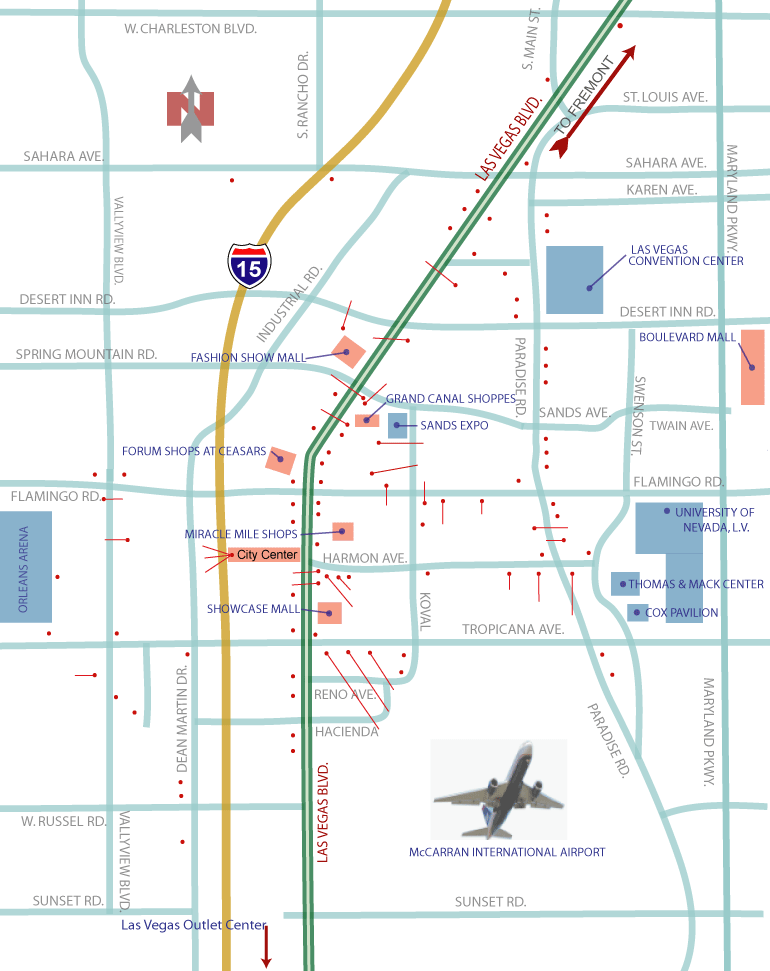 Get Started with

"Nightlife"

Click the links in the left column or on

the map to find Las Vegas bars & clubs

on the

Las Vegas Strip.

Or rollover this icon

Aria
Alexis
Ambassador
America's Best Value
Artisan
Aruba Hotel & Spa
Atrium
Ambassador Strip Travelodge
Bally's
Bellagio
Best Western Mardi Gras
Best Western McCarran
Bill's Gamblin
Caesars Palace
Cancun Resort
Candlewood Suites
Carriage House
Casino Royal
Circus Circus
Clarion
Comfort Inn
Courtyard
Courtyard
Embassy
Suites
Embassy
Emerald
Suites
Emerald Suites
Tropicana
Encore at Wynn
Excalibur
Extended Stay
Deluxe
Fairfield Inn
Fairfield
Flamingo
Four Seasons
Gold Coast
Hampton Inn
Hard Rock
Harrah's
Desert Rose
Hilton Grand Vac.
Hilton Grand Vac.
Hilton Grand Vac.
Holiday Inn
Hooters Casino & Hotel
Howard Johnson
Hyatt Place
Imperial Palace
Jockey Club
La Quinta
La Quinta
Las Vegas Hilton
Luxor
Mandalay Bay
Mandarin
MGM Grand
Marriot Suites
Marriot Grand
Mirage
Monte Carlo
New York
New York
Orleans
The Palms
Palace Station
Palazzo
Paris
Planet Hollywood
Platinum
Polo Towers
Renaissance
Residence Inn
Residence Inn
Residence Inn
Rio
Riviera
Royal Vacations Suites
Sahara
Signature
Stratosphere
St Tropez
Summer Bay
Super 8
Terrible's
Travelodge
Treasure Island
Tropicana
Trump
Tuscany
Vdara
Venetian
Villa Roma
Westin
Wild Wild West
Wyndham
Wynn Las Vegas

Night Clubs
Prive
at The Planet Hollywood Hotel
3667 Las Vegas Blvd. S
Las Vegas, NV 89109
Prive is designed in South Beach style. This 12,000 square foot dance club is located on the 2nd floor mezzanine of Planet Hollywood.
Prive Nightclub website

Prive Nightclub

Prive caters to the VIP with attention apparent in every detail. Guests arrive to a grand ebony archway that is illuminated with crystal garlands.

The concave-shaped granite top bar provides for a stellar design statement. Crystal chandelier lighting adds elegance to its vibrant atmosphere.

The main room features Greek theatre-inspired design with grand sofa's having extra wide backs. The wide backs provide a unique dance area for guests to enjoy.

The 350 foot Brazilian cherry dance floor is beautiful and fun. Colored lighting sprays down onto the dance floor to create a colorful, yet sultry ambiance.

Crystal chandeliers and glass enclosed fireplaces add luxurious appeal. There are 55 VIP tables that offer European bottle service. The VIP tables have built-in carafe holders and gold insert champagne buckets.

The Rotunda Room has caramel colored drapery with 10 foot high tufted black leather accents. VIP tables can also be found on Prive's intimate enclosed private balcony.

The highest quality concert-level fidelity sound flows through all of the club areas. This ensure the correct volume is maintained, while keeping with the energy of the main room.

Attire is fashionable chic.