Las Vegas Strip Map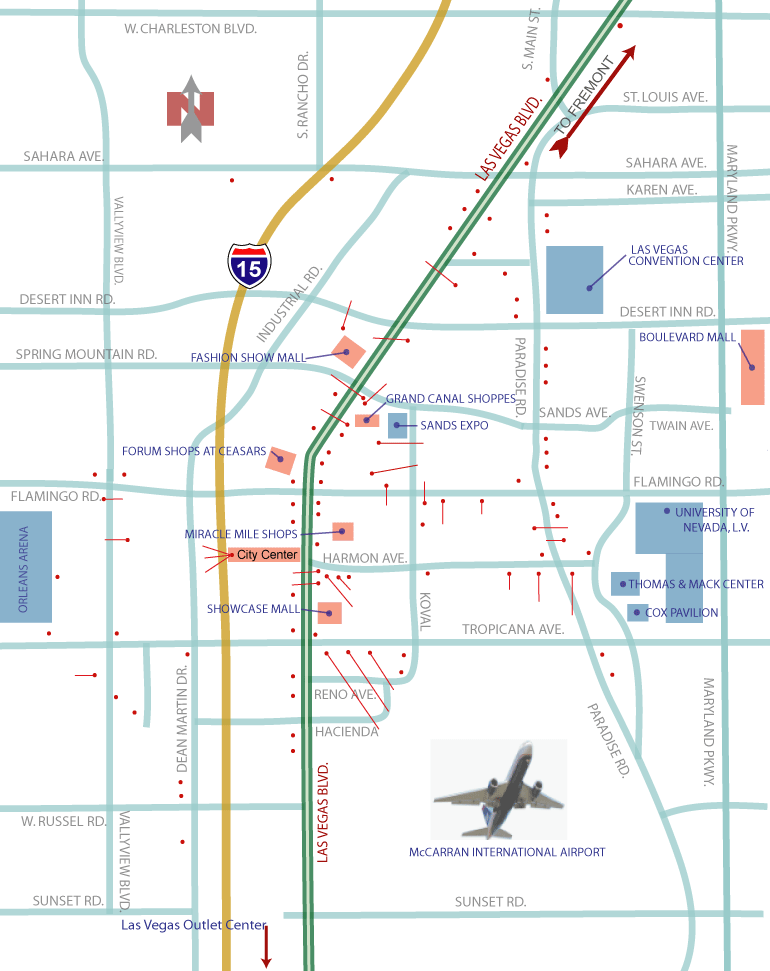 Get Started with

"Nightlife"

Click the links in the left column or on

the map to find Las Vegas bars & clubs

on the

Las Vegas Strip.

Or rollover this icon

Aria
Alexis
Ambassador
America's Best Value
Artisan
Aruba Hotel & Spa
Atrium
Ambassador Strip Travelodge
Bally's
Bellagio
Best Western Mardi Gras
Best Western McCarran
Bill's Gamblin
Caesars Palace
Cancun Resort
Candlewood Suites
Carriage House
Casino Royal
Circus Circus
Clarion
Comfort Inn
Courtyard
Courtyard
Embassy
Suites
Embassy
Emerald
Suites
Emerald Suites
Tropicana
Encore at Wynn
Excalibur
Extended Stay
Deluxe
Fairfield Inn
Fairfield
Flamingo
Four Seasons
Gold Coast
Hampton Inn
Hard Rock
Harrah's
Desert Rose
Hilton Grand Vac.
Hilton Grand Vac.
Hilton Grand Vac.
Holiday Inn
Hooters Casino & Hotel
Howard Johnson
Hyatt Place
Imperial Palace
Jockey Club
La Quinta
La Quinta
Las Vegas Hilton
Luxor
Mandalay Bay
Mandarin
MGM Grand
Marriot Suites
Marriot Grand
Mirage
Monte Carlo
New York
New York
Orleans
The Palms
Palace Station
Palazzo
Paris
Planet Hollywood
Platinum
Polo Towers
Renaissance
Residence Inn
Residence Inn
Residence Inn
Rio
Riviera
Royal Vacations Suites
Sahara
Signature
Stratosphere
St Tropez
Summer Bay
Super 8
Terrible's
Travelodge
Treasure Island
Tropicana
Trump
Tuscany
Vdara
Venetian
Villa Roma
Westin
Wild Wild West
Wyndham
Wynn Las Vegas

Night Clubs
Mix Lounge
at The Mandalay Hotel
3950 Las Vegas Blvd S
Las Vegas, NV 89119
Mix Lounge has a romantic attitude. Located on the 64th floor of Mandalay Bay it offers breathtaking views of the Las Vegas Strip. Take one of the panoramic elevators up to Mix Lounge.
Mix Lounge website

Mix Lounge

Mix is a stylish, fashionable hotspot. This hip astral lounge offers an innovative bar menu, seductive blend of DJ music and an assortment of cocktail concoctions.

The décor is highlighted with black leather and red lighting. Comfortable barstool seating wraps around a curvy bar, enhanced by an elaborate art creation above it.

The unique light fixture rises up from the floor like a bouquet of coral or a vision of volcanic energy. It was installed by helicopter through a specifically made hole in the roof of the tower. It is an amazing piece of art and engineering.

Separate indoor ottoman and table seating offers an incredible view of the Las Vegas skyline. Floor to ceiling windows ensure guests don't miss the fabulous glittering view.

The outside terrace boasts a spectacular panoramic view of Las Vegas. There is bottle service offered at this outdoor lounge. Separate VIP lofts are located upstairs.

It is a wonderful place to kickback, unwind, and enjoy the view. Attire is casual elegant.

Mix Lounge is conveniently adjacent to the French-American style Mix restaurant.