Las Vegas Strip Map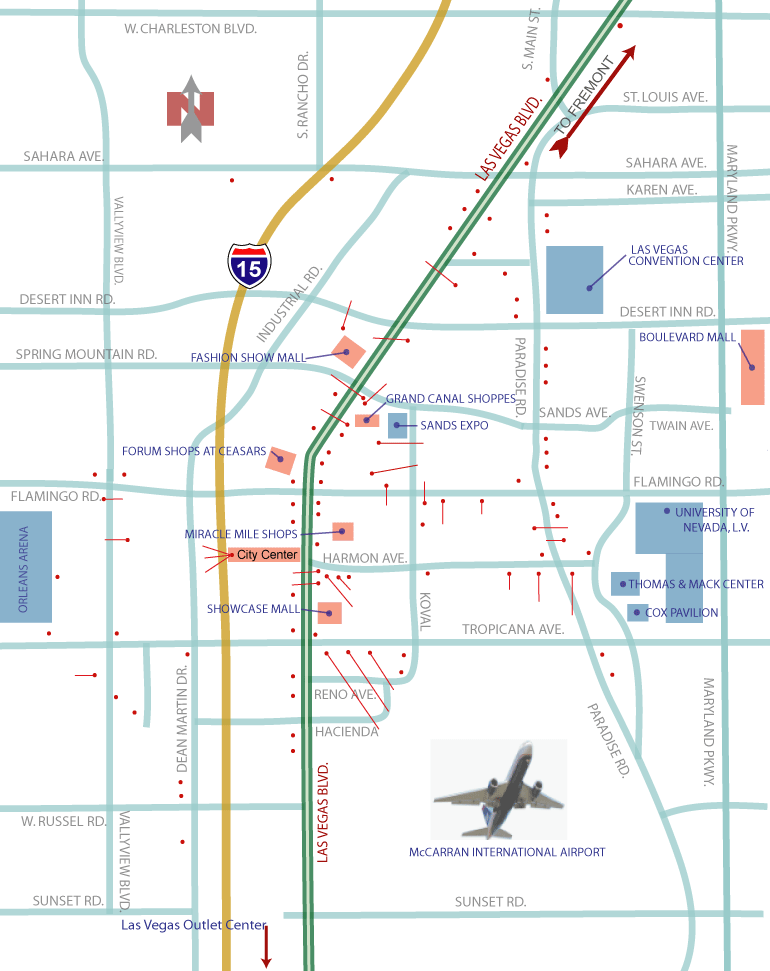 Get Started with

"Nightlife"

Click the links in the left column or on

the map to find Las Vegas bars & clubs

on the

Las Vegas Strip.

Or rollover this icon

Aria
Alexis
Ambassador
America's Best Value
Artisan
Aruba Hotel & Spa
Atrium
Ambassador Strip Travelodge
Bally's
Bellagio
Best Western Mardi Gras
Best Western McCarran
Bill's Gamblin
Caesars Palace
Cancun Resort
Candlewood Suites
Carriage House
Casino Royal
Circus Circus
Clarion
Comfort Inn
Courtyard
Courtyard
Embassy
Suites
Embassy
Emerald
Suites
Emerald Suites
Tropicana
Encore at Wynn
Excalibur
Extended Stay
Deluxe
Fairfield Inn
Fairfield
Flamingo
Four Seasons
Gold Coast
Hampton Inn
Hard Rock
Harrah's
Desert Rose
Hilton Grand Vac.
Hilton Grand Vac.
Hilton Grand Vac.
Holiday Inn
Hooters Casino & Hotel
Howard Johnson
Hyatt Place
Imperial Palace
Jockey Club
La Quinta
La Quinta
Las Vegas Hilton
Luxor
Mandalay Bay
Mandarin
MGM Grand
Marriot Suites
Marriot Grand
Mirage
Monte Carlo
New York
New York
Orleans
The Palms
Palace Station
Palazzo
Paris
Planet Hollywood
Platinum
Polo Towers
Renaissance
Residence Inn
Residence Inn
Residence Inn
Rio
Riviera
Royal Vacations Suites
Sahara
Signature
Stratosphere
St Tropez
Summer Bay
Super 8
Terrible's
Travelodge
Treasure Island
Tropicana
Trump
Tuscany
Vdara
Venetian
Villa Roma
Westin
Wild Wild West
Wyndham
Wynn Las Vegas

Night Clubs
NEW YORK - NEW YORK Las Vegas
3790 Las Vegas Blvd S
Las Vegas, NV 89109
Bar at Times Square
Neighborhood-style pub with a dueling piano show.
Cover charge may apply.
Bar at Times Square
Center Bar
Casino lounge with numerous screens broadcasting sporting events.
Center Bar
Coyote Ugly
Coyote Ugly is a lively bar and dance saloon. Sexy, sassy female bartenders in jeans and tank tops sing and dance on top of the bar.
Coyote Ugly
Dulce
Latin nights on Fridays & Saturdays at Gonzalez & Gonzalez restaurant and tequila bar.
Dulce
Nine Fine Irishmen
Restaurant and pub, grand Victorian-style bar, ornate cottage areas, shop-style snugs, two levels of outdoor patio with view of The Strip and traditional live Irish entertainment in evenings. Cover charge may apply.
Nine Fine Irishmen
Pour 24
24 types of fine crafted American beer selections
Pour 24
Rok Vegas
Rok Vegas is a high-energy nightclub with rock-inspired imagery at every angle. A 360 degree massive video screen rocks out concert footage, live club feeds, and remarkable video imagery.
Rok Vegas

Coyote Ugly Bar

When they are not entertaining patrons with their talents, they're showing off their shot pouring techniques.

There are no DJs or bands. It's jukebox music all the way. You won't get a fancy cocktail at Coyote Ugly. If you're in the mood for a shot and beer, you came to the right place.

While men are always welcome inside, they are not allowed to dance on the bar. Only the women bartenders and women patrons can do that.

Coyote Ugly is a great place to have some down home fun.

Attire is dressy casual. There is a cover charge in the evening.
Rok Vegas Nightclub

The brilliant screen cascades over the entire dance floor and bar areas. Lighting effects, lasers and animation mesmerize club-goers with riveting action.

DJs spin mash-ups choreographed with exciting vivid imagery throughout the club.

The club's rectangular shape has a common sense layout. No snake like mazes or intricate partitions where friends might get lost.

Rok Vegas offers an exclusive outdoor VIP lounge with bottle service.

Throbbing music, pulsating lights and visual imagery create a high-energy vibe designed to leave a lasting impression.

Attire is casual and fashionable.