Las Vegas Strip Map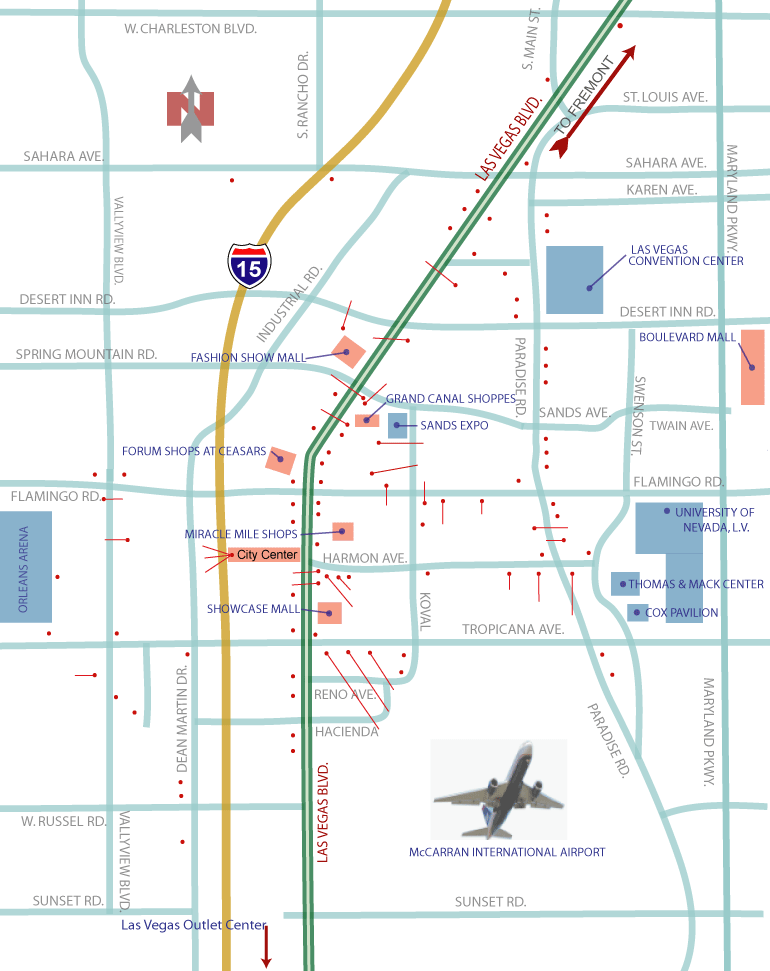 Get Started with

"Nightlife"

Click the links in the left column or on

the map to find Las Vegas bars & clubs

on the

Las Vegas Strip.

Or rollover this icon

Aria
Alexis
Ambassador
America's Best Value
Artisan
Aruba Hotel & Spa
Atrium
Ambassador Strip Travelodge
Bally's
Bellagio
Best Western Mardi Gras
Best Western McCarran
Bill's Gamblin
Caesars Palace
Cancun Resort
Candlewood Suites
Carriage House
Casino Royal
Circus Circus
Clarion
Comfort Inn
Courtyard
Courtyard
Embassy
Suites
Embassy
Emerald
Suites
Emerald Suites
Tropicana
Encore at Wynn
Excalibur
Extended Stay
Deluxe
Fairfield Inn
Fairfield
Flamingo
Four Seasons
Gold Coast
Hampton Inn
Hard Rock
Harrah's
Desert Rose
Hilton Grand Vac.
Hilton Grand Vac.
Hilton Grand Vac.
Holiday Inn
Hooters Casino & Hotel
Howard Johnson
Hyatt Place
Imperial Palace
Jockey Club
La Quinta
La Quinta
Las Vegas Hilton
Luxor
Mandalay Bay
Mandarin
MGM Grand
Marriot Suites
Marriot Grand
Mirage
Monte Carlo
New York
New York
Orleans
The Palms
Palace Station
Palazzo
Paris
Planet Hollywood
Platinum
Polo Towers
Renaissance
Residence Inn
Residence Inn
Residence Inn
Rio
Riviera
Royal Vacations Suites
Sahara
Signature
Stratosphere
St Tropez
Summer Bay
Super 8
Terrible's
Travelodge
Treasure Island
Tropicana
Trump
Tuscany
Vdara
Venetian
Villa Roma
Westin
Wild Wild West
Wyndham
Wynn Las Vegas

Night Clubs
VENETIAN Las Vegas
3355 Las Vegas Blvd. S
Las Vegas, NV 89109
La Scena Lounge
High-energy live bands (variety of styles: rock, disco, Motown, top hits-on request), dancing, multi-denominational poker games
La Scena Lounge
TAO Lounge
Plush cocktail lounge, 20-ft. tall Buddha floats in an infinity pool, waterfall effects.
♠

TAO Nightclub

Tao Nightclub transports guests to the Pacific Rim in its over 40,000 square foot Asian city. The complex is multi-story and multi-faceted with a 400-seat restaurant, banquet facilities, lounge and nightclub.

TAO Nightclub
V bar
Upscale ultra-lounge, weekly drink specials, DJ music,
VIP bottle service
Vbar
Other: Smokin Hot Aces, TAO Beach Club

TAO Nightclub

Upon entering Tao, guests are greeted by a grand entrance. Its signature 20 foot Buddha floats peacefully above an infinity pool. An extensive collection of Buddha statues of various sizes adorn Tao.

There is a separate chic lounge and a 10,000 square foot nightclub. Resident DJ spins a variety of hip hop, house and rock music. The nightclub has three full service bars. Each bar is different with a unique appeal. The Monk Bar includes an impressive wall of almost 300 hard-carved monk statutes and candles.

Introduction to Tao begins with a line of Turkish water tubs filled with rose petals and nearly nude women. The décor is lush with velvets, silks, waterfalls, red chandeliers, fabulous Asian art, wood and stones. The experience is filled with Zen Asian ambiance.

The palate is satisfied as guests may sample mixed Asian cuisine while enjoying the atmosphere. There are private VIP skyboxes offering European bottle service, mini bar, espresso machine, and comfortable banquettes with purse drawers.

The 40 foot outdoor terrace offers stunning views of Las Vegas. Tao is upscale, sophisticated and tailored, providing a world class nightlife experience. Celebrity filled events are a constant at Tao.

It is located on the Grand Canal Shoppes level of the Venetian. Guests may also access from the Palazzo lobby.

Attire is nightlife fashionable.