Las Vegas Strip Map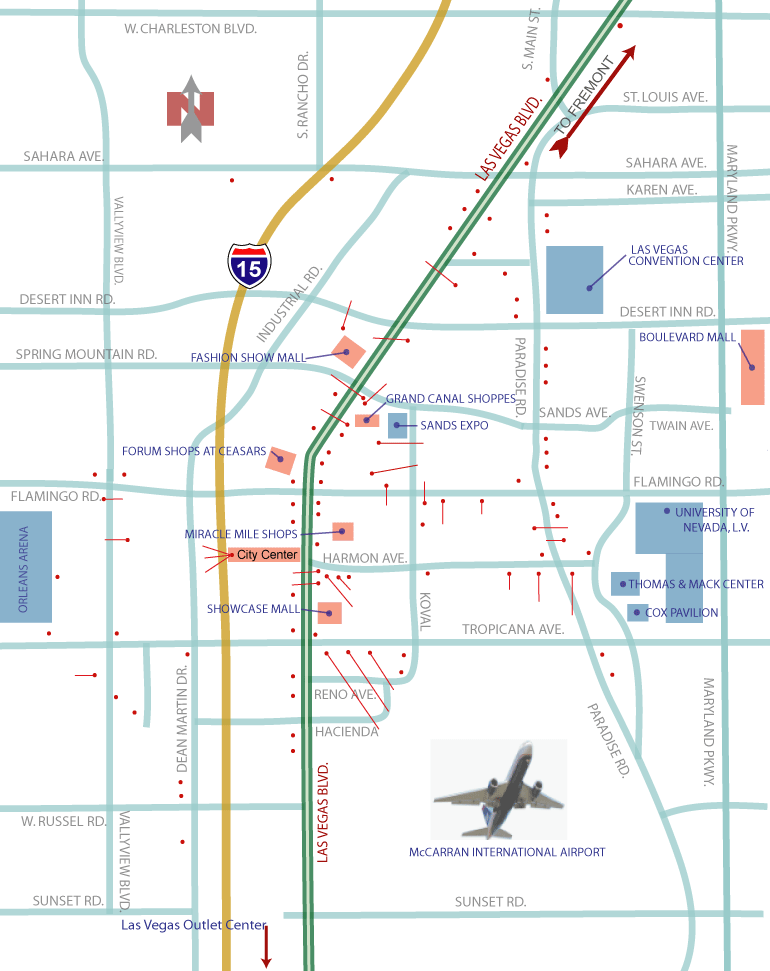 Get Started with

"Nightlife"

Click the links in the left column or on

the map to find Las Vegas bars & clubs

on the

Las Vegas Strip.

Or rollover this icon

Aria
Alexis
Ambassador
America's Best Value
Artisan
Aruba Hotel & Spa
Atrium
Ambassador Strip Travelodge
Bally's
Bellagio
Best Western Mardi Gras
Best Western McCarran
Bill's Gamblin
Caesars Palace
Cancun Resort
Candlewood Suites
Carriage House
Casino Royal
Circus Circus
Clarion
Comfort Inn
Courtyard
Courtyard
Embassy
Suites
Embassy
Emerald
Suites
Emerald Suites
Tropicana
Encore at Wynn
Excalibur
Extended Stay
Deluxe
Fairfield Inn
Fairfield
Flamingo
Four Seasons
Gold Coast
Hampton Inn
Hard Rock
Harrah's
Desert Rose
Hilton Grand Vac.
Hilton Grand Vac.
Hilton Grand Vac.
Holiday Inn
Hooters Casino & Hotel
Howard Johnson
Hyatt Place
Imperial Palace
Jockey Club
La Quinta
La Quinta
Las Vegas Hilton
Luxor
Mandalay Bay
Mandarin
MGM Grand
Marriot Suites
Marriot Grand
Mirage
Monte Carlo
New York
New York
Orleans
The Palms
Palace Station
Palazzo
Paris
Planet Hollywood
Platinum
Polo Towers
Renaissance
Residence Inn
Residence Inn
Residence Inn
Rio
Riviera
Royal Vacations Suites
Sahara
Signature
Stratosphere
St Tropez
Summer Bay
Super 8
Terrible's
Travelodge
Treasure Island
Tropicana
Trump
Tuscany
Vdara
Venetian
Villa Roma
Westin
Wild Wild West
Wyndham
Wynn Las Vegas

Night Clubs
BILL'S GAMBLIN Las Vegas
3595 Las Vegas Blvd S
Las Vegas, NV 89109
Bill's Lounge
Various Lounge Acts, Elvis Impersonator
Shows by Pete Vallee
Bill's Lounge
Drai's After Hours Nightclub
Drai's caters to the after hours crowd. Things get rolling after 1 am at Drai's and continues until dawn. This cosmopolitan lounge features a full selection of fine wines, champagnes and cigars.
Drai's After Hours Nightclub

Drai's Lounge Nightclub

The décor has rich colors of reds, shades of browns and deep Mahogany woods. Relax into the comfortable couches and cozy furniture organized in intimate seating arrangements. Leopard skin upholstery presents a sensual elegance.

The subtle lighting adds appeal as does the contemporary, female form art and bookshelves that line the walls.

Enjoy drinks in the library and main room as resident DJ spins the latest progressive and house beats. The dance floor provides a place for an energetic release. The atmosphere is welcoming with the comforts of a personal den.

There is a VIP room entrance that requires bottle service and is reserved for high end clientele and celebrities.

Attire is relaxed, yet tailored. Drai's is not a place for jeans or sneakers.