Las Vegas Strip Map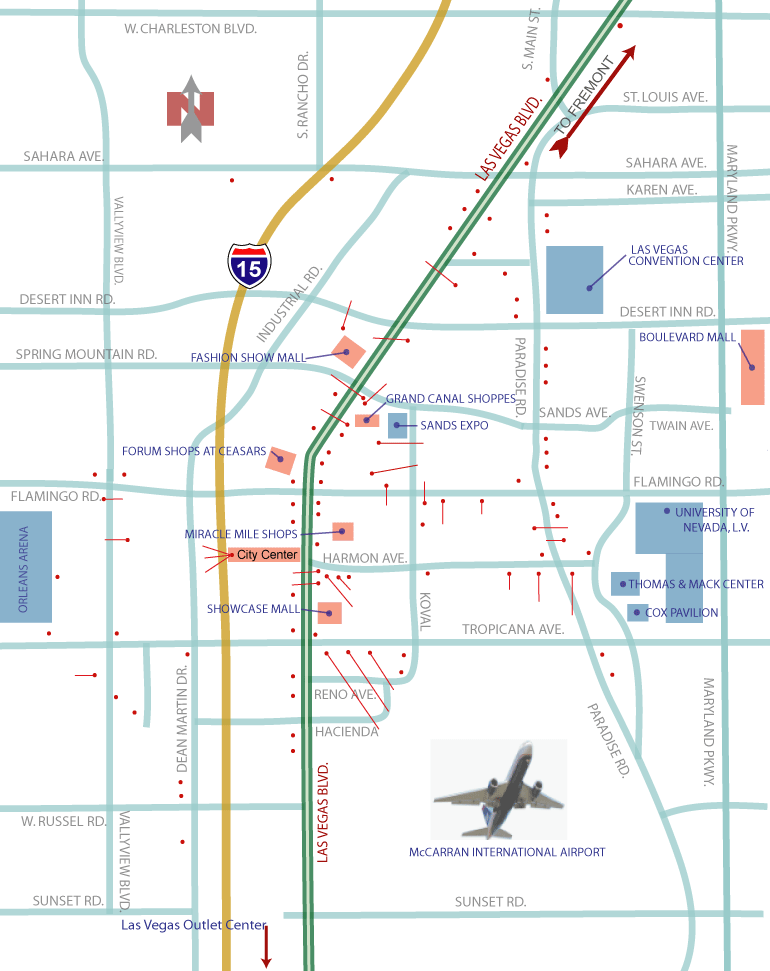 Aria
Alexis
Ambassador
America's Best Value
Artisan
Aruba Hotel & Spa
Atrium
Ambassador Strip Travelodge
Bally's
Bellagio
Best Western Mardi Gras
Best Western McCarran
Bill's Gamblin
Caesars Palace
Cancun Resort
Candlewood Suites
Carriage House
Casino Royal
Circus Circus
Clarion
Comfort Inn
Courtyard
Courtyard
Embassy
Suites
Embassy
Emerald
Suites
Emerald Suites
Tropicana
Encore at Wynn
Excalibur
Extended Stay
Deluxe
Fairfield Inn
Fairfield
Flamingo
Four Seasons
Gold Coast
Hampton Inn
Hard Rock
Harrah's
Desert Rose
Hilton Grand Vac.
Hilton Grand Vac.
Hilton Grand Vac.
Holiday Inn
Hooters Casino & Hotel
Howard Johnson
Hyatt Place
Imperial Palace
Jockey Club
La Quinta
La Quinta
Las Vegas Hilton
Luxor
Mandalay Bay
Mandarin
MGM Grand
Marriot Suites
Marriot Grand
Mirage
Monte Carlo
New York
New York
Orleans
The Palms
Palace Station
Palazzo
Paris
Planet Hollywood
Platinum
Polo Towers
Renaissance
Residence Inn
Residence Inn
Residence Inn
Rio
Riviera
Royal Vacations Suites
Sahara
Signature
Stratosphere
St Tropez
Summer Bay
Super 8
Terrible's
Travelodge
Treasure Island
Tropicana
Trump
Tuscany
Vdara
Venetian
Villa Roma
Westin
Wild Wild West
Wyndham
Wynn Las Vegas

Restaurants
WYNN LAS VEGAS
♠

Daniel Boulud
by Daniel Boulud
French "Celebrity chef Daniel Boulud joins with rising star chef Westley Holton to bring their vision of the quintessential French brasserie to Las Vegas and only to Wynn."
Daniel Boulud menu
Daniel Boulud website "read more"
Alex
French Gourmet "If you've ever dined on the French Riviera, you've had a taste of the exquisite flavors of Alex."
Alex menu
Alex website "read more"
Bartolotta
Italian "Chef Paul Bartolotta celebrates the traditions of Italian coastal cuisine at his namesake ristorante, with fresh seafood and shellfish flown in daily from Mediterranean waters, as well as homemade pastas and classic
Italian specialties."
Bartolotta menu
Bartolotta website "read more"
Okada
Japanese "Surrounded by coursing waterfalls, lush gardens and a koi filled lagoon, Okada invites you to leave the glitz of the Las Vegas Strip for the tranquility of the
land of the rising sun."
Okada menu
Okada website "read more"
Red 8 Asian Bistro
Asian "Experience the alluring scents and high drama of Red 8, a casual bistro serving authentic
Southeast Asian cuisine."
Red 8 Asian Bistro menu
Red 8 Asian Bistro website "read more"
Stratta
Italian "An open fire hearth, convivial bar and lounge scene and ideal proximity for convenient pre and post show dining make Strata a popular spot for a casual yet
stylist dining experience."
Stratta menu
Stratta website "read more"
SW Steakhouse
Steaks, Seafood "Star chef David Walzog redefines all of the steakhouse classics with a deft touch at
SW steakhouse."
SW Steakhouse menu
SW Steakhouse website "read more"
Tableau
American "Legendary Chef Larry Forgione, one of America's most respected culinary icons and widely considered to be the "Godfather of American Cooling", creates modern interpretations of our national cuisine."
Tableau menu
Tableau website "read more"
Terrace Point Café
American "This sunny and spacious dining café offers a wide variety of coast-to-coast American favorites and terraced seating overlooking lovel gardens and pools."
Terrace Point Café
The Buffet
"Sixteen live-action cooling stations and a sumptuous array of extraordinary dishes will redefine your notion of buffet dining."
The Buffet
The Country Club
Steakhouse "Chef Rene Lenger pays homage to the classic American steakhouse in this clubby and inviting setting, complete with gorgeous views of the
fairways and 18th hole waterfall."
The Country Club menu
The Country Club website "read more"
Wing Lei
Cantonese, Shanghai, Szechwan "A decadent twist on early French-influenced Shanghai, the dramatic décor at this elegant restaurant is as unique as its
sumptuous Chinese cuisine."
Wing Lei menu
Wing Lei website "read more"
Other: Zoozacrackers (NY style Deli), Cabana Bar & Casino, The Café at the Drugstore, Pizza Place, Lobby Bar and Café at Encore

Las Vegas Power Pass

The Las Vegas Power Pass offers huge savings off admission fees to the largest
selection of top Las Vegas shows, restaurants and attractons. Skip the lines at
many locations and save time and money.



Half Price Shows

Purchase shows, tours, and attraction tickets for 50% off box office price. With HalfPriceShows there is no reason to pay full price or stand in lines. New items are added regularly. Buy discount tickets online!



Club Viva Las Vegas

NO cover charges. NO waiting in lines. Nightlife connection to the hottest clubs. Luxury transportation, VIP entrance with host and cocktails onboard. Hit three clubs for $49. Bachelor & bachelorette party specials. They get you in!



Vegas Bite Card

Save Over $500 on Shows, Tours, Attractions, Restaurants, Golf and Weddings! Half price shows and food. Unlimited use for one year. Card with no coupons. Show your card to receive discounts. The premium discount card for Las Vegas.



Las Vegas Perks

Experience Las Vegas at half price with Las Vegas Perks coupon book. For one low price, you'll receive a discount book worth over $1,200 in "2 for 1" Las Vegas dining, shows, tours, attractions, gaming credits and match play certificates.



Golf Card International

Savings on golf at nearly 3,000 golf courses. Up to 50% savings on cart and green fee for two rounds per year at an additional 2,400 courses. Newsletter and 20% savings on product purchases.