Las Vegas Strip Map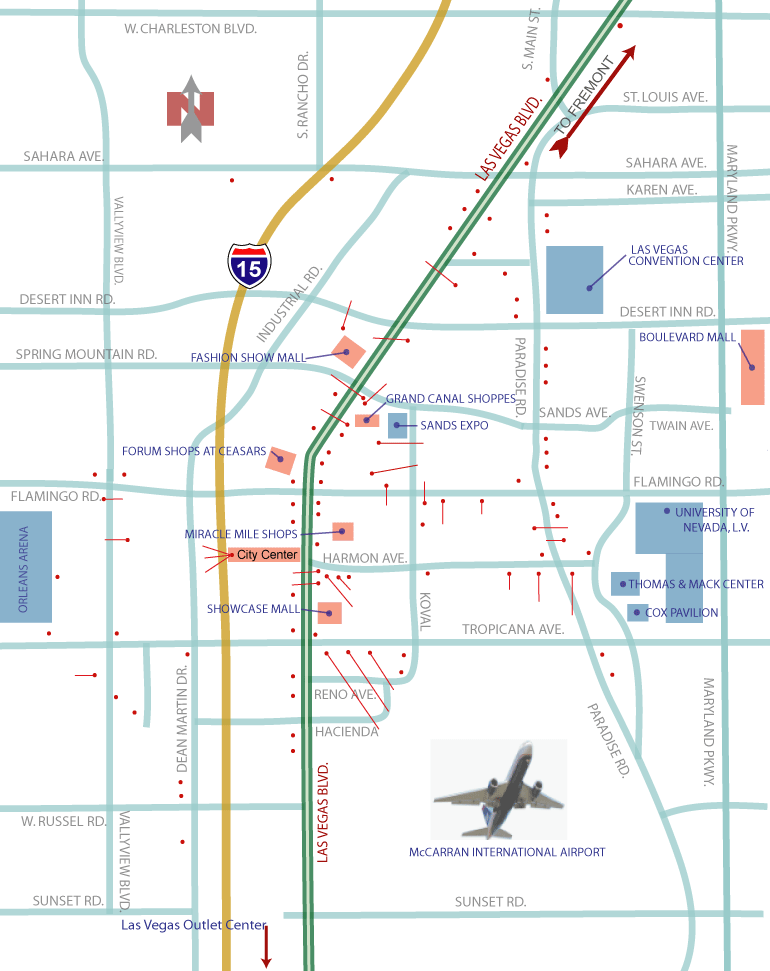 Aria
Alexis
Ambassador
America's Best Value
Artisan
Aruba Hotel & Spa
Atrium
Ambassador Strip Travelodge
Bally's
Bellagio
Best Western Mardi Gras
Best Western McCarran
Bill's Gamblin
Caesars Palace
Cancun Resort
Candlewood Suites
Carriage House
Casino Royal
Circus Circus
Clarion
Comfort Inn
Courtyard
Courtyard
Embassy
Suites
Embassy
Emerald
Suites
Emerald Suites
Tropicana
Encore at Wynn
Excalibur
Extended Stay
Deluxe
Fairfield Inn
Fairfield
Flamingo
Four Seasons
Gold Coast
Hampton Inn
Hard Rock
Harrah's
Desert Rose
Hilton Grand Vac.
Hilton Grand Vac.
Hilton Grand Vac.
Holiday Inn
Hooters Casino & Hotel
Howard Johnson
Hyatt Place
Imperial Palace
Jockey Club
La Quinta
La Quinta
Las Vegas Hilton
Luxor
Mandalay Bay
Mandarin
MGM Grand
Marriot Suites
Marriot Grand
Mirage
Monte Carlo
New York
New York
Orleans
The Palms
Palace Station
Palazzo
Paris
Planet Hollywood
Platinum
Polo Towers
Renaissance
Residence Inn
Residence Inn
Residence Inn
Rio
Riviera
Royal Vacations Suites
Sahara
Signature
Stratosphere
St Tropez
Summer Bay
Super 8
Terrible's
Travelodge
Treasure Island
Tropicana
Trump
Tuscany
Vdara
Venetian
Villa Roma
Westin
Wild Wild West
Wyndham
Wynn Las Vegas

Restaurants
EXCALIBUR Restaurants

Dick's Last Resort
American "Famous for our deliciously messy cuisine, zany décor, rowdy wait staff, live bands and let-loose atmosphere, Dick's Last Resort offers a casual, down-to-earth entertainment option for visitors to the "Entertainment Capital of the World."
Dick's Last Report website "read more"
Regale Ristorante Italiano
Italian "Enjoy zesty food and festive fun at Regale
Ristorante Italiano."
Regale Ristorante Italiano website "read more"
RoundTable Buffet
Varied, Buffet "It's the king of
Las Vegas buffets."
Regale Ristorante Italiano website "read more"
Sherwood Forest Café
American Fare "Sherwood Forest Café features a full menu of all your favorites ranging from a pancake breakfast to our famous All-American Burger."
Sherwood Forest Café website "read more"
The Steakhouse at Camelot
Steakhouse "Our Zagat Award-winning restaurant offers the finest cuts of beef, along with the freshest seafood flown in daily."
The Steakhouse at Camelot website "read more"
Village Food Court Eateries: Auntie Anne's Pretzels, McDonalds, Starbucks, Krispy Kreme, Coldstone Creamery, Quizno's Subs, Pizza Hut, Manchu Wok
Dick's Last Resort

Dick's Last Resort features American fare, and eat-with-your-hands specialties. The food is made from scratch and might be served in big stainless steel buckets. Put on a plastic bib, dig in and get messy.

They are famous for their deliciously messy cuisine and let loose atmosphere. The wait staff is outrageous, rowdy and surly. They dish out the guff to inflict humor on the diners. It's fun and zany. The spontaneity is more than amusing. It's fun for those who dare to enter. Break the rules and
get in the spirit.

They offer a wide menu of both fun and fine food. Dick's Picks include ribeye, bourbon glazed salmon, love me tenders, Dolly Parton chicky breast, and pasta la vista. Try the big burgers, Bubba Dick's ribs, crabby cakes, King crabs or mumbo
jumbo chicky wings.

They have live music every night with bands playing classic rock. There's no cover charge. If you're in the mood and have talent, get up on stage and sing with the band. Dance anywhere you feel like is okay here.

Get silly, sassy, shameful and messy at
Dick's Last Resort .
Las Vegas Power Pass

The Las Vegas Power Pass offers huge savings off admission fees to the largest
selection of top Las Vegas shows, restaurants and attractons. Skip the lines at
many locations and save time and money.



Half Price Shows

Purchase shows, tours, and attraction tickets for 50% off box office price. With HalfPriceShows there is no reason to pay full price or stand in lines. New items are added regularly. Buy discount tickets online!



Club Viva Las Vegas

NO cover charges. NO waiting in lines. Nightlife connection to the hottest clubs. Luxury transportation, VIP entrance with host and cocktails onboard. Hit three clubs for $49. Bachelor & bachelorette party specials. They get you in!



Vegas Bite Card

Save Over $500 on Shows, Tours, Attractions, Restaurants, Golf and Weddings! Half price shows and food. Unlimited use for one year. Card with no coupons. Show your card to receive discounts. The premium discount card for Las Vegas.



Las Vegas Perks

Experience Las Vegas at half price with Las Vegas Perks coupon book. For one low price, you'll receive a discount book worth over $1,200 in "2 for 1" Las Vegas dining, shows, tours, attractions, gaming credits and match play certificates.



Golf Card International

Savings on golf at nearly 3,000 golf courses. Up to 50% savings on cart and green fee for two rounds per year at an additional 2,400 courses. Newsletter and 20% savings on product purchases.