Las Vegas Strip Map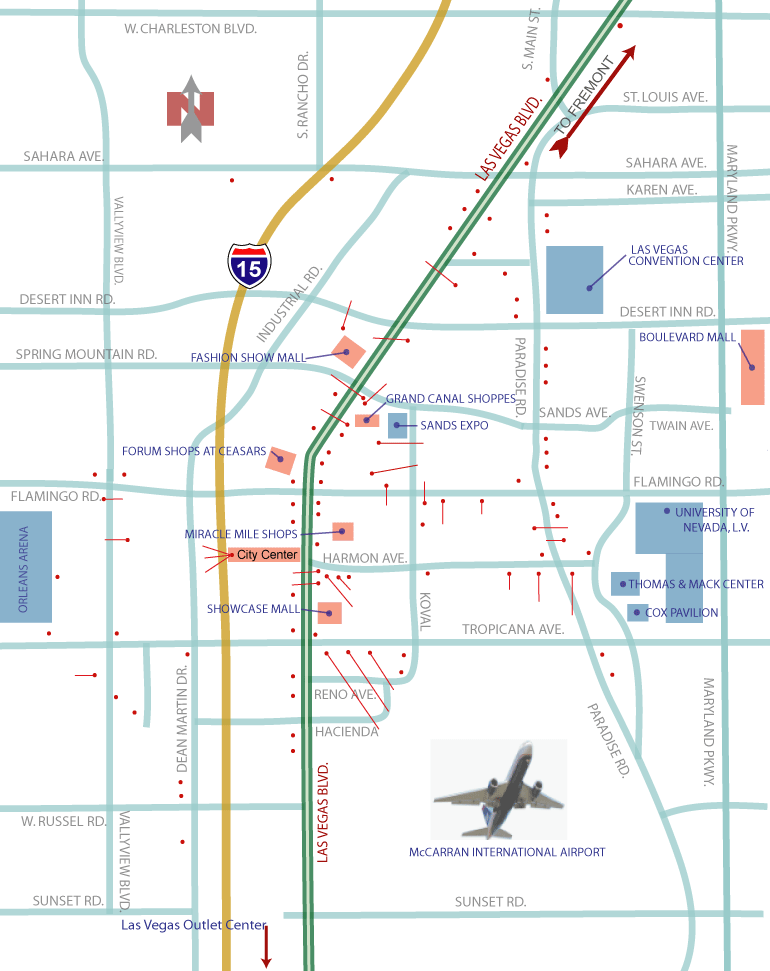 Aria
Alexis
Ambassador
America's Best Value
Artisan
Aruba Hotel & Spa
Atrium
Ambassador Strip Travelodge
Bally's
Bellagio
Best Western Mardi Gras
Best Western McCarran
Bill's Gamblin
Caesars Palace
Cancun Resort
Candlewood Suites
Carriage House
Casino Royal
Circus Circus
Clarion
Comfort Inn
Courtyard
Courtyard
Embassy
Suites
Embassy
Emerald
Suites
Emerald Suites
Tropicana
Encore at Wynn
Excalibur
Extended Stay
Deluxe
Fairfield Inn
Fairfield
Flamingo
Four Seasons
Gold Coast
Hampton Inn
Hard Rock
Harrah's
Desert Rose
Hilton Grand Vac.
Hilton Grand Vac.
Hilton Grand Vac.
Holiday Inn
Hooters Casino & Hotel
Howard Johnson
Hyatt Place
Imperial Palace
Jockey Club
La Quinta
La Quinta
Las Vegas Hilton
Luxor
Mandalay Bay
Mandarin
MGM Grand
Marriot Suites
Marriot Grand
Mirage
Monte Carlo
New York
New York
Orleans
The Palms
Palace Station
Palazzo
Paris
Planet Hollywood
Platinum
Polo Towers
Renaissance
Residence Inn
Residence Inn
Residence Inn
Rio
Riviera
Royal Vacations Suites
Sahara
Signature
Stratosphere
St Tropez
Summer Bay
Super 8
Terrible's
Travelodge
Treasure Island
Tropicana
Trump
Tuscany
Vdara
Venetian
Villa Roma
Westin
Wild Wild West
Wyndham
Wynn Las Vegas

Restaurants
BELLAGIO Restaurants

♠

Michael Mina
by Michael Mina
Seafood (blend of Calif. & Mediterranean flavors) " Michelin award-winning chef Michael Mina's eponymous restaurant features a new twist on Mina classics."
Michael Mina website "read more"
♠

Olives
by Todd English
American, Greek/Mediterranean "This Las Vegas offering of a Todd English favorite features a Mediterranean-style experience set against the breathtaking backdrop of Lake Bellagio."
Olives website "read more"
Circo (Osteria del Circo)
Italian "Lovingly inspired by matriarch, Egidiana Maccioni, upscale Tuscan fare takes center stage in the capricious surroundings overlooking Lago di Como."
Circo website "read more"
Fix
American, Steakhouse "This cutting-edge environment elevates simply prepared, all-American fare!"
Fix website "read more"
Jasmine
Chinese, Seafood " Breathe in the exotic aroma of Cantonese, Szechwan and Hunan cuisine made even more remarkable by the talented Chef, Philip Lo."
Jasmine website "read more"
Le Cirque
French, Gourmet "The rarity of Le Cirque's AAA Five Diamond rating speaks eloquently of French cuisine - exquisite, bold, transcendent."
Le Cirque website "read more"
Noodles
Chinese, Japanese " Tony Chi's design brings the traditional noodle kitchens of Asia to Bellagio. Executive Chef Patrick Lee offers authentic regional noodle dishes from Thailand, Japan, China and Vietnam."
Noodles website "read more"
Picasso
French, Gourmet "Ascend to new dining expectations, in a rare environment that showcases the work of artist extraordinaire, Pablo Picasso and a recipient of the AAA Five Diamond Award for seven consecutive years."
Picasso website "read more"
Prime
Steakhouse "Award-winning, four-star celebrity chef and restaurateur, Jean-Georges Vongerichten invites you to realize steakhouse dining at its finest with prime steak, seafood and lamb accompanied by fabulous sauces, sides and meticulously selected wines."
Prime website "read more"
Sensi
Asian, Italian, Seafood "The food and presentation from the four kitchens constantly evolves to produce innovative culinary creations from Chef Martin Heierling."
Sensi website "read more"
The Buffet
American, International Cuisine "The freshest ingredients are brought together in an exciting display of taste and talent at the superb Buffet Bellagio."
The Buffet website "read more"
Yellowtail Sushi
Traditional and Modern Japanese "Abundant selections of specialty sakes enhance Yellowtail Sushi Restaurant & Bar's innovative dishes, while panoramic views of Bellagio's iconic fountain show and the Las Vegas Strip award guests a multi-sensory dining experience."
Yellowtail Sushi website "read more"
Other: Pool Café (Seasonal), Café Bellagio, Café Gelato (ice cream), Palio Café (coffee, sandwiches), Palio Pronto (pastries, chocolates), Snacks at The Race and Sports Book, Jean Philippe (pastry shop)
Osteria del Circo Restaurant

The Osteria de Circo restaurant at Bellagio Las Vegas offers upscale Tuscan fare surrounded by hospitality and charm. The meals are prepared in traditional Italian style with the elegance of a fine gourmet restaurant.

Osteria del Circo boasts a large selection of about 900 fine imported wines. The intoxicating fragrances of fresh herbs will lure you in to its luxurious deep custom-designed Italian chairs. Osteria del Circo's décor is whimsical and vibrant. It is designed with the excitement of a European carnival tent with colorful and luxurious fabrics.

The executive Chef is Vincenzo Scarmiglia. Reservations are recommended.
Fix restaurant

Fix restaurant at Bellagio features seafood, meat and poultry gourmet meals cooked on a wood burning grill. Led by chef, Rene Charest, all-American fare is prepared according to the diners exact specifications.

Fix has a vibrant, cutting-edge environment with a unique urban-modern design. The décor is designed almost entirely of Costa Rican Padouk wood. The ceiling boasts a chic wave like design.

Try a Fix specialty of Lobster tacos with grilled mango and cilantro, or the Ultimate Shell Fix with Maine lobster, tiger prawns, crab, clams, and market oysters.

Feast on a a 14 oz. sirloin, dry aged 20 oz. rib eye, or wet aged filet mignon. These fine quality steaks are prepared on a wood burning grill to your liking. All steaks can surf with King Crab, Jumbo Shrimp or Maine Lobster

Feast on the 'drunken' lobster with prosciutto gnocchi in truffle cream. Savor the Surf and Turf Fix with butter-roasted lobster tail and miso glazed short ribs. Enjoy the Bronx veal chop with cheesy polenta cake and wild mushrooms, or scallops with apple wood bacon and crab hollandaise.

Top off the delicious meal with a scrumptious dessert. The warm banana doughnuts and chocolate and peanut butter dipping sauce is a comforting end to a wonderful meal.

Fix is located at directly off the Via Bellagio shops at the North Valet.
Jasmine Restaurant

Jasmine restaurant at Bellagio Las Vegas serves Cantonese, Szechwan and Hunan cuisine by Chef, Philip Lo. The average meal price range begins at $35. Jasmine is located on the lakefront with an excellent view of the fabulous Bellagio dancing fountains.

The exquisite garden and lake-view will delight your senses, as well as the exotic aromas. The replicated Chinese art adds a sense of tranquility and authentic beauty at Jasmine.

Jasmine's Cantonese classics are shark's fin, Australian abalone in oyster sauce and crispy goby. Seafood creations may include jumbo prawns in nectar with honey glazed walnuts, roasted Chilean sea bass with lotus root and shitake mushrooms, or crispy sun-dried scallops.

End the course with a luscious desert of Tahitian banana crème brulee, chocolate mouse or napoleon, caramelized bananas or ice cream.

Reservations are recommended.
Le Cirque Restaurant

The Le Cirque restaurant at Bellagio Las Vegas serves French cuisine with contemporary influences by Chef, David Werly. They offer a wine list of over 900 international selections from France's best wine regions. Le Cirque holds a prestigious AAA Five Diamond rating.

The dining room is decorated with bold striped chairs and colorful fabrics. It is themed in a carnival atmosphere that is amusing yet opulent. Well appointed table settings showcase the culinary achievements, designed to give taste buds celebration.

Le Cirque has wonderful selections for the seafood and meat lover alike. Savor roasted loin rabbit with crispy spaëtzles in a Riesling Sauce, Szechwan pepper and cardamom salmon in lobster oil and crustacean jus, or Maine lobster with mushroom tortellini.

Finish a delightful meal with a luscious desert such as praline mouse, coconut ice cream, or a scrumptious "Floating Island" of vanilla Anglaise in soft meringue and caramelized hazelnut.

Reservations are recommended.
Michael Mina Restaurant

Michael Mina restaurant at the Bellagio Las Vegas explores bold flavors by Chef, Anthony Amoroso. The sophisticated textures of contemporary cuisine and innovative seafood preparations will delight your palate.

The sleek design, warm wood features, and rich colors of its décor are refined and inviting. Michael Mina restaurant offers an expansive wine list featuring coveted American and European vineyard selections.

Signature entrees include skirt steak or rib eye in au poivre with horseradish potato in a shallot marmalade, duck served with tomato chutney and corn polenta, or Maine lobster pot pie with fingerling potatoes and black truffles.

Feast on rack of lamb with ricotta cavatelli, glazed black cod with baby bok choy, or phyllo Dover sole and Dungeness crab brandade in a Dijon sauce. Finish a sensational meal with mascarpone sorbet or coconut cheesecake.

Reservations are recommended.

Michael Mina restaurant is located near the Conservatory and Botanical Gardens. Stop there before or after your meal to see the beautiful and spectacular flower and plant arrangements.
Noodles

Noodles restaurant features cuisine with authentic flavors from regions of Thailand, Malaysia, Japan, China and Vietnam. A Hong-Kong style barbecue is also prepared.

Led by chef, Patrick Lee, traditional noodle kitchens of Asia with traditional Asian specialties are brought to new dimensions. Enjoy delicious rice and wok-fried noodle dishes and the always popular Chinese dim sum. The menu is varied to please.

They offer a large selection of domestic and imported beers, along with sake.

Noodles décor is casual but modern and sleek with noodle-filled apothecary jars lining the lighted walls. The atmosphere is warm and inviting with Asian design accents.

Dress code is casual. Noodles restaurant is located adjacent to the Baccarat Bar at the Bellagio.

Michael Mina restaurant is located near the Conservatory and Botanical Gardens. Stop there before or after your meal to see the beautiful and spectacular flower and plant arrangements.
Olives

Olives restaurant is a casual dining restaurant with breathtaking views of Lake Bellagio. They have both indoor and outdoor patio dining. A divine creation by chef and owner, Todd English.

Led by chef, Isaac Carter, popular American cuisine is prepared with a Mediterranean twist and expertly presented.

There is a fine selection of dinner entrees. Enjoy crusted Pacific salmon, pan seared jumbo sea scallops, grilled ribeye, beef tenderloin, or braised short ribs.

Olives also serves up a variety flatbreads and house-made pasta courses. Creative and delicious pizzas pop from its authentic brick oven.

They offer an extensive collection of wines from around the world and a full bar.

Olives décor is comfortable and appealing, featuring dark woods and rich golden tones. The tables are made of granite and beautifully set with imported Italian silverware. The atmosphere is casual yet elegant.

Enter Olives restaurant via the Bellagio shopping promenade.
Picasso Restaurant

Picasso restaurant at the Bellagio Las Vegas houses numerous Picasso masterpieces of art and a collection of his ceramic pieces. Its décor is bold with warm tones and rich colors, which perfectly showcase the work of artist extraordinaire, Pablo Picasso.

Picasso restaurant serves elegant French cuisine. The menu is prepared with a Spanish influence, as inspired by the regional cuisine of France and Spain. Picasso has a dazzling wine collection of more than 1,500 selections from vineyards worldwide.

Picasso is a recipient of the prestigious AAA five Diamond Award. The menu selections change according to the market, as only the freshest ingredients are used.

They are located lakeside. Reservations are recommended.
Prime Steakhouse

Prime Steakhouse at the Bellagio Las Vegas is led by award-winning, Four-Star Chef, Jean-Georges Vongerichten and Executive Chef, Robert Moore.

Prime Steakhouse prepares a fine selection of prime meats, seafood and chops. They offer a handsome list of big red wines from California. They are recipient of the prestigious Four Diamond AAA award.

The décor is drenched in chocolate brown with generous draperies of delicate blue hues. To complete the elegant ambiance, paintings by Carlo Mario Mariana, George Deem and Michael Gregory adorn the walls. A canvas screen created by Joseph Raffael is proudly displayed.

Enjoy your favorite cigar or cocktail on the lovely garden patio at Prime Steakhouse, and relish the view of the fabulous Bellagio dancing fountains. The mood is intoxicating.

Reservations are recommended.
Sensi

Sensi restaurant features four cuisines of Italian, Asian, grilled and seafood led by Chef, Martin Heierling. They are innovatively prepared to appeal to the senses.

The décor is lined with carved stone, waterfalls and mirrored chrome. The kitchen takes center stage as four kitchens constantly evolve to produce exciting culinary creations.

Sensi offers fine wines from the southern hemisphere regions, particularly Australia and New Zealand.

Sensi classics include crisp fried shrimp with creamy ginger mayonnaise, tuna tartar bites, and tempura Maine lobster.

Enjoy a taste of little Italy, Italian brick oven specialties, Asian inspired delights, or broiled, roasted and grilled courses.

Sensi is located within the Spa Tower just passed Via Fiore shops at the Bellagio.
Las Vegas Power Pass

The Las Vegas Power Pass offers huge savings off admission fees to the largest
selection of top Las Vegas shows, restaurants and attractons. Skip the lines at
many locations and save time and money.



Half Price Shows

Purchase shows, tours, and attraction tickets for 50% off box office price. With HalfPriceShows there is no reason to pay full price or stand in lines. New items are added regularly. Buy discount tickets online!



Club Viva Las Vegas

NO cover charges. NO waiting in lines. Nightlife connection to the hottest clubs. Luxury transportation, VIP entrance with host and cocktails onboard. Hit three clubs for $49. Bachelor & bachelorette party specials. They get you in!



Vegas Bite Card

Save Over $500 on Shows, Tours, Attractions, Restaurants, Golf and Weddings! Half price shows and food. Unlimited use for one year. Card with no coupons. Show your card to receive discounts. The premium discount card for Las Vegas.



Las Vegas Perks

Experience Las Vegas at half price with Las Vegas Perks coupon book. For one low price, you'll receive a discount book worth over $1,200 in "2 for 1" Las Vegas dining, shows, tours, attractions, gaming credits and match play certificates.



Golf Card International

Savings on golf at nearly 3,000 golf courses. Up to 50% savings on cart and green fee for two rounds per year at an additional 2,400 courses. Newsletter and 20% savings on product purchases.