Las Vegas Strip Map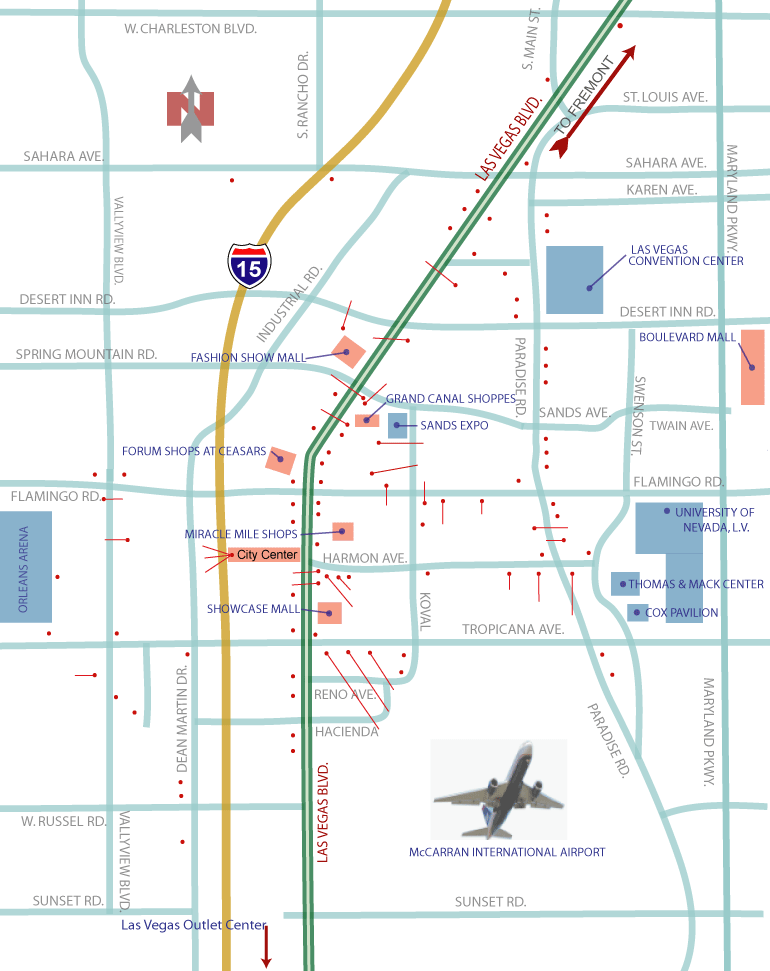 Aria
Alexis
Ambassador
America's Best Value
Artisan
Aruba Hotel & Spa
Atrium
Ambassador Strip Travelodge
Bally's
Bellagio
Best Western Mardi Gras
Best Western McCarran
Bill's Gamblin
Caesars Palace
Cancun Resort
Candlewood Suites
Carriage House
Casino Royal
Circus Circus
Clarion
Comfort Inn
Courtyard
Courtyard
Embassy
Suites
Embassy
Emerald
Suites
Emerald Suites
Tropicana
Encore at Wynn
Excalibur
Extended Stay
Deluxe
Fairfield Inn
Fairfield
Flamingo
Four Seasons
Gold Coast
Hampton Inn
Hard Rock
Harrah's
Desert Rose
Hilton Grand Vac.
Hilton Grand Vac.
Hilton Grand Vac.
Holiday Inn
Hooters Casino & Hotel
Howard Johnson
Hyatt Place
Imperial Palace
Jockey Club
La Quinta
La Quinta
Las Vegas Hilton
Luxor
Mandalay Bay
Mandarin
MGM Grand
Marriot Suites
Marriot Grand
Mirage
Monte Carlo
New York
New York
Orleans
The Palms
Palace Station
Palazzo
Paris
Planet Hollywood
Platinum
Polo Towers
Renaissance
Residence Inn
Residence Inn
Residence Inn
Rio
Riviera
Royal Vacations Suites
Sahara
Signature
Stratosphere
St Tropez
Summer Bay
Super 8
Terrible's
Travelodge
Treasure Island
Tropicana
Trump
Tuscany
Vdara
Venetian
Villa Roma
Westin
Wild Wild West
Wyndham
Wynn Las Vegas

Restaurants
CAESARS PALACE Restaurants

♠

Bradley Ogden
by Bradley Ogden
American "Famed Bay Area Chef Bradley Ogden, a pioneer in the Farm-Fresh and Organic movement, continues this tradition inside his only namesake restaurant located at Caesars Palace; the only restaurant in Las Vegas to receive the James Beard Foundation's "Best New Restaurant of the Year award."
Bradley Ogden menu
Bradley Ogden website "read more"
♠

Mesa Grill
by Bobby Flay
Southwestern Cuisine "Celebrity Chef Bobby Flay brings his passion for bold and innovative Southwestern flair to Mesa Grill at Caesars Palace, the Las Vegas outpost of his acclaimed New York flagship restaurant."
Mesa Grill menu
Mesa Grill website "read more"
♠

Payard Patisserie & Bistro
by Francois Payard
French , Desserts "Opened in November 2007, Payard Pâtisserie & Bistro at Caesars Palace is the creation of award-winning Pastry Chef, François Payard, and is a beautifully designed, multi-layered experience that includes a chocolate shop, a pastry shop
and a traditional dining room."
Payard Patisserie & Bistro website "read more"
♠

Restaurant Guy Savoy
by Guy Savoy
French, Gourmet "Restaurant Guy Savoy is the only place in America to experience the elegant cuisine of Guy Savoy, one of France's most revered and award-winning chefs."
Restaurant Guy Savoy website "read more"
Augustus Café
Varied casual cuisine "Overlooking the magnificent Roman Plaza is the Augustus Cafe, a 24-hour casual dining experience featuring a diverse and delicious array of American cuisine."
Augustus Café website "read more"
Beijing Noodle No. 9
Chinese "Walk through a dramatic entrance flanked by gigantic fishtanks into an authentic taste of Northern Chinese cuisine at Beijing Noodle No. 9, the newest restaurant at Caesars Palace."
Beijing Noodle No. 9 website "read more"
Café Lago Buffet
International Cuisine, Seafood "Surround yourself by a contemporary Italian lake setting for an incredible dining experience at Cafe Lago Buffet."
Café Lago Buffet website "read more"
Cypress Street Marketplace
Varied Cuisine, Specialty "Beneath a canopy of cypress trees, this innovative Napa-Style Picnic in the Park - the latest concept in casual dining - is both unique and value-oriented."
Cypress Street Marketplace website "read more"
Hyakumi
Japanese, Seafood "Hyakumi Japanese Restaurant & Sushi Bar offers fresh sushi prepared by master chefs along with Teppanyaki style cooking and à la carte dishes including noodle soups and grilled items."
Hyakumi website "read more"
Nero's
Seafood, Steakhouse "Specializing in dry-aged prime beef, tender chops, fresh fish and seafood, Neros is much more than just a steak house - although
the steaks are superb."
Neros website "read more"
Rao's
Italian "A night at Rao's is a truly a magical experience. Whether in New York, or at Caesars Palace in Las Vegas, the Rao's family makes sure you feel as if yours is the only table in the room."
Rao's menu
Rao's website "read more"
Sea Harbour
Chinese, Cantonese, Seafood "Guests can enjoy authentic Cantonese seafood including traditional delicacies such as abalone, shark fin and sea cucumber, all exquisitely prepared by Chinese chefs."
Sea Harbour website "read more"
Serendipity 3
"Serendipity 3 is a great choice for lunch or dinner as well as dessert, offering colossal burgers and dogs, overstuffed sandwiches and pastas piled high. "
Serendipity 3 website "read more"
Caesars Forum Shops at Caesars Palace - Restaurants
Boa Steakhouse
Café Della Spiga
Cheesecake Factory
Expressor
Fat Tuesday
I1 Mulino New York
Joe's Seafood, Prime Steak & Stone Crab
La Salsa
Planet Hollywood
Spago
Sushi Roku
The Palm Las Vegas
Trevi Italian Restaurant
Caesars Forum Shops Mall Directory of Restaurants
Bradley Ogden Restaurant

Bradley Ogden restaurant at Caesars Palace Las Vegas is comfortable and inviting. Its dining area is accentuated with inviting elements of water, warm woods and earthy colors. Oil paintings, from California artists, add vibrancy to the relaxing atmosphere.

Additional seating is available on their patio that faces The Colosseum at Caesars Palace.

Chef Ogden has designed a menu that presents a multi-generational interpretation of traditional American cooking. His cuisine has depth of flavor and is made with the freshest ingredients.

Bradley Ogden has received numerous awards that include The Four Diamond AAA rating.

Bradley Ogden restaurant's three course Special Prix-Fix includes soup, salad, main course and dessert.

End a perfect meal with a delicious dessert of black forest mousse, berry cobbler or banana upside down cake in toffee sauce with vanilla bean ice cream.

Reservations are recommended.
Mesa Grill Restaurant

Mesa Grill, with celebrity Chef Bobby Flay, brings together innovative Southwestern cuisine and grilling to Caesars Palace Las Vegas.

Mesa Grill has an open space layout with rich, vibrant colors and textures that epitomize the American Southwest. Chef Bobby Flay's signature style cuisine of southwestern flavors and aromas of grilling, tantalizes the senses.

Besides his tongue-tingling dishes, you'll find the highest quality aged tequilas, mezcal, top American wines, and even 12-year aged Guatemalan Rum. Mesa Grill's cocktail menu features signature drinks too, including their perfectly mixed margarita.

Bobby Flay is well known for his many Food Network shows. He is author of southwestern style and grilling cookbooks. Mesa Grill has received accolades including the Four Diamond AAA rating.

Reservations are recommended.
Rao's Restaurant

Rao's restaurant at Caesars Palace Las Vegas is an exceptional traditional Italian culinary feast. The ingredients are fresh, high quality and made with love in homemade goodness.

Rao's Chef Carla Pellgrino prepares the same type of fare in Las Vegas as the Rao's located in New York. The Rao family makes guests feel special.

The quality of the freshly grated Pecorino-Romano and Parmigiano-Reggiano cheeses, Felipo Berio olive oil, and San Marzano plum tomatoes is strikingly apparent to the taste buds. The homemade perfectly cooked pastas, risottos and entrees, along with the fine service and personal touches have made Rao's a legendary dining experience.

There are many varieties of pasta and exquisite pairing of complimentary flavors. Try the baby arugula with cherry tomatoes and jumbo shrimp in white wine and oil over linguine pasta. Or, smoked salmon in cream sauce, tomatoes and baby peas over freshly made penne pasta.

There are many selections for the meatier palate too at Rao's. Try the lemon chicken, pan-seared veal with cherry peppers, veal scallopini, filet mignon with melted gorgonzola cheese, or broiled lamb chop with roasted potatoes.

The menu is varied to include giant shrimp in lemon butter and wine, crispy skin seared salmon, sauteed vegetables, the unforgettable Rao's meatballs in tomato sauce, and their signature wines.

Reservations are recommended.
Las Vegas Power Pass

The Las Vegas Power Pass offers huge savings off admission fees to the largest
selection of top Las Vegas shows, restaurants and attractons. Skip the lines at
many locations and save time and money.



Half Price Shows

Purchase shows, tours, and attraction tickets for 50% off box office price. With HalfPriceShows there is no reason to pay full price or stand in lines. New items are added regularly. Buy discount tickets online!



Club Viva Las Vegas

NO cover charges. NO waiting in lines. Nightlife connection to the hottest clubs. Luxury transportation, VIP entrance with host and cocktails onboard. Hit three clubs for $49. Bachelor & bachelorette party specials. They get you in!



Vegas Bite Card

Save Over $500 on Shows, Tours, Attractions, Restaurants, Golf and Weddings! Half price shows and food. Unlimited use for one year. Card with no coupons. Show your card to receive discounts. The premium discount card for Las Vegas.



Las Vegas Perks

Experience Las Vegas at half price with Las Vegas Perks coupon book. For one low price, you'll receive a discount book worth over $1,200 in "2 for 1" Las Vegas dining, shows, tours, attractions, gaming credits and match play certificates.



Golf Card International

Savings on golf at nearly 3,000 golf courses. Up to 50% savings on cart and green fee for two rounds per year at an additional 2,400 courses. Newsletter and 20% savings on product purchases.