Las Vegas Strip Map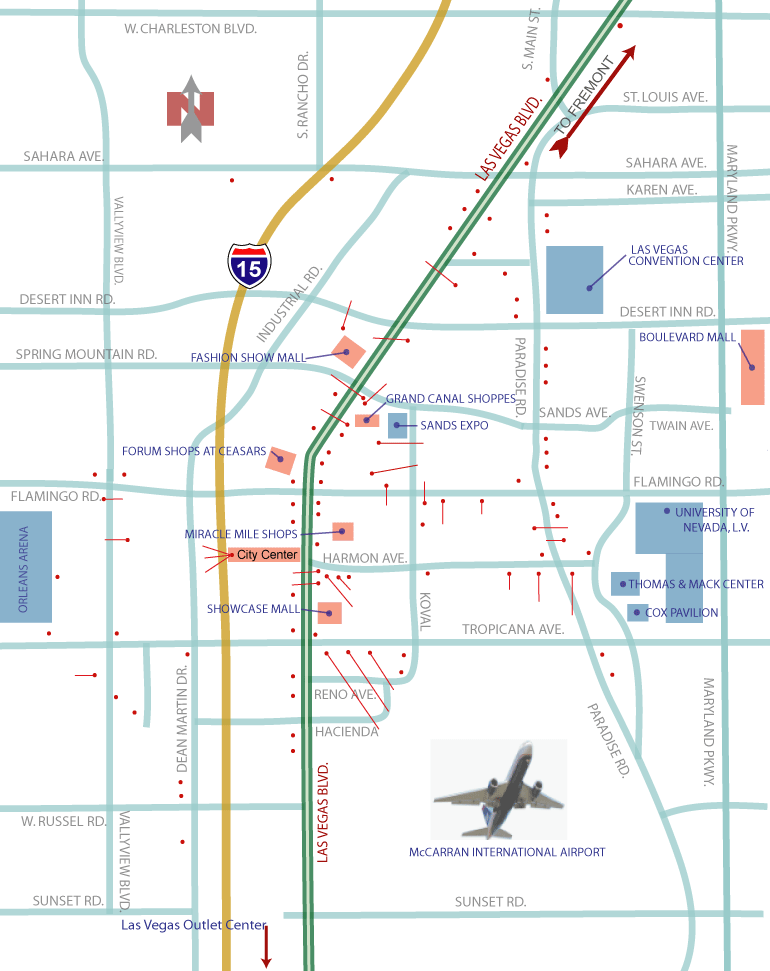 Aria
Alexis
Ambassador
America's Best Value
Artisan
Aruba Hotel & Spa
Atrium
Ambassador Strip Travelodge
Bally's
Bellagio
Best Western Mardi Gras
Best Western McCarran
Bill's Gamblin
Caesars Palace
Cancun Resort
Candlewood Suites
Carriage House
Casino Royal
Circus Circus
Clarion
Comfort Inn
Courtyard
Courtyard
Embassy
Suites
Embassy
Emerald
Suites
Emerald Suites
Tropicana
Encore at Wynn
Excalibur
Extended Stay
Deluxe
Fairfield Inn
Fairfield
Flamingo
Four Seasons
Gold Coast
Hampton Inn
Hard Rock
Harrah's
Desert Rose
Hilton Grand Vac.
Hilton Grand Vac.
Hilton Grand Vac.
Holiday Inn
Hooters Casino & Hotel
Howard Johnson
Hyatt Place
Imperial Palace
Jockey Club
La Quinta
La Quinta
Las Vegas Hilton
Luxor
Mandalay Bay
Mandarin
MGM Grand
Marriot Suites
Marriot Grand
Mirage
Monte Carlo
New York
New York
Orleans
The Palms
Palace Station
Palazzo
Paris
Planet Hollywood
Platinum
Polo Towers
Renaissance
Residence Inn
Residence Inn
Residence Inn
Rio
Riviera
Royal Vacations Suites
Sahara
Signature
Stratosphere
St Tropez
Summer Bay
Super 8
Terrible's
Travelodge
Treasure Island
Tropicana
Trump
Tuscany
Vdara
Venetian
Villa Roma
Westin
Wild Wild West
Wyndham
Wynn Las Vegas

Restaurants
LAS VEGAS HILTON Restaurants
Buffet
Regional American Cuisine "This traditional buffet offers flavors from around the world."
Buffet website "read more"
Benihana
Japanese, Hibachi "Benihana is the first name in exhibition-style, Japanese cuisine."
Benihana website "read more"
Casa Nicola
Italian, Seafood, Gourmet "The warm inviting atmosphere combined with the Tuscan finishing's, eye catching colors and exhibition kitchen leave you feeling as though you are in a classic Italian trattoria."
Casa Nicola website "read more"
Garden of the Dragon
Chinese, Seafood, Fresh Fish Tanks "Spicy and subtle, the yin and yang of China's great culinary art awaits your chopsticks at Garden of the Dragon."
Garden of the Dragon website "read more"
Paradise Café
American Café "In a colorful tropical setting, the Paradise Café provides friendly service and an expansive menu ranging from tempting appetizers, hearty soups, bountiful salads, over-stuffed sandwiches, flamed
steaks and burgers."
Paradise Café website "read more"
Teru Sushi
Japanese, Seafood "Teru Sushi features more than 40 types of fresh sushi flown in daily from waters
around the world."
Teru Sushi website "read more"
TJ's Steakhouse
Steakhouse, Seafood "Set against the backdrop of rich mahogany TJ's Steakhouse, is decorated with nostalgic images of old Las Vegas that welcomes its guests to this intimate and relaxing atmosphere."
TJ's Steakhouse Website "read more"
Other: Fortuna (Coffee & wine, internet access), Perks Place Coffee, Superbook Deli, Chaise's Snack Bar, Pizza Hut, The Ice Cream Shoppe

Benihana restaurant

Benihana restaurant features exhibition-style Japanese cuisine. Traditional and unique dishes are prepared to order by masterful chefs that demonstrate their skills on hibachi tables.

They serve an assortment of prime sake, wines, specialty drinks, shake cocktails and imported and domestic beers, along with non-alcoholic beverages. They offer a porcelain Buddha or geisha souvenir mug to enjoy your favorite drink in.

Benihana has a full menu of specialty sushi rolls, meat and seafood courses, along with Japanese specialties designed to please.

Enjoy teriyaki beef julienne with green onions and shrimp, plump chicken breast and succulent shrimp, chicken breast hibachi-grilled with sesame seeds and lemon, or filet mignon grilled to perfection

The décor is surrounded by lush Japanese gardens, flowing ponds, exotic accents, and sounds of gentle rains.

Benihana restaurant presents a serene yet festive atmosphere to entertain and delight guests with delicious steaks, seafood and sushi. Watch the hibachi chefs prepare meals with grace, precision and style.
Casa Nicola

Casa Nicola restaurant offers cuisine that is rich with influences of Italy and the Mediterranean coast. Chef, Ray Sansota blends traditional dishes with contemporary inspiration.

The enticing aromas of garlic, herbs, and hearth baked breads fill the air. The exhibition kitchen brings guests and chef together in culinary style.

There is a full menu of outstanding regional choices of Antipasti Freddi, Antipasti Caldi, Le Minestre, Insalate, Le Nostre Paste, Le Nostre Delizie Di Mare, Piatti Forti, and luscious Dolce.

Indulge oneself in the homemade pasta entrees, meat, fowl, or fresh seafood creations. Enjoy lobster tail with jumbo shrimp and scallops prepared with garlic and white wine in a spicy tomato sauce on a bed of linguine, or white veal with lemon, white wine and capers.

The choices are many. Burst of flavors and succulent accompaniments are pleasing and satisfying.

The décor is colorful, warm and welcoming with the scents of a lively classic Italian trattoria.

Relax and indulge at Casa Nicola Ristorante.
Garden of the Dragon

Garden of the Dragon features Szechwan, Peking style, Northern Mongolian and Cantonese cuisine. Led by chef, Chun Liu Keung, the menu is spicy yet subtle, and presented with great culinary style.

They offer a fine assortment of sake, wine, specialty drinks, and virgin cocktails. You'll find a large assortment of appetizers, soups, and entrees to choose from.

Guests who enjoy chicken may select Kung Pao, black peppered, cashew, lemon, or crispy fried. There are many main courses prepared with duck, beef or seafood. Rice, noodle courses, chow mein and fresh vegetables are offered.

The delicately prepared seafood is drawn from the restaurant's fresh fish tanks.

The décor boasts finely carved rich woods, with a comfortable and intimate setting overlooking the gardens of Benihana Village.

Experience an intimate culinary visit to Asia at the Garden of the Dragon.
TJ's Steakhouse

TJ's Steakhouse restaurant features generous portions of slow roasted prime rib, an assortment of USDA prime quality beef cuts, center cut chops, rack of lamb, veal medallions, organic chicken, and fresh seafood entrees.

Their hand selected steaks are broiled over open mesquite flame and served with maitre'd butter. Choices of steak include both premium and prime cuts.

Seafood lovers may choose from a variety of options including wild caught swordfish, Pacific halibut, seafood mixed grill, Chilean sea bass, stuffed lobster tail, or King crab legs to name a few.

They offer favorite cocktails and an extensive wine list to compliment the meal.

Their executive pastry chef has created remarkable, irresistible desserts to tame the sweet cravings.

The décor is classic and warm with rich mahogany to create an ambiance that is elegant yet relaxed. Nostalgic images of old Las Vegas provide guests with an intimate and relaxing atmosphere.

Enjoy some of the largest cuts of prime beef in Las Vegas at TJ's Steakhouse restaurant.
Las Vegas Power Pass

The Las Vegas Power Pass offers huge savings off admission fees to the largest
selection of top Las Vegas shows, restaurants and attractons. Skip the lines at
many locations and save time and money.



Half Price Shows

Purchase shows, tours, and attraction tickets for 50% off box office price. With HalfPriceShows there is no reason to pay full price or stand in lines. New items are added regularly. Buy discount tickets online!



Club Viva Las Vegas

NO cover charges. NO waiting in lines. Nightlife connection to the hottest clubs. Luxury transportation, VIP entrance with host and cocktails onboard. Hit three clubs for $49. Bachelor & bachelorette party specials. They get you in!



Vegas Bite Card

Save Over $500 on Shows, Tours, Attractions, Restaurants, Golf and Weddings! Half price shows and food. Unlimited use for one year. Card with no coupons. Show your card to receive discounts. The premium discount card for Las Vegas.



Las Vegas Perks

Experience Las Vegas at half price with Las Vegas Perks coupon book. For one low price, you'll receive a discount book worth over $1,200 in "2 for 1" Las Vegas dining, shows, tours, attractions, gaming credits and match play certificates.



Golf Card International

Savings on golf at nearly 3,000 golf courses. Up to 50% savings on cart and green fee for two rounds per year at an additional 2,400 courses. Newsletter and 20% savings on product purchases.