Las Vegas Strip Map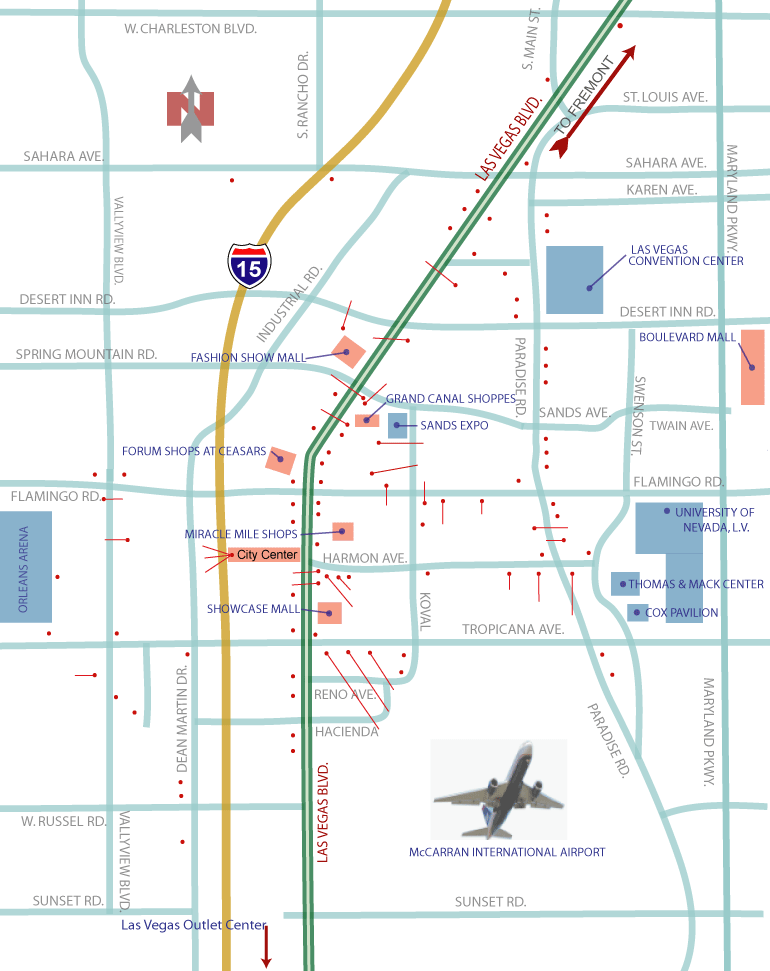 Aria
Alexis
Ambassador
America's Best Value
Artisan
Aruba Hotel & Spa
Atrium
Ambassador Strip Travelodge
Bally's
Bellagio
Best Western Mardi Gras
Best Western McCarran
Bill's Gamblin
Caesars Palace
Cancun Resort
Candlewood Suites
Carriage House
Casino Royal
Circus Circus
Clarion
Comfort Inn
Courtyard
Courtyard
Embassy
Suites
Embassy
Emerald
Suites
Emerald Suites
Tropicana
Encore at Wynn
Excalibur
Extended Stay
Deluxe
Fairfield Inn
Fairfield
Flamingo
Four Seasons
Gold Coast
Hampton Inn
Hard Rock
Harrah's
Desert Rose
Hilton Grand Vac.
Hilton Grand Vac.
Hilton Grand Vac.
Holiday Inn
Hooters Casino & Hotel
Howard Johnson
Hyatt Place
Imperial Palace
Jockey Club
La Quinta
La Quinta
Las Vegas Hilton
Luxor
Mandalay Bay
Mandarin
MGM Grand
Marriot Suites
Marriot Grand
Mirage
Monte Carlo
New York
New York
Orleans
The Palms
Palace Station
Palazzo
Paris
Planet Hollywood
Platinum
Polo Towers
Renaissance
Residence Inn
Residence Inn
Residence Inn
Rio
Riviera
Royal Vacations Suites
Sahara
Signature
Stratosphere
St Tropez
Summer Bay
Super 8
Terrible's
Travelodge
Treasure Island
Tropicana
Trump
Tuscany
Vdara
Venetian
Villa Roma
Westin
Wild Wild West
Wyndham
Wynn Las Vegas

Restaurants
NEW YORK NEW YORK Restaurants
America
American, Italian "Feast your eyes on our larger-than-life, 90 x 20 foot map of the U.S. - complete with mountains, rivers and amber waves of grain; and chart your culinary journey with food, wine and beer from coast to coast."
America menu
America website "read more"
Chin Chin Café
Chinese "Chin Chin Café will stir your senses with tantalizing traditional Chinese food complemented by a colorful, vivacious setting."
Chin Chin Café menu
Chin Chin Café website "read more"
ESPN Zone
American Grill Fare "Speed in for great American-grill grub, a 165-TV-viewing experience and competitive attractions."
ESPN Zone menu
ESPN Zone website "read more"
II Fornaio
Pizza, Italian "Now that's Italian-New York-style."
II Fornaio menu
II Fornaio website "read more"
Gallagher's Steakhouse
Steakhouse "A table at Gallagher's Steakhouse, a New York City original since 1927, guarantees you an evening with sizzle featuring only the finest USDA prime, dry-aged beef and fresh seafood."
Gallagher's Steakhouse menu
Gallagher's Steakhouse website "read more"
Gonzalez Y Gonzalez
Mexican "Spice up your life with the zing of saucy Southwestern fare at Gonzalez Y Gonzalez."
Gonzalez Y Gonzalez menu
Gonzalez Y Gonzalez website "read more"
Nine Fine Irishmen
Irish Fare "Inspired by a group of extraordinary Irishmen who led lives of great adventure, this is a pub of epic proportions starring a grand Victorian-style bar, ornate cottage areas, shop-style snugs, and two levels of outdoor patio dining with a spectacular Las Vegas Strip view."
Nine Fine Irishmen menu
Nine Fine Irishmen website "read more"
Village Eateries Various Quick Bites (Includes Ben & Jerry's, Sirrico's Pizza, quarter-pound burgers, Philly steaks, Nathan's Famous Hot Dogs, Haagen Dazs ice cream, soft pretzels, tropical smoothies and more.)

Chin Chin restaurant

Chin Chin restaurant features traditional Chinese food in a colorful contemporary atmosphere. The exhibition kitchens are entertaining, as the chefs prepare the meal before your eyes.

Chin Chin means "to your health. In line with their name, is a promise that no MSG additives are used in the preparation of their food.

Enjoy pan fried Potstickers, Jing Gow, Shui Mai, Won Ton, or Szechuan dumplings. There is a varied menu of salads, mushu and rice, soups, noodle courses, roasted meats, vegetable delights and delicious desserts.

Soft or deep fried tofu, prepared in a myriad of flavors, is available as a meat substitute.

The beverage menu will tickle the taste buds. They offer China mist teas, ice tea, mango, jasmine green tea and other gourmet teas. For a sweet or deep blend, select from cappuccino, expresso, caffe latte or mocha. Of course, coffee and other beverages are also served.

All of their Dim Sum is handmade on premises at Chin Chin.

Finish the meal with an almond cookie for luck. Or, break the fortune cookie to read what the message holds.
ESPN Zone

ESPN Zone offers casual dining in an ultimate sports-event mega center. Entertainment is in full throttle. They serve popular American fare.

It is a 33,000 square feet electronic sports arena mega center. There are 165 TV monitors with competitive attractions playing in full force. Their Screening Room offers multi-game viewing on two 14-foot screens and about a dozen more 36 inch video monitors. Guests relax to a great view in tiered style seating.

Participate in their Sports Arena. It offers 10,000 square feet of competitive interactive games.

Get in the starting lineup with Zone Queso Chips, wings or sliders. Or, go on-deck with a southwest chicken or grilled steak salad.

Kick-off with a Zone cheese steak, Cajun burger or buffalo chicken. Get the game on with baby back ribs, New York Strip, or fettuccini alfredo in roasted garlic sauce.

You can run into overtime with a sudden death brownie, or rowdy rum carrot cake in caramel sauce.

Booth seating allows for a bit more private sports-viewing experience. The cozy booths are equipped with a private monitor and speaker control. Kick back in the recliner chair. Put your burger on the food tray between bites, and enjoy the game.

Fill up on sports and food at ESPN Zone.
II Fornaio restaurant

II Fornaio restaurant features northern Italian style meals in New York style. The pasta is homemade. The cheese and extra-virgin olive oil is imported from Italy. The bread is baked from scratch each day.

Led by chef, Maurizio Mazzon, the savory wood-fired pizza, mesquite-grilled fish, rotisserie or authentic Italian specialties are prepared exquisitely to please the palate.

The fresh pastas, soups and salad dressings are made on-site. The dry pastas are imported from Italy.

They offer a delightful and extensive menu of pasta selections and authentic Italian specialties from rotisserie and grill. The Scaloppini Caprese is thinly pounded and topped with tomato and fresh mozzarella. It's no wonder that it remains a traditional crowd pleaser.

The décor is romantic in Old World style.

Tip a glass of wine or Italian coffee, and enjoy a scone or pastry at I1 Fornaio. The end to a perfect meal.
Gonzalez y Gonzalez

Gonzalez y Gonzalez restaurant features saucy Southwestern specialties. Diners receive a traditional welcome of tortilla chips and salsa. The chef's party platter is filled with Gonzalez Nachos, shrimp jalapenos, beef and chicken taquitos.

They offer a full menu of entree selections that include steak picado, blue corn chicken, grilled marinated fajitas, crispy carnitas, chipotle grilled seafood, and enchiladas made with rolled corn tortillas.

The atmosphere is lively and upbeat. Gonzalez y Gonzalez is situated in an outdoor courtyard decorated with colorful lanterns and piñatas.

A full tequila bar is available to quench a Cuervo craving, or to jump start the evening.

Arriba!
Nine Fine Irishmen

Nine Fine Irishmen is an authentic Irish pub and restaurant, with live entertainment by special guest artists. There are two levels of indoor and outdoor patio dining that offer spectacular views of the Las Vegas strip.

The dinner menu is varied with starters, soups and salads, traditional Irish fare, main courses and sides.

Start out with ale battered spicy sausages with sides of Guinness and honey mustard dipping sauces, or Irish beer and cheese dip with country breads.

Traditional Irish courses include Shepherd's pie crusted with mashed potatoes, beer battered cod and chips, chicken pot pie and lamb stew.

There is an assortment of Irish brews to choose from. Enjoy a pint of Guinness, Smithwick, Jameson, or Bushmill Whiskey for example. Well cocktails are also served.

Guests will feel the Irish spirit alive at Nine Fine Irishmen.

The décor is designed in Irish flair with a grand Victorian-style bar, comfortable seating, and cozy dining rooms.

Stop at Nine Fine Irishmen for a little luck of the Irish.
Las Vegas Power Pass

The Las Vegas Power Pass offers huge savings off admission fees to the largest
selection of top Las Vegas shows, restaurants and attractons. Skip the lines at
many locations and save time and money.



Half Price Shows

Purchase shows, tours, and attraction tickets for 50% off box office price. With HalfPriceShows there is no reason to pay full price or stand in lines. New items are added regularly. Buy discount tickets online!



Club Viva Las Vegas

NO cover charges. NO waiting in lines. Nightlife connection to the hottest clubs. Luxury transportation, VIP entrance with host and cocktails onboard. Hit three clubs for $49. Bachelor & bachelorette party specials. They get you in!



Vegas Bite Card

Save Over $500 on Shows, Tours, Attractions, Restaurants, Golf and Weddings! Half price shows and food. Unlimited use for one year. Card with no coupons. Show your card to receive discounts. The premium discount card for Las Vegas.



Las Vegas Perks

Experience Las Vegas at half price with Las Vegas Perks coupon book. For one low price, you'll receive a discount book worth over $1,200 in "2 for 1" Las Vegas dining, shows, tours, attractions, gaming credits and match play certificates.



Golf Card International

Savings on golf at nearly 3,000 golf courses. Up to 50% savings on cart and green fee for two rounds per year at an additional 2,400 courses. Newsletter and 20% savings on product purchases.