Las Vegas Strip Map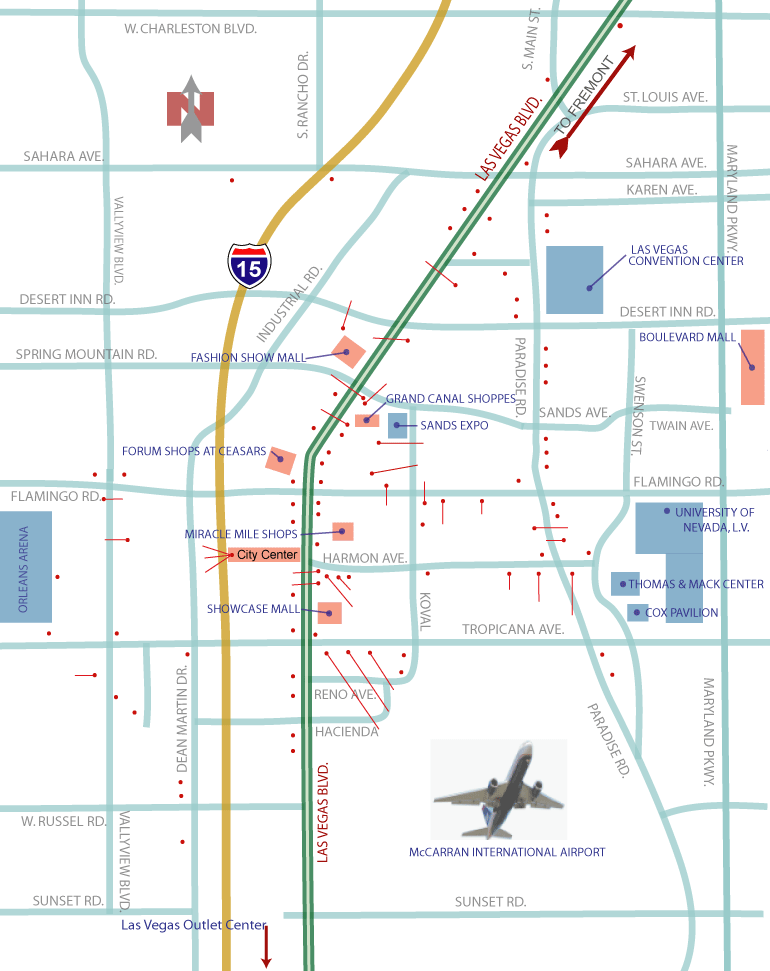 Aria
Alexis
Ambassador
America's Best Value
Artisan
Aruba Hotel & Spa
Atrium
Ambassador Strip Travelodge
Bally's
Bellagio
Best Western Mardi Gras
Best Western McCarran
Bill's Gamblin
Caesars Palace
Cancun Resort
Candlewood Suites
Carriage House
Casino Royal
Circus Circus
Clarion
Comfort Inn
Courtyard
Courtyard
Embassy
Suites
Embassy
Emerald
Suites
Emerald Suites
Tropicana
Encore at Wynn
Excalibur
Extended Stay
Deluxe
Fairfield Inn
Fairfield
Flamingo
Four Seasons
Gold Coast
Hampton Inn
Hard Rock
Harrah's
Desert Rose
Hilton Grand Vac.
Hilton Grand Vac.
Hilton Grand Vac.
Holiday Inn
Hooters Casino & Hotel
Howard Johnson
Hyatt Place
Imperial Palace
Jockey Club
La Quinta
La Quinta
Las Vegas Hilton
Luxor
Mandalay Bay
Mandarin
MGM Grand
Marriot Suites
Marriot Grand
Mirage
Monte Carlo
New York
New York
Orleans
The Palms
Palace Station
Palazzo
Paris
Planet Hollywood
Platinum
Polo Towers
Renaissance
Residence Inn
Residence Inn
Residence Inn
Rio
Riviera
Royal Vacations Suites
Sahara
Signature
Stratosphere
St Tropez
Summer Bay
Super 8
Terrible's
Travelodge
Treasure Island
Tropicana
Trump
Tuscany
Vdara
Venetian
Villa Roma
Westin
Wild Wild West
Wyndham
Wynn Las Vegas

Restaurants
LUXOR Restaurants
Backstage Deli
Deli Style, Sandwiches "Imagine kosher-style foods in a New York-themed setting!"
Backstage Deli menu
Backstage Deli website "read more"
Cathouse
American, European & Asian influences "CatHouse combines a world-class restaurant, orchestrated by Chef Kerry Simon, with an upscale lounge, creating a
seductive nightlife venue."
Cathouse menu
Cathouse website "read more"
Company Kitchen and Pub House
Contemporary American "Welcome to Company AKitchen and Pub House where our dishes are small and meant to be shared and our menu allows you to experience as much or as little as you'd like."
Company Kitchen and Pub House menu
Company Kitchen and Pub House website "read more"
Fusia
(Currently open only for Private Events, Group Party and Event Reservations) Asian Pacific, Chinese "The Fusia Luxor restaurant & lounge combines traditional Asian cuisine with exotic new flavors."
Fusia website "read more"
More The Buffet at Luxor
Varied, Buffet "MORE offers a wide variety of savory fares to satisfy even the pickiest eater."
More The Buffet at Luxor website "read more"
Pyramid Café
American, Steaks, Pizza "Enjoy affordable, casual dining day or night."
Pyramid Café menu
Pyramid Café website "read more"
Tender Steak & Seafood
Steak, Seafood "At TENDER steak & seafood, you'll enjoy top-quality aged prime beef and other delicacies prepared by award winning chef KC Fazel."
Tender Steak & Seafood menu
Tender Steak & Seafood website "read more"
T&T
Mexican "T&T (Tacos & Tequila) is a highly stylized restaurant with a fun, high-energy vibe and flavorful menu."
T&T menu
T&T website "read more"
Other: Luxor Food Court includes Quiznos Sub, Luxor Coffee Company (featuring Krispy Creme donuts), McDonald's, Nathan's, Little Caesars Pizza, Swenson's Ice Cream, Starbucks Coffee and the Burger Bar

Cathouse Restaurant

Cathouse restaurant is lead by Chef, Kerry Simon. They feature upscale American and European style cuisine.

Cathouse décor and mood is inspired by the look and feel of a 19th century European bordello. Guests enter down a long hallway that mimics an entrance to a bordello with faux doors lining the walls. Sensual photographs of females in various stages of undress, and sexy lingerie, is a focal point in the theme.

There are two distinct areas. One set for glamorous dining while the adjoining room is an intimate ultra lounge with DJ music, large platforms for dancing, velvet booths, glamorous chandeliers and intimate lighting.

Cathouse brings together a world class dining experience, seductive atmosphere, and a provocative nightspot for the spontaneous.

Reservations are recommended.
Tender Steak & Seafood Restaurant

Tender Steak & Seafood is lead by award-winning Chef, KC Fazel. They feature mouthwatering entrees of beef, poultry, seafood, and even a delicious surf and turf burger.

Fresh seafood is flown in daily. There are six types of beef cuts to select from, scrumptious desserts, specialty coffee, contemporary cocktails and a variety of wines. Specialty chocolates are hand created by Tender's own pastry chef. It will satisfy the chocolate lover.

Guest may select the Prix Fixe Menu that includes a soup or salad, entrée and desert. Or, from the Tender Menu offering a large variety of delicious selections.

The dining room is elegant with cherry wood and soft lighting. Sink into the generous chairs and relax in its warm, rich and serene dining environment.

TENDER is conveniently located on the casino level of Luxor Las Vegas, and next to Chris Angels Believe Theatre.

Reservations are recommended.
Las Vegas Power Pass

The Las Vegas Power Pass offers huge savings off admission fees to the largest
selection of top Las Vegas shows, restaurants and attractons. Skip the lines at
many locations and save time and money.



Half Price Shows

Purchase shows, tours, and attraction tickets for 50% off box office price. With HalfPriceShows there is no reason to pay full price or stand in lines. New items are added regularly. Buy discount tickets online!



Club Viva Las Vegas

NO cover charges. NO waiting in lines. Nightlife connection to the hottest clubs. Luxury transportation, VIP entrance with host and cocktails onboard. Hit three clubs for $49. Bachelor & bachelorette party specials. They get you in!



Vegas Bite Card

Save Over $500 on Shows, Tours, Attractions, Restaurants, Golf and Weddings! Half price shows and food. Unlimited use for one year. Card with no coupons. Show your card to receive discounts. The premium discount card for Las Vegas.



Las Vegas Perks

Experience Las Vegas at half price with Las Vegas Perks coupon book. For one low price, you'll receive a discount book worth over $1,200 in "2 for 1" Las Vegas dining, shows, tours, attractions, gaming credits and match play certificates.



Golf Card International

Savings on golf at nearly 3,000 golf courses. Up to 50% savings on cart and green fee for two rounds per year at an additional 2,400 courses. Newsletter and 20% savings on product purchases.