Las Vegas Strip Map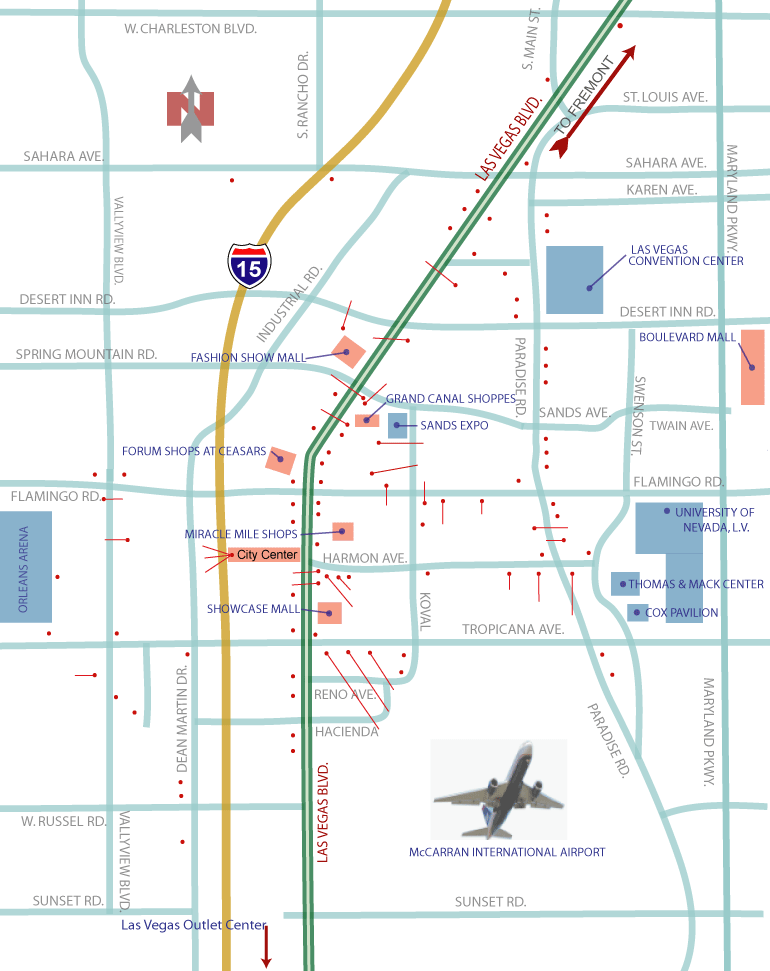 Get Started with

"Pools & Spas"

Click the links in the left column or on

the map to find Pool & Spa locations

on the

Las Vegas Strip.

Or rollover this icon

Aria
Alexis
Ambassador
America's Best Value
Artisan
Aruba Hotel & Spa
Atrium
Ambassador Strip Travelodge
Bally's
Bellagio
Best Western Mardi Gras
Best Western McCarran
Bill's Gamblin
Caesars Palace
Cancun Resort
Candlewood Suites
Carriage House
Casino Royal
Circus Circus
Clarion
Comfort Inn
Courtyard
Courtyard
Embassy
Suites
Embassy
Emerald
Suites
Emerald Suites
Tropicana
Encore at Wynn
Excalibur
Extended Stay
Deluxe
Fairfield Inn
Fairfield
Flamingo
Four Seasons
Gold Coast
Hampton Inn
Hard Rock
Harrah's
Desert Rose
Hilton Grand Vac.
Hilton Grand Vac.
Hilton Grand Vac.
Holiday Inn
Hooters Casino & Hotel
Howard Johnson
Hyatt Place
Imperial Palace
Jockey Club
La Quinta
La Quinta
Las Vegas Hilton
Luxor
Mandalay Bay
Mandarin
MGM Grand
Marriot Suites
Marriot Grand
Mirage
Monte Carlo
New York
New York
Orleans
The Palms
Palace Station
Palazzo
Paris
Planet Hollywood
Platinum
Polo Towers
Renaissance
Residence Inn
Residence Inn
Residence Inn
Rio
Riviera
Royal Vacations Suites
Sahara
Signature
Stratosphere
St Tropez
Summer Bay
Super 8
Terrible's
Travelodge
Treasure Island
Tropicana
Trump
Tuscany
Vdara
Venetian
Villa Roma
Westin
Wild Wild West
Wyndham
Wynn Las Vegas


Top Pools at the Venetian
TAO Beach at the Venetian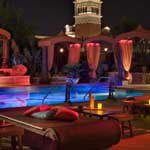 The Venetian pool in Las Vegas is a spectacular complex spanning about five acres. There are three outdoor pools, a hot tub and various styles of rental cabanas and pavilion beds. They offer cocktail service and have a poolside café and bar.
Guests will relax while they are pampered in this picturesque Venetian garden.
TAO Beach is nestled in a secluded area of the Venetian pool in Las Vegas. It is a sophisticated Asian inspired themed beach club that is an extension of the famous TAO Nightclub and TAO Asian restaurant.
TAO Beach is surrounded by bushes to provide exclusivity and buffer by way of a lovely natural screened barrier of greenery. It is lush and tropical with tall 40-foot bamboo trees. European (topless) sunbathing is permitted during the week, but subject to change.
On the weekends, resident DJs keep the music going and the crowd energized. There's lots of bikini clad women in high heels, and hard body hunks to provide the eye candy. TAO Beach is an adult-only pool party with an added VIP experience and high-end amenities.
Guests can enjoy an extensive menu of delicious sushi, appetizers, springs rolls, and grilled selections served poolside, and prepared by TAO Asian Bistro.
On Saturday nights, TAO Beach transforms into an electrifying outdoor nightclub. Tall fire columns and high-energy DJ music keep the party-goers in the mood.
Both the Venetian pool and TAO Beach club offer several luxury rental cabanas, daybeds and pavilion beds. The luxury cabanas are furnished and fully equipped. The cabanas accommodate up to eight people and start at about $300 per day. Misting units keep you refreshed and cool.
Pavilions at the Venetian pool accommodate up to six people and start at about $150 per day. Call Venetian's concierge for more information. Poolside massage services are provided by Canyon Ranch Spa. Reservations are required.
It is inviting and beautiful and the Venetian pool in Las Vegas. The adjacent TAO Beach offers a hot, exciting party surrounded by Asian style and beauty.
Venetian Pools Photo Gallery