Las Vegas Strip Map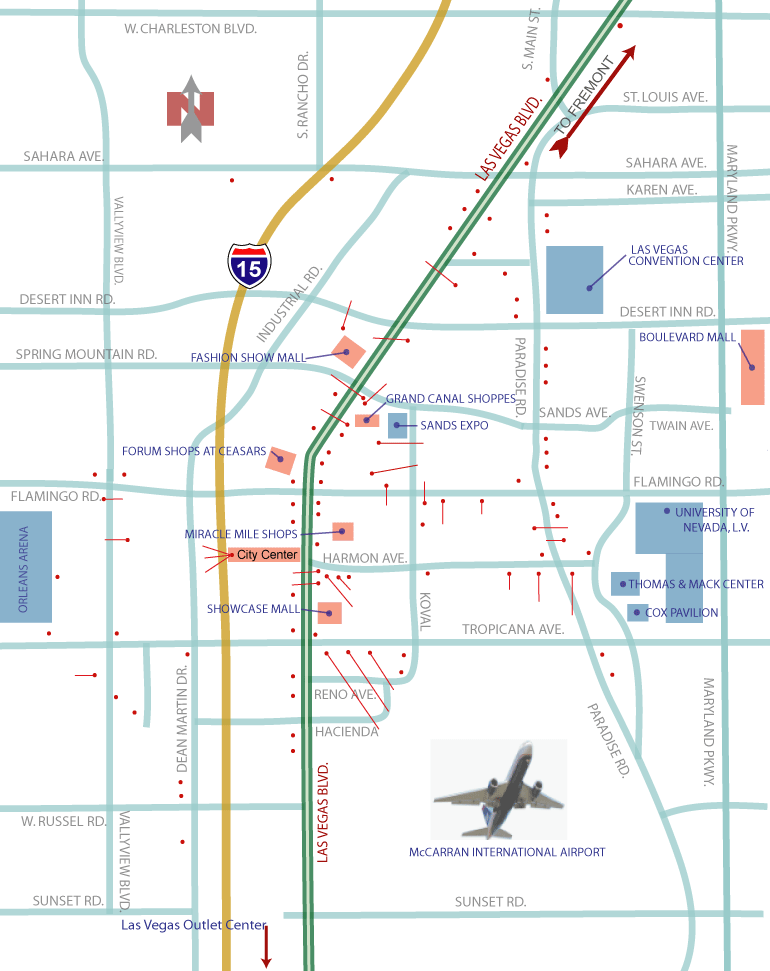 Get Started with

"Pools & Spas"

Click the links in the left column or on

the map to find Pool & Spa locations

on the

Las Vegas Strip.

Or rollover this icon

Aria
Alexis
Ambassador
America's Best Value
Artisan
Aruba Hotel & Spa
Atrium
Ambassador Strip Travelodge
Bally's
Bellagio
Best Western Mardi Gras
Best Western McCarran
Bill's Gamblin
Caesars Palace
Cancun Resort
Candlewood Suites
Carriage House
Casino Royal
Circus Circus
Clarion
Comfort Inn
Courtyard
Courtyard
Embassy
Suites
Embassy
Emerald
Suites
Emerald Suites
Tropicana
Encore at Wynn
Excalibur
Extended Stay
Deluxe
Fairfield Inn
Fairfield
Flamingo
Four Seasons
Gold Coast
Hampton Inn
Hard Rock
Harrah's
Desert Rose
Hilton Grand Vac.
Hilton Grand Vac.
Hilton Grand Vac.
Holiday Inn
Hooters Casino & Hotel
Howard Johnson
Hyatt Place
Imperial Palace
Jockey Club
La Quinta
La Quinta
Las Vegas Hilton
Luxor
Mandalay Bay
Mandarin
MGM Grand
Marriot Suites
Marriot Grand
Mirage
Monte Carlo
New York
New York
Orleans
The Palms
Palace Station
Palazzo
Paris
Planet Hollywood
Platinum
Polo Towers
Renaissance
Residence Inn
Residence Inn
Residence Inn
Rio
Riviera
Royal Vacations Suites
Sahara
Signature
Stratosphere
St Tropez
Summer Bay
Super 8
Terrible's
Travelodge
Treasure Island
Tropicana
Trump
Tuscany
Vdara
Venetian
Villa Roma
Westin
Wild Wild West
Wyndham
Wynn Las Vegas


Top Pools at the Mirage
Pools at the Mirage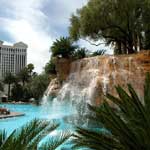 The Mirage pool in Las Vegas is stunning with tropical landscaping and spectacular cascading waterfalls flowing into the pool. There are exhilarating waterslides and interconnecting lagoons. The serene beach bum atmosphere makes this an extremely popular pool.
There are two large outdoor pools and Jacuzzi. A section of the pool is designated for laps and has a slide. The kids section has additional water slides. You must be a registered guest to enjoy the Mirage pool. Security checks are strictly enforced.
A poolside VIP area is available that offers special attention to guests and reserved seating. A convenient Poolside Café offers food and beverage service too.
Bare Pool at the Mirage permits European or topless sunbathing. The area is palm tree enclosed with a comforting atmosphere, and seclusion in a tropical setting. Guests enjoy VIP service at Bare at the Mirage in Las Vegas.
Relax into either of the two luxury dipping pools and receive poolside pampering. There are plenty of enjoyable treats that include cucumbers to sooth the eyes, icy Popsicles, fruit smoothies, iced towels, exotic frozen fruit and more. Misting bottles will help keep you refreshed and cool.
DJ music at Bare Pool adds a delightful edge to the poolside escapade fun. Specialty cocktail and food service is available.
The Mirage Pool and Bare Pool Club have a variety of cabana rental and daybeds. Cabanas are fully furnished and equipped. Mirage cabana rental prices start at about $200 per day and up. Call Mirage concierge directly for more information.
Enjoy poolside pampering, VIP service, and sizzling DJ music at the adults-only utopia, Bare Pool at the Mirage.
The separate Mirage Pool in Las Vegas is one of the most popular pools with its beach side tropical ambiance and waterslides.
Mirage Pools Photo Gallery