Las Vegas Strip Map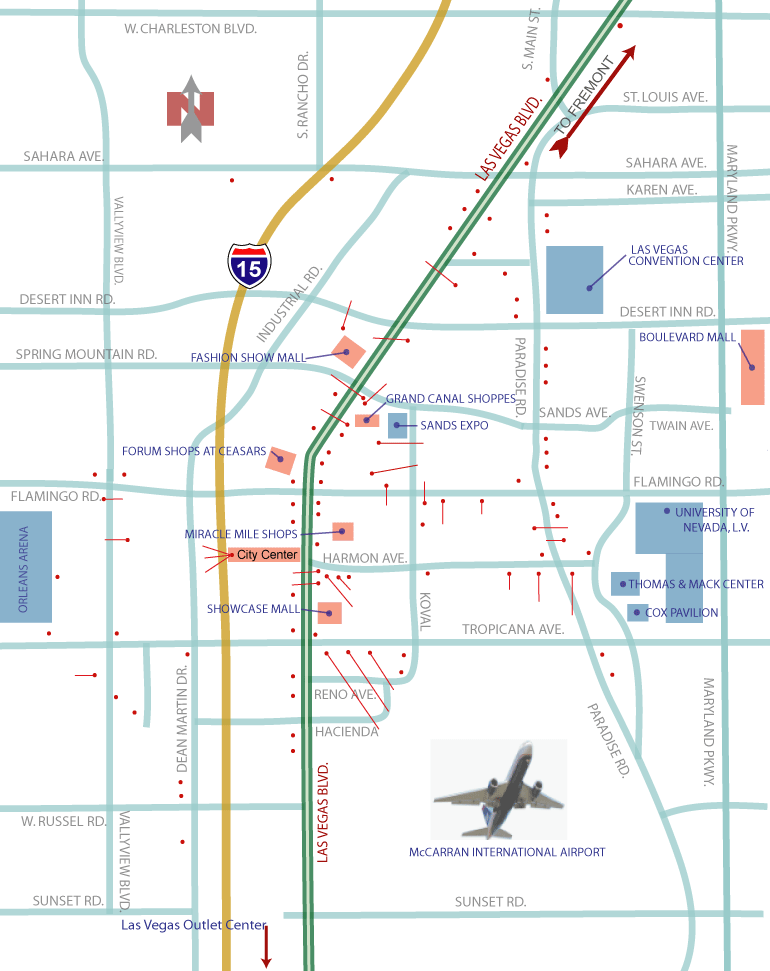 Get Started with

"Pools & Spas"

Click the links in the left column or on

the map to find Pool & Spa locations

on the

Las Vegas Strip.

Or rollover this icon

Aria
Alexis
Ambassador
America's Best Value
Artisan
Aruba Hotel & Spa
Atrium
Ambassador Strip Travelodge
Bally's
Bellagio
Best Western Mardi Gras
Best Western McCarran
Bill's Gamblin
Caesars Palace
Cancun Resort
Candlewood Suites
Carriage House
Casino Royal
Circus Circus
Clarion
Comfort Inn
Courtyard
Courtyard
Embassy
Suites
Embassy
Emerald
Suites
Emerald Suites
Tropicana
Encore at Wynn
Excalibur
Extended Stay
Deluxe
Fairfield Inn
Fairfield
Flamingo
Four Seasons
Gold Coast
Hampton Inn
Hard Rock
Harrah's
Desert Rose
Hilton Grand Vac.
Hilton Grand Vac.
Hilton Grand Vac.
Holiday Inn
Hooters Casino & Hotel
Howard Johnson
Hyatt Place
Imperial Palace
Jockey Club
La Quinta
La Quinta
Las Vegas Hilton
Luxor
Mandalay Bay
Mandarin
MGM Grand
Marriot Suites
Marriot Grand
Mirage
Monte Carlo
New York
New York
Orleans
The Palms
Palace Station
Palazzo
Paris
Planet Hollywood
Platinum
Polo Towers
Renaissance
Residence Inn
Residence Inn
Residence Inn
Rio
Riviera
Royal Vacations Suites
Sahara
Signature
Stratosphere
St Tropez
Summer Bay
Super 8
Terrible's
Travelodge
Treasure Island
Tropicana
Trump
Tuscany
Vdara
Venetian
Villa Roma
Westin
Wild Wild West
Wyndham
Wynn Las Vegas


Top Pools at the Palms
Pools at the Plams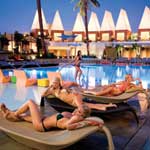 The Palms pool in Las Vegas delivers a scintillating party with live concerts for the ultimate poolside experience.
The music is booming, the drinks are strong, splashy vivacious babes are in barely there bikinis, mingling in a sea of tanned hard bodies. Celebrity appearances are a norm.
The Palms pool is a three acre opulent outdoor playground. There are three pools, a climate-controlled gaming area, four bars, dramatic waterfalls, lush landscaping and a wild party atmosphere in this adults-only haven.
The weekdays at the Palms pool are serene and relaxing as anyone would expect. But on Friday it all breaks loose. Ditch Friday party fun starts at noon, but grab a chair early in the morning if you can.
Ditch Fridays turn the Palms pool into a wild, nightclub party atmosphere during the day. It's not unusual for a party of over 2,000 and up to 3,000 people to attend the kickoff for the weekend.
If you're one of the lucky ones, a bikini-clad Miller girl might just escort you to a VIP upgrade area. There's a private pool and private bar within and special appearances for an added surprise treat.
Besides the sensational party time, the Palms pool area offers some unique and extraordinary bars. The Glass Bar is situated under an elevated, glass-bottomed pool deck giving the bar patrons a unique scene of the swimmers. The Waterfall Bar is situated behind a cascading 12-foot waterfall.
Color-changing LED lighting is built into the pools, presenting another unique and exciting atmosphere.
VIP cabanas and two-story poolside bungalows are available for rent. The cabanas are full furnished and equipped. The poolside bungalows feature outdoor balcony decks with a perfect view of the concert stage and pool, comfortable king beds, private Lanai with Jacuzzi, private bar, all the comforts of home and more. Call the Palms Hotel concierge for more detailed information.
Chill out, relax and hang out. If you're in the mood for a raging fun party, don't miss Ditch Fridays at the Palms pool in Las Vegas.
The Palms Pool Photo Gallery