Las Vegas Strip Map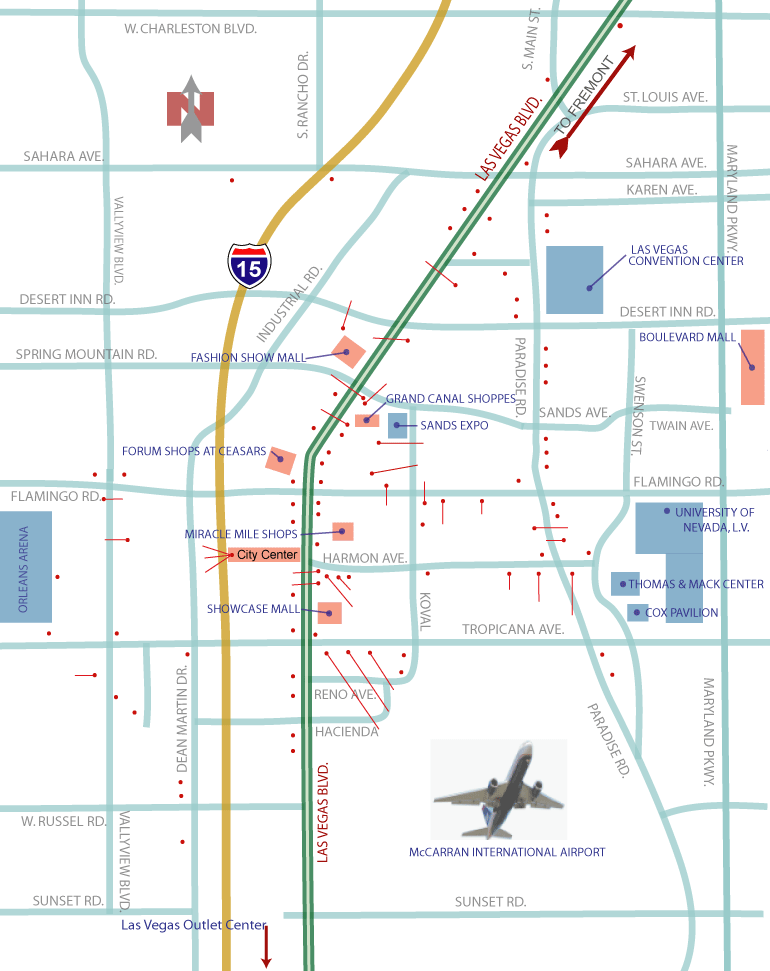 Get Started with

"Pools & Spas"

Click the links in the left column or on

the map to find Pool & Spa locations

on the

Las Vegas Strip.

Or rollover this icon

Aria
Alexis
Ambassador
America's Best Value
Artisan
Aruba Hotel & Spa
Atrium
Ambassador Strip Travelodge
Bally's
Bellagio
Best Western Mardi Gras
Best Western McCarran
Bill's Gamblin
Caesars Palace
Cancun Resort
Candlewood Suites
Carriage House
Casino Royal
Circus Circus
Clarion
Comfort Inn
Courtyard
Courtyard
Embassy
Suites
Embassy
Emerald
Suites
Emerald Suites
Tropicana
Encore at Wynn
Excalibur
Extended Stay
Deluxe
Fairfield Inn
Fairfield
Flamingo
Four Seasons
Gold Coast
Hampton Inn
Hard Rock
Harrah's
Desert Rose
Hilton Grand Vac.
Hilton Grand Vac.
Hilton Grand Vac.
Holiday Inn
Hooters Casino & Hotel
Howard Johnson
Hyatt Place
Imperial Palace
Jockey Club
La Quinta
La Quinta
Las Vegas Hilton
Luxor
Mandalay Bay
Mandarin
MGM Grand
Marriot Suites
Marriot Grand
Mirage
Monte Carlo
New York
New York
Orleans
The Palms
Palace Station
Palazzo
Paris
Planet Hollywood
Platinum
Polo Towers
Renaissance
Residence Inn
Residence Inn
Residence Inn
Rio
Riviera
Royal Vacations Suites
Sahara
Signature
Stratosphere
St Tropez
Summer Bay
Super 8
Terrible's
Travelodge
Treasure Island
Tropicana
Trump
Tuscany
Vdara
Venetian
Villa Roma
Westin
Wild Wild West
Wyndham
Wynn Las Vegas

Pools & Spas
Palms Hotel
4321 W. Flamingo Road
Spa at Palms Hotel
The Palms Hotel Las Vegas has a three-story spa. The Palms spa offers a full line of spa amenities including sauna, steam, deluge, whirlpool, cold plunge and Swiss showers. The services are numerous and include massage therapies, body treatments, facials, waxing, foot treatments and spa packages.
They have an extensive cardio and workout equipment fitness area. The fitness center includes free weights, cardiovascular, circuit training and private
headphone connection to TVs.
The Palms Hotel fitness facility offers complimentary bottled water, herbal tonics and teas, juices and fresh fruit.
The Palms Place offers The Hammam which is a traditional Turkish coed spa. The Drift Spa has over 20 treatment rooms and an extensive spa menu.
Palms Spa Website
Palms Spa Price Guide
Palms Place Spa - Brochure
Palms Place Spa Price Guide
Palms Place Spa Website - Drift
Palms Place Coed Spa Website - Hammam
Salon Services at Palms & Palms Place
Salon services are provided by AMP Salon at the Palms and Primp Salon at Palms Place. They offer hair styling, hair extensions, chemical services, nail services, make-up and waxing services. An ultra modern tanning studio is located within the Drift Spa at Palms Place.
Palms Salon - Amp Website
Palms Place Salon - Primp Website
Pool at Palms Hotel
The pool area at the Palms Hotel offers two acres of swimming pool pleasure. They have live concerts, DJs and three bars. The Palm Place also offers a pool.
The Palms has an incredible glass-bottomed deck pool at the Glass Bar. It is elevated, so patrons below can enjoy the scenery of the swimmers above. The Waterfall bar is another unique bar at the Palms. The bar is hidden behind a 12 foot cascading waterfall. The third bar is suitably named the Entry Bar. It is the first bar guests will see as they enter.
There are over 25 cabanas to choose from. Each one has a 32" LCD, phone, lighted fan, furniture, safe and refrigerator.
Large two-story poolside bungalows are also available. Each one is over 1,000 square feet. They include a private bar, large plasma screen, DVD, an outdoor deck on each level, a Jacuzzi® at the ground floor level. They offer king sized beds on the second floor level, with views of the stage and pool outdoors.
Palms Hotel Pool Website
Palms Place Pool Website