Las Vegas Strip Map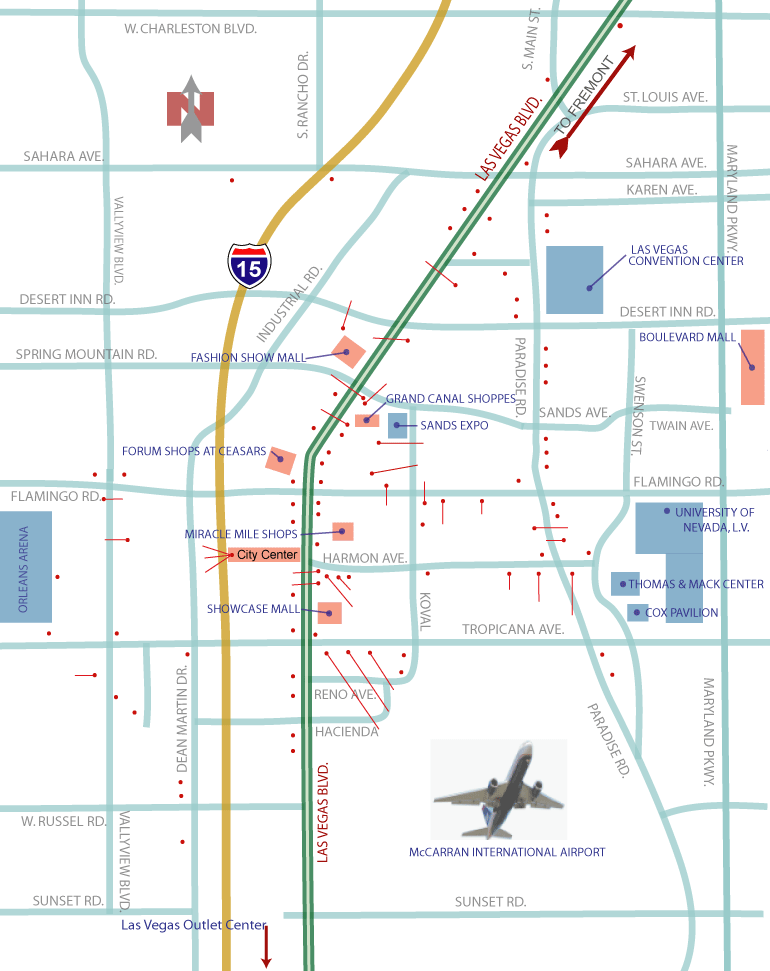 Get Started with

"Pools & Spas"

Click the links in the left column or on

the map to find Pool & Spa locations

on the

Las Vegas Strip.

Or rollover this icon

Aria
Alexis
Ambassador
America's Best Value
Artisan
Aruba Hotel & Spa
Atrium
Ambassador Strip Travelodge
Bally's
Bellagio
Best Western Mardi Gras
Best Western McCarran
Bill's Gamblin
Caesars Palace
Cancun Resort
Candlewood Suites
Carriage House
Casino Royal
Circus Circus
Clarion
Comfort Inn
Courtyard
Courtyard
Embassy
Suites
Embassy
Emerald
Suites
Emerald Suites
Tropicana
Encore at Wynn
Excalibur
Extended Stay
Deluxe
Fairfield Inn
Fairfield
Flamingo
Four Seasons
Gold Coast
Hampton Inn
Hard Rock
Harrah's
Desert Rose
Hilton Grand Vac.
Hilton Grand Vac.
Hilton Grand Vac.
Holiday Inn
Hooters Casino & Hotel
Howard Johnson
Hyatt Place
Imperial Palace
Jockey Club
La Quinta
La Quinta
Las Vegas Hilton
Luxor
Mandalay Bay
Mandarin
MGM Grand
Marriot Suites
Marriot Grand
Mirage
Monte Carlo
New York
New York
Orleans
The Palms
Palace Station
Palazzo
Paris
Planet Hollywood
Platinum
Polo Towers
Renaissance
Residence Inn
Residence Inn
Residence Inn
Rio
Riviera
Royal Vacations Suites
Sahara
Signature
Stratosphere
St Tropez
Summer Bay
Super 8
Terrible's
Travelodge
Treasure Island
Tropicana
Trump
Tuscany
Vdara
Venetian
Villa Roma
Westin
Wild Wild West
Wyndham
Wynn Las Vegas


Top Pools at MGM Grand
MGM Grand Pools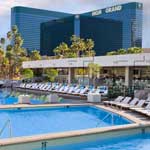 The MGM Grand pool in Las Vegas spans over 6.5 acres, features five distinct outdoor pools and about a quarter mile long lazy river, one pool designated with lap lanes, and three Jacuzzi. There's an assortment of day beds & cabana rental, and a number of bars in the pool areas. Guests will also find the popular "Wet Republic" ultra pool that is exciting with DJ and live entertainment performances.
The Grand Pools are named The Producer's, Director's, Academy, Talent, and the Backlot Lazy River. The lawns and surrounding greenery are perfectly tailored and landscaped. The oasis is a lush foliage paradise with waterfalls, fountains, and elegant bridges.
The pool bars are also named after the film industry such as Casting Call Bar, Backlot Bar, Director Bar to name a few. No matter what they are named, you can be sure to find refreshing drinks and comfortable seating.
The ultimate day life and nightlife can be found at Wet Republic's ultra pool. It is an exciting venue for partygoers and a popular place for celebrities. The 53,000 square foot ultra pool combines exclusive nightlife, high-end amenities, and elite VIP service with plenty of poolside pampering.
Wet Republic ultra pool at MGM Grand has a 2500 square foot open-air ultra lounge and poolside service.
Reserve a Dance Floor Table at Wet Republic to be situated next to the dance floor and main pool. Guests can sit back in a comfortable banquette that seats up to 10 people, and enjoy VIP service. Be in the heart of the party reveling in the pool experience fun and be up close to the dance floor too.
Step out of the sun and into The Lounge. There's table seating, and is close to the DJ booth, main bar and overlooks the pool.
Throughout the pool area, including Wet Republic's Ultra Pool, there are an assortment of cabana rental, bungalows, day beds and chaise lounges. The cabanas are fully furnished and feature a private patio, TV, misting system, swim rafts and food service. Cabana rental generally starts at about $150 per day but ranges based on day of week, cabana style and location within the Grand Pool complex.
The Bungalows are the most premium section of Wet Republic and offer the best view of the action, and is typically where the celebrities and high rollers are. They fill up quickly, so reserve them well in advance. Call MGM directly for more details.
MGM Grand pool in Las Vegas offers star treatment in a lush paradise. Party at Wet Republic Ultra Pool at MGM Grand for exclusive nighttime and daytime fun, and poolside pampering.
MGM Grand Pools Photo Gallery