Las Vegas Strip Map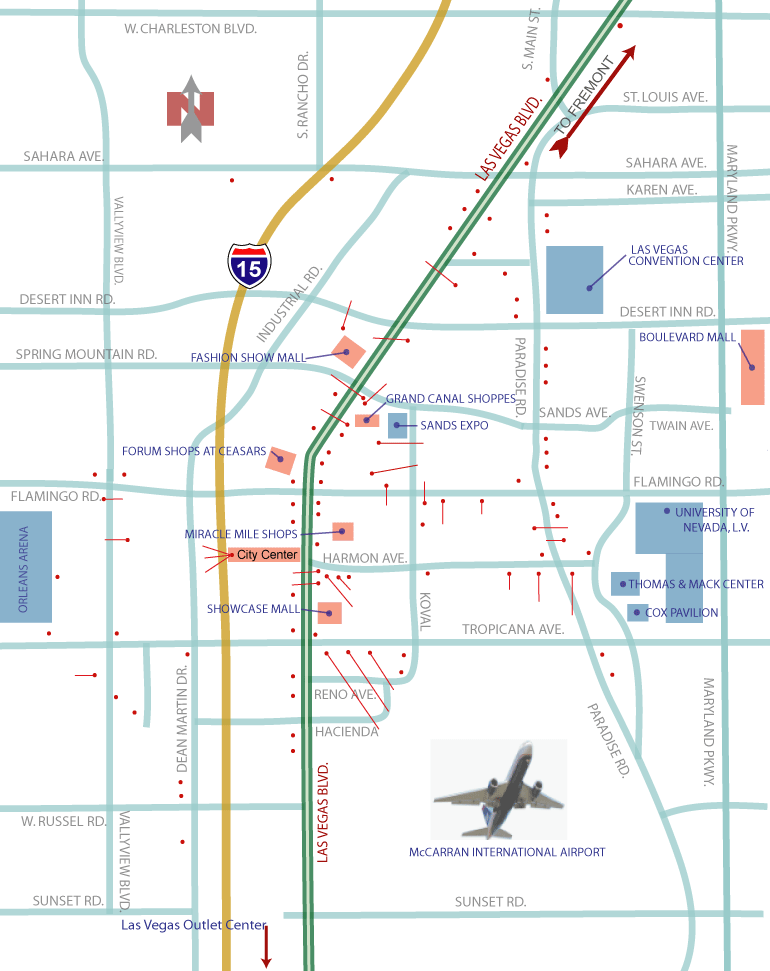 Get Started with

"Pools & Spas"

Click the links in the left column or on

the map to find Pool & Spa locations

on the

Las Vegas Strip.

Or rollover this icon

Aria
Alexis
Ambassador
America's Best Value
Artisan
Aruba Hotel & Spa
Atrium
Ambassador Strip Travelodge
Bally's
Bellagio
Best Western Mardi Gras
Best Western McCarran
Bill's Gamblin
Caesars Palace
Cancun Resort
Candlewood Suites
Carriage House
Casino Royal
Circus Circus
Clarion
Comfort Inn
Courtyard
Courtyard
Embassy
Suites
Embassy
Emerald
Suites
Emerald Suites
Tropicana
Encore at Wynn
Excalibur
Extended Stay
Deluxe
Fairfield Inn
Fairfield
Flamingo
Four Seasons
Gold Coast
Hampton Inn
Hard Rock
Harrah's
Desert Rose
Hilton Grand Vac.
Hilton Grand Vac.
Hilton Grand Vac.
Holiday Inn
Hooters Casino & Hotel
Howard Johnson
Hyatt Place
Imperial Palace
Jockey Club
La Quinta
La Quinta
Las Vegas Hilton
Luxor
Mandalay Bay
Mandarin
MGM Grand
Marriot Suites
Marriot Grand
Mirage
Monte Carlo
New York
New York
Orleans
The Palms
Palace Station
Palazzo
Paris
Planet Hollywood
Platinum
Polo Towers
Renaissance
Residence Inn
Residence Inn
Residence Inn
Rio
Riviera
Royal Vacations Suites
Sahara
Signature
Stratosphere
St Tropez
Summer Bay
Super 8
Terrible's
Travelodge
Treasure Island
Tropicana
Trump
Tuscany
Vdara
Venetian
Villa Roma
Westin
Wild Wild West
Wyndham
Wynn Las Vegas

Pools & Spas
Wynn Hotel and Encore
3131 Las Vegas Boulevard S
The Spa
No two massages or facials are exactly the same at the spa at The Wynn Hotel or Encore. Each is customized to the guest's personal needs.
The spa at Wynn provides 45 treatment rooms and a large variety of services that include massage, body treatments, hydrotherapy and facials.
Encore at Wynn Hotel offers over 51 treatment rooms and extensive menu of services to chose from.
Wynn Spa Brochure
Wynn Hotel Spa Website
Encore at Wynn Brochure
Encore at Wynn Website
Wynn Salon
Offers a full service salon for women and full service
barbershop for men. They offer a full range of hair services and treatments, hand and foot treatments, nail services, waxing, and make-up application.
Wynn Salon - Brochure
Wynn Salon Website
Encore Salon at Wynn Website
Encore Salon at Wynn Brochure
Wynn Pool
Their outdoor pools are exclusive to hotel guests of Wynn and Encore of Wynn. The Wynn pool areas are beautiful with neatly manicured gardens. There are four heated pools. Two on the main level and two in the Tower Suites. A European style bathing pool is also available
on the main level.
The Cabana Grill is a poolside bar & grill for guests 21 years of age and older. Poolside blackjack games are held.
Well appointed cabanas are available for rental. There are 24 on the main deck and 15 at the Tower Suites.
Wynn Las Vegas Pool Website