Las Vegas Strip Map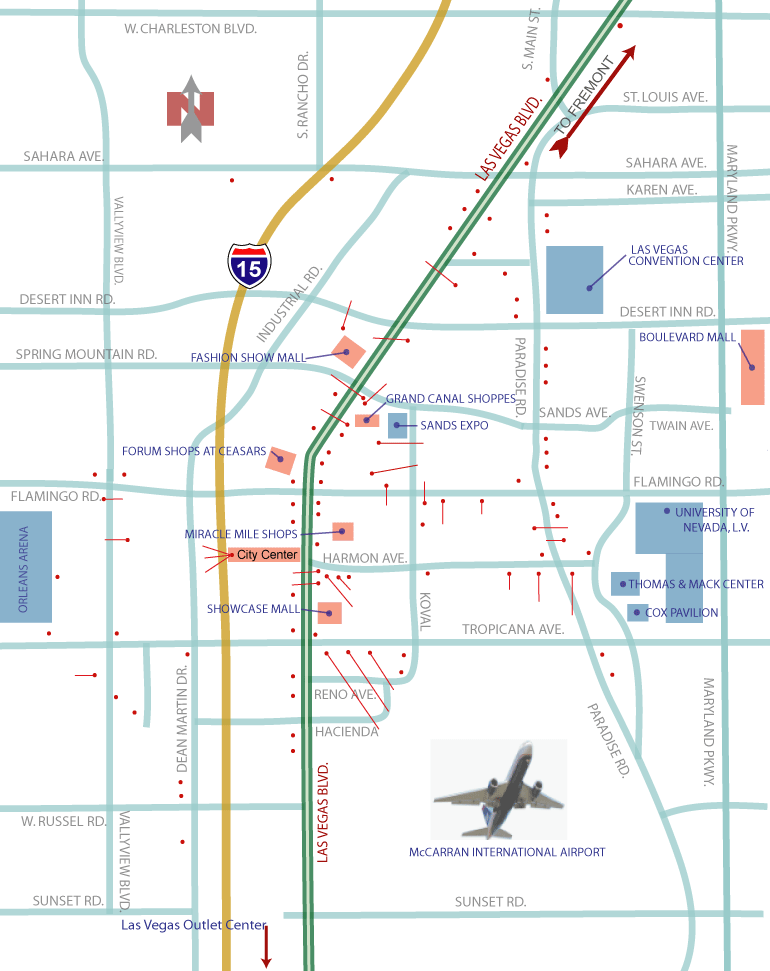 Get Started with

"Pools & Spas"

Click the links in the left column or on

the map to find Pool & Spa locations

on the

Las Vegas Strip.

Or rollover this icon

Aria
Alexis
Ambassador
America's Best Value
Artisan
Aruba Hotel & Spa
Atrium
Ambassador Strip Travelodge
Bally's
Bellagio
Best Western Mardi Gras
Best Western McCarran
Bill's Gamblin
Caesars Palace
Cancun Resort
Candlewood Suites
Carriage House
Casino Royal
Circus Circus
Clarion
Comfort Inn
Courtyard
Courtyard
Embassy
Suites
Embassy
Emerald
Suites
Emerald Suites
Tropicana
Encore at Wynn
Excalibur
Extended Stay
Deluxe
Fairfield Inn
Fairfield
Flamingo
Four Seasons
Gold Coast
Hampton Inn
Hard Rock
Harrah's
Desert Rose
Hilton Grand Vac.
Hilton Grand Vac.
Hilton Grand Vac.
Holiday Inn
Hooters Casino & Hotel
Howard Johnson
Hyatt Place
Imperial Palace
Jockey Club
La Quinta
La Quinta
Las Vegas Hilton
Luxor
Mandalay Bay
Mandarin
MGM Grand
Marriot Suites
Marriot Grand
Mirage
Monte Carlo
New York
New York
Orleans
The Palms
Palace Station
Palazzo
Paris
Planet Hollywood
Platinum
Polo Towers
Renaissance
Residence Inn
Residence Inn
Residence Inn
Rio
Riviera
Royal Vacations Suites
Sahara
Signature
Stratosphere
St Tropez
Summer Bay
Super 8
Terrible's
Travelodge
Treasure Island
Tropicana
Trump
Tuscany
Vdara
Venetian
Villa Roma
Westin
Wild Wild West
Wyndham
Wynn Las Vegas


Top Pools at Caesars Palace
Caesars Palace Pools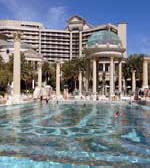 Situated on five luxurious acres, the Garden of the Gods Pool Oasis is one of the most beautiful pool areas in Las Vegas. With eight pool areas, there is a variety of experiences at Caesars Palace pool complex.
Guests can enjoy full sun worshipping, blissful relaxation, a social pool scene, an action-packed gaming pool, athletic lap pool, serene and elegant retreats, and European-style topless sunbathing pool with DJ music on weekends.
All of the pool areas have comfortable chaise lounges to relax into. Rental cabanas and daybeds are available. Outdoor and poolside spa services may be reserved. Evian face spritzers and body massages are a wonderful luxury.
The iconic rotunda at the center Oasis is the Temple Pool. It is complimented with fabulous sculptures, columns, topiaries and grand columns. A tiered design allows for a perfect view of the Garden of the Gods Pool Oasis at any vantage point. They offer five rental cabanas and 17 days beds.
Get some gaming in at The Fortuna Pool . This action-packed pool has swim-up blackjack and an impressive water fall. Get a bite to eat or refreshing cocktail at their Sun Lounge.
The Neptune Pool is the social hub of the Garden of Gods Pool Oasis. This is the place to mingle and socialize. They offer eight rental cabanas and 24 day beds.
Go topless in this exclusive pool area where European-style sunbathing is allowed. The Venus Pool Club is a secluded retreat with high end food and beverage selections. Catch some rays, watch the people or simply relax. Guest DJs perform on weekends. They offer 11 rental cabanas, couches and 14 days beds.
The Apollo Pool offers the best sun for the devoted sun worshipers looking for a southwest natural tan. They offer five rental cabanas and seven canopied day beds.
The Jupiter Pool is a serene, secluded and relaxing get away. They offer five rental cabanas, eight days beds with or without canopies and Scoop day beds.
The Bacchus pool overlooks the Garden of the Gods Pool Oasis with striking views of Jupiter and Apollo pools. Relax and enjoy. The cabana servers will attend to your needs.
Rental cabana prices vary, but generally start at $225 and up. Weekday pricing typically is lower than weekend rates. They come fully furnished with a stocked fridge, TV and comfortable upholstered seating.
Call a Caesars Palace cabana host directly for more detailed information at 877-346-4642 or inquire at their Concierge desk in the front lobby of the hotel.
Caesars Palace Pools Photo Gallery