Las Vegas Strip Map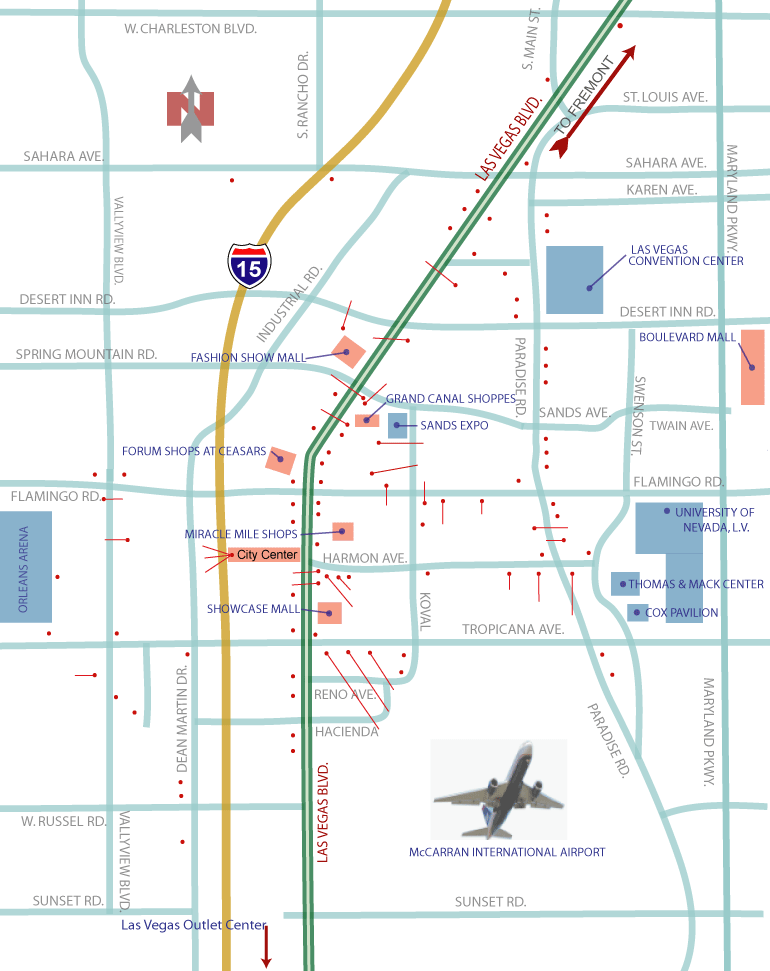 Get Started with

"Pools & Spas"

Click the links in the left column or on

the map to find Pool & Spa locations

on the

Las Vegas Strip.

Or rollover this icon

Aria
Alexis
Ambassador
America's Best Value
Artisan
Aruba Hotel & Spa
Atrium
Ambassador Strip Travelodge
Bally's
Bellagio
Best Western Mardi Gras
Best Western McCarran
Bill's Gamblin
Caesars Palace
Cancun Resort
Candlewood Suites
Carriage House
Casino Royal
Circus Circus
Clarion
Comfort Inn
Courtyard
Courtyard
Embassy
Suites
Embassy
Emerald
Suites
Emerald Suites
Tropicana
Encore at Wynn
Excalibur
Extended Stay
Deluxe
Fairfield Inn
Fairfield
Flamingo
Four Seasons
Gold Coast
Hampton Inn
Hard Rock
Harrah's
Desert Rose
Hilton Grand Vac.
Hilton Grand Vac.
Hilton Grand Vac.
Holiday Inn
Hooters Casino & Hotel
Howard Johnson
Hyatt Place
Imperial Palace
Jockey Club
La Quinta
La Quinta
Las Vegas Hilton
Luxor
Mandalay Bay
Mandarin
MGM Grand
Marriot Suites
Marriot Grand
Mirage
Monte Carlo
New York
New York
Orleans
The Palms
Palace Station
Palazzo
Paris
Planet Hollywood
Platinum
Polo Towers
Renaissance
Residence Inn
Residence Inn
Residence Inn
Rio
Riviera
Royal Vacations Suites
Sahara
Signature
Stratosphere
St Tropez
Summer Bay
Super 8
Terrible's
Travelodge
Treasure Island
Tropicana
Trump
Tuscany
Vdara
Venetian
Villa Roma
Westin
Wild Wild West
Wyndham
Wynn Las Vegas


Top Pools at the Rio
Voo Doo Beach at the Rio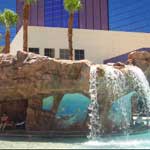 Rio pool in Las Vegas is stunning and tropical with four outdoor pools. The famous VooDoo Beach is distinguished as the popular party central. There's lots fun and plenty of playful party animals and vivacious bathing beauties to provide the eye candy.
Rio's main pool areas are abundant with palm trees, cascading waterfalls and Jacuzzi-style spas, designed to create a tropical paradise.
VooDoo Beach comes alive in the summer when the party revs in full gear. Flair bartenders keep the specialty drinks and cocktails flowing at both of the lively full service bars. There's a hot mix of music to keep the party velocity going strong.
Lounge in real sand at the edge of a tropical lagoon. At VooDoo Beach, the pool also has a sand bottom. Take off your shoes and wiggle your toes in the sandy beach and sink delightfully into the sand bottom pool. The tropical sensations at The Rio makes one forget that Las Vegas is surrounded by desert.
Indulge in a poolside massage at VooDoo Beach. A variety of private cabana rentals are available, along with upgraded bottle service. Call the Rio Hotel for cabana rental details and pricing.
Enjoy the splashy, sexy tropical paradise, and sun-drenched party at VooDoo Beach at the Rio Las Vegas.