Las Vegas Strip Map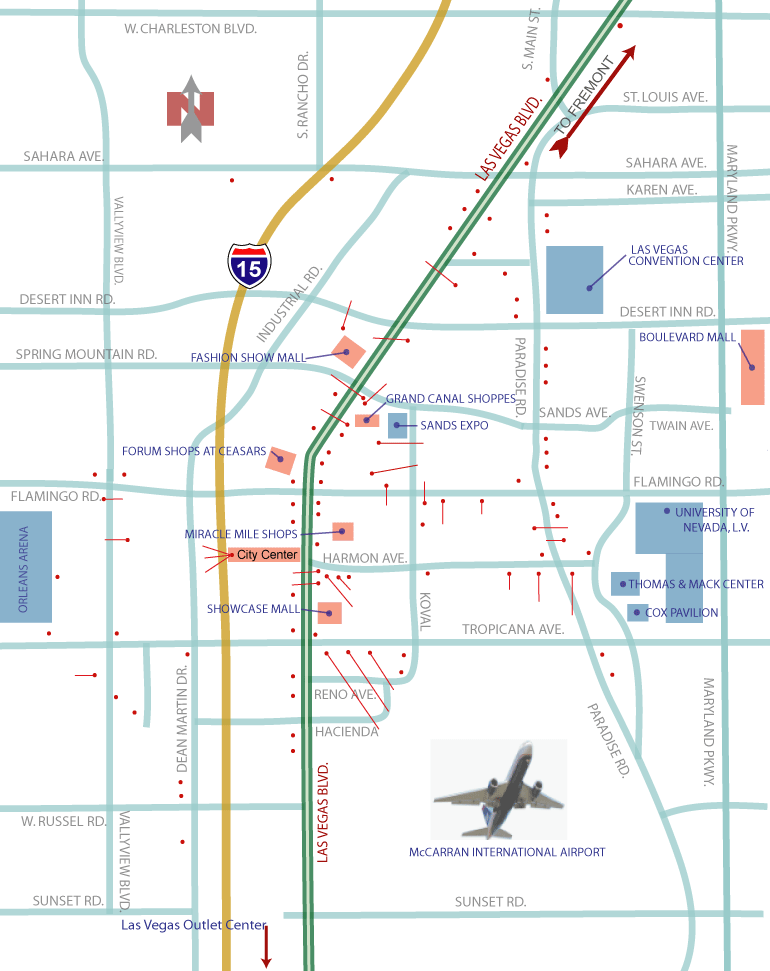 Get Started with

"Pools & Spas"

Click the links in the left column or on

the map to find Pool & Spa locations

on the

Las Vegas Strip.

Or rollover this icon

Aria
Alexis
Ambassador
America's Best Value
Artisan
Aruba Hotel & Spa
Atrium
Ambassador Strip Travelodge
Bally's
Bellagio
Best Western Mardi Gras
Best Western McCarran
Bill's Gamblin
Caesars Palace
Cancun Resort
Candlewood Suites
Carriage House
Casino Royal
Circus Circus
Clarion
Comfort Inn
Courtyard
Courtyard
Embassy
Suites
Embassy
Emerald
Suites
Emerald Suites
Tropicana
Encore at Wynn
Excalibur
Extended Stay
Deluxe
Fairfield Inn
Fairfield
Flamingo
Four Seasons
Gold Coast
Hampton Inn
Hard Rock
Harrah's
Desert Rose
Hilton Grand Vac.
Hilton Grand Vac.
Hilton Grand Vac.
Holiday Inn
Hooters Casino & Hotel
Howard Johnson
Hyatt Place
Imperial Palace
Jockey Club
La Quinta
La Quinta
Las Vegas Hilton
Luxor
Mandalay Bay
Mandarin
MGM Grand
Marriot Suites
Marriot Grand
Mirage
Monte Carlo
New York
New York
Orleans
The Palms
Palace Station
Palazzo
Paris
Planet Hollywood
Platinum
Polo Towers
Renaissance
Residence Inn
Residence Inn
Residence Inn
Rio
Riviera
Royal Vacations Suites
Sahara
Signature
Stratosphere
St Tropez
Summer Bay
Super 8
Terrible's
Travelodge
Treasure Island
Tropicana
Trump
Tuscany
Vdara
Venetian
Villa Roma
Westin
Wild Wild West
Wyndham
Wynn Las Vegas

Pools and Spas at Caesars
Caesars Palace Qua Spa, Salon and Pool
Caesars Palace Spa and Fitness Center
Caesars Palace Las Vegas Qua Baths & Spa offers a calm, alluring atmosphere that includes lavish Roman Baths, an Arctic Ice Room, Laconium Room, Tea Lounges, and a vast array of treatments.
Caesars Qua Bath and Spa offers 51 treatment rooms. They have a large variety of signature experiences, treatments, packages, vichey showers, and even a crystal art body room to add sparkle to your body. Also offered are prenatal services, facial care, hydrotherapy, couple's rituals, body rituals, wellness series and more.
The 50,000 square foot facility includes a 5,500 square foot fitness center. It is located in the Augustus
Tower at Caesars Palace.
Their unique Roman rituals include the classic Roman Baths consisting of three distinct pools in varying temperature and size. The largest pool is the Tepidarium with warm mineral-enriched waters. The two smaller pools are the Calarium and the Frigidarium. The Calarium has hot water to sooth muscles. The Frigidarium has cold water for an
invigorating plunge.
Caesars Spa Laconium Room is a sauna inspired by the Roman steam baths. Their Artic Ice Room has a beautiful dome ceiling and glass tiled walls. Snow falls from the ceiling where guests sit on heated benches and floors. The temperature is a crisp 55 degrees.
Their Tea Lounges serve up organically grown tea. There are separate tea lounges for men and women. Their in-house Tea Sommelier will create and pair beverages with spa treatments.
Caesars Spa is open daily for hotel and non-hotel guests. Call Caesars Qua Spa at 866-782-0655 for reservations or more information.
Their spacious fitness center is filled with natural light, huge bay windows and state-of-the-art equipment. Their fitness concierge will create a personalized a fitness regime for you.
Caesars Palace Spa Brochure
Caesars Palace Spa Price Guide
Caesars Palace Photo Tour
Caesars Spa Website
Salon at Caesars Palace
The salon at Caesars Palace is Color by Michael Boychuck. They offer a full range of services the at include manicures, pedicures, bridal services, waxing, and hair services.
Salon menu of services
Salon at Caesars Palace - Color by Michael Boy chuck - Price Guide
Caesars Palace Pool
Garden of the Gods Pool Oasis is at Caesars Palace in Las Vegas. They have four sapphire pools and two whirlpool spas surrounded by 4.5 acres of lush green lawns, graceful fountains, classic marble statues.
Their Temple Pool is the largest at 10,000 square feet. It has flowing water and a large rotunda that tops the central Island. The Temple Pool at Caesars Palace is decorated with fine marble and granite, with rimmed ancient mosaic depictions.
The Neptune Pool is 5,000 square foot rectangular heated pool. It is ideal for lap swimming. The Neptune Pool Bar is adjacent. Private cabanas are available for rental at the Neptune Pool at Caesars Palace in Las Vegas.
The Venus Pool has a DJ on Friday and Saturdays. Twelve private cabanas are available for rental at the Venus Pool at Caesars Palace in Las Vegas.
Their private cabanas are equipped with a stocked refrigerator, TV, table, and plush upholstered chairs. Daily charges apply. Beverage and snack service is available. Daybeds may also be rented. For reservations and rates, call Caesars Palace at 702-650-5944.
Caesars Palace - Pool Pictures and Information
Caesars Palace Pool - Virtual Tour
Caesars Palace Pool Website