Las Vegas Strip Map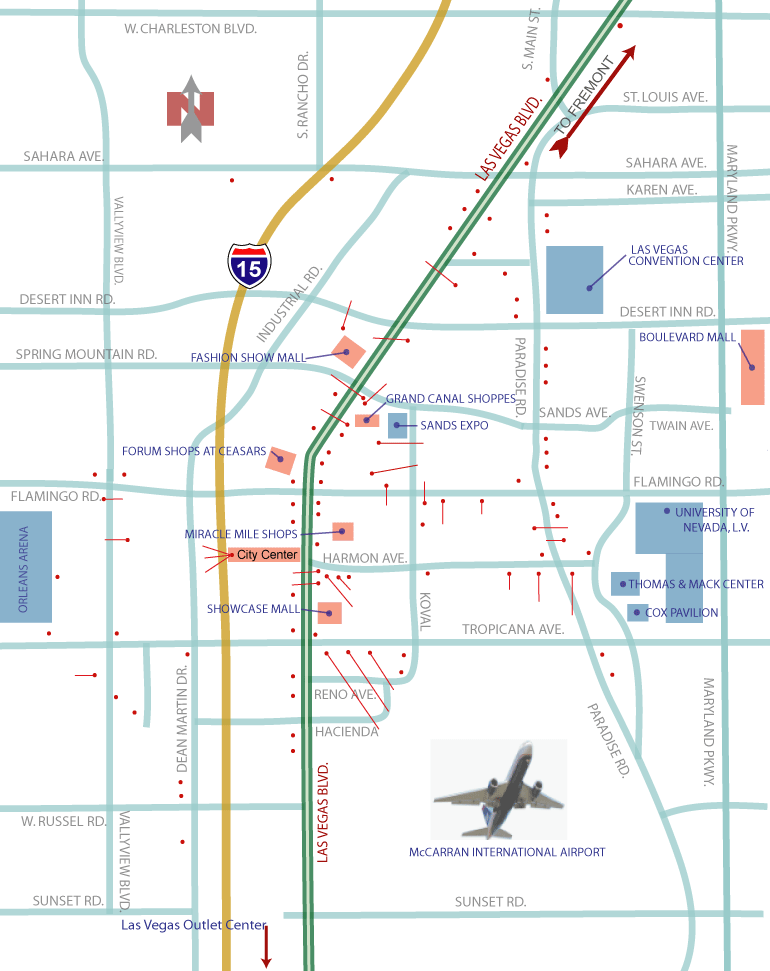 Aria
Alexis
Ambassador
America's Best Value
Artisan
Aruba Hotel & Spa
Atrium
Ambassador Strip Travelodge
Bally's
Bellagio
Best Western Mardi Gras
Best Western McCarran
Bill's Gamblin
Caesars Palace
Cancun Resort
Candlewood Suites
Carriage House
Casino Royal
Circus Circus
Clarion
Comfort Inn
Courtyard
Courtyard
Embassy
Suites
Embassy
Emerald
Suites
Emerald Suites
Tropicana
Encore at Wynn
Excalibur
Extended Stay
Deluxe
Fairfield Inn
Fairfield
Flamingo
Four Seasons
Gold Coast
Hampton Inn
Hard Rock
Harrah's
Desert Rose
Hilton Grand Vac.
Hilton Grand Vac.
Hilton Grand Vac.
Holiday Inn
Hooters Casino & Hotel
Howard Johnson
Hyatt Place
Imperial Palace
Jockey Club
La Quinta
La Quinta
Las Vegas Hilton
Luxor
Mandalay Bay
Mandarin
MGM Grand
Marriot Suites
Marriot Grand
Mirage
Monte Carlo
New York
New York
Orleans
The Palms
Palace Station
Palazzo
Paris
Planet Hollywood
Platinum
Polo Towers
Renaissance
Residence Inn
Residence Inn
Residence Inn
Rio
Riviera
Royal Vacations Suites
Sahara
Signature
Stratosphere
St Tropez
Summer Bay
Super 8
Terrible's
Travelodge
Treasure Island
Tropicana
Trump
Tuscany
Vdara
Venetian
Villa Roma
Westin
Wild Wild West
Wyndham
Wynn Las Vegas

Attractions at the Venetian
VENETIAN HOTEL
Gondola Rides
The Venetian's Gondola Rides feature a graceful, relaxing & romantic glide down their Grand Canal in an authentic gondola. Guests will be taken under bridges, balconies, by cafes & the Grand Canal Shoppes. The singing gondolier will row you gently through the Canal that simulates the charm & passion of Venice. The gondola's will take you through the Canal indoors or outdoors. Reservations must be made in person the same day. They offer two person private gondola rides also. The rides are located on the second floor. Ticket pricing varies.
Gondola Rides Website
Madame Tussauds
Madame Tussauds Museum at the Venetian features lifelike wax creations of famous celebrities and public figures. Interactive experiences allow guests to feel as though they are really with the stars. Some of the famous figures include George Clooney, Andre Agassi, Neil Armstrong, John Wayne, Babe Ruth, past presidents, Arnold Palmer, Britney Spears, Julia Roberts, Brad Pitt, Elvis Presley, Dean Martin, Tiger Woods, Wolfgang Puck, Bette Midler, Oprah Winfrey and many more. Over 95 celebrities are represented. Take pictures, hug, kiss or party with the stars. The wax creations are so very lifelike. Madame Tussauds is located on the 1st floors off the Rialto Bridge moving sidewalk at the Companile Tower. Admission fees vary. Phone (702) 862-7800
Madame Tussauds Website
Phantom Theatre
The Venetian is home to the smash hit - The Phantom of the Opera. The custom built theatre was a $40 million project. It is themed in a Paris opera house setting.
Phantom Theatre Website
Players Card at the Venetian
Club Crazie is the rewards program at the Venetian Casino in Las Vegas. Sign up to earn rewards and gifts.
Players Card Website
Poker Tournaments at the Venetian
Daily poker tournaments are held at the Venetian Casino poker room. They offer free poker lessons.
Poker Tournaments Website
Streetmosphere at Grand Canal Shoppes
As you stroll along the cobblestone walkways shopping at the indoor Grand Canal Shoppes, you will be entertained. Talented performers serenade shoppers with singing and dancing, even opera. Performances are held at various times throughout the day, seven days a week.
Streetmosphere at Grand Canal Shoppes Website
Venetian Showroom
An exciting lineup of entertainers appears in the Showroom at the Venetian. A-list entertainers will keep you laughing. Click Amenities and Theatre on the map for a tour.
Venetian Showroom Website
Blue Man Theatre
The Venetian Theatre was specially built and home to the popular production, Blue Man Group. The theatre has a capacity of 1,760 people. Click on Amenities and Theatre for a tour.
Blue Man Theatre Website

Las Vegas Power Pass

The Las Vegas Power Pass offers huge savings off admission fees to the largest selection of top Las Vegas shows, restaurants and attractons. Skip the lines at many locations and save valuable time and money.

The Las Vegas Power Pass is a visitor's passport to popular exciting things to do in Las Vegas, and includes Meal Ticket dining passes too.

Las Vegas Power Pass


Las Vegas Perks

Experience Las Vegas at half price with Las Vegas Perks coupon book. For one low price, you'll receive a discount book worth over $1,200 in "2 for 1" Las Vegas dining, shows, tours, attractions, gaming credits and match play certificates.

Why pay full price, when Las Vegas Perks offers many two for the price of one specials. Enjoy Las Vegas at Half Price! Order your Las Vegas booklets today and save.