Las Vegas Strip Map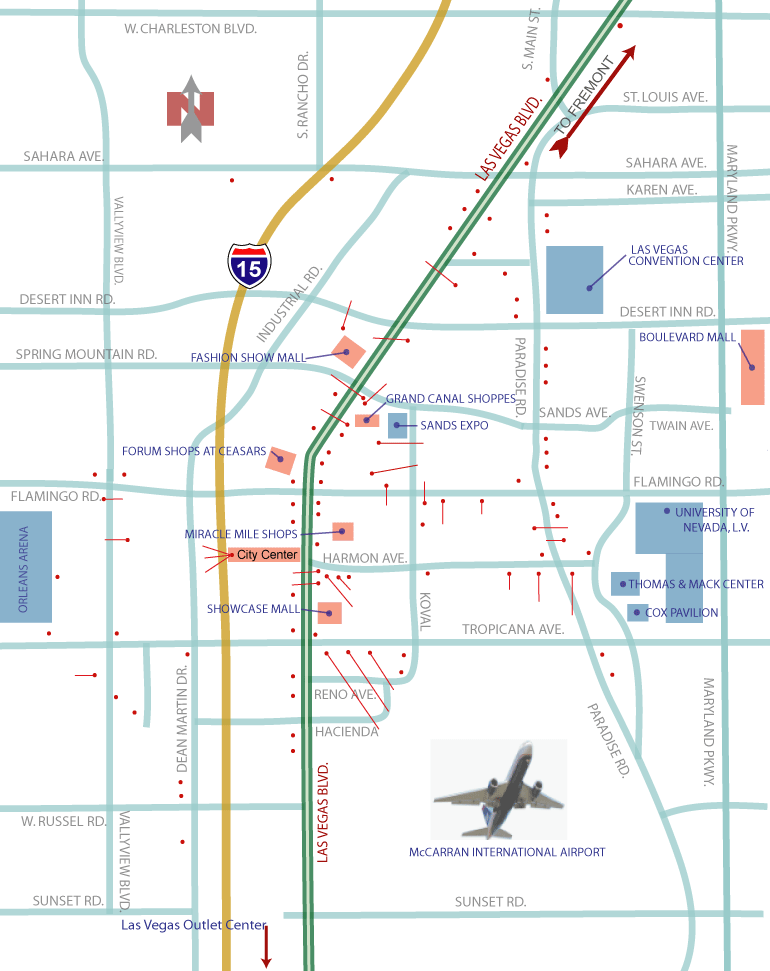 Aria
Alexis
Ambassador
America's Best Value
Artisan
Aruba Hotel & Spa
Atrium
Ambassador Strip Travelodge
Bally's
Bellagio
Best Western Mardi Gras
Best Western McCarran
Bill's Gamblin
Caesars Palace
Cancun Resort
Candlewood Suites
Carriage House
Casino Royal
Circus Circus
Clarion
Comfort Inn
Courtyard
Courtyard
Embassy
Suites
Embassy
Emerald
Suites
Emerald Suites
Tropicana
Encore at Wynn
Excalibur
Extended Stay
Deluxe
Fairfield Inn
Fairfield
Flamingo
Four Seasons
Gold Coast
Hampton Inn
Hard Rock
Harrah's
Desert Rose
Hilton Grand Vac.
Hilton Grand Vac.
Hilton Grand Vac.
Holiday Inn
Hooters Casino & Hotel
Howard Johnson
Hyatt Place
Imperial Palace
Jockey Club
La Quinta
La Quinta
Las Vegas Hilton
Luxor
Mandalay Bay
Mandarin
MGM Grand
Marriot Suites
Marriot Grand
Mirage
Monte Carlo
New York
New York
Orleans
The Palms
Palace Station
Palazzo
Paris
Planet Hollywood
Platinum
Polo Towers
Renaissance
Residence Inn
Residence Inn
Residence Inn
Rio
Riviera
Royal Vacations Suites
Sahara
Signature
Stratosphere
St Tropez
Summer Bay
Super 8
Terrible's
Travelodge
Treasure Island
Tropicana
Trump
Tuscany
Vdara
Venetian
Villa Roma
Westin
Wild Wild West
Wyndham
Wynn Las Vegas

Attractions at the Mirage
MIRAGE HOTEL AND CASINO
Dolphin Habitat Trainer for a Day
Be a trainer for a day at the Dolphin Habitat at the Mirage. Participate hands on in the regular daily activities with the bottlenose dolphins & their trainers (side by side & nose to bottlenose). You'll get to feed, learn to train them & dine with the dolphins. The all day session begins at 9:45 a.m. and ends at 3:15 p.m. Cost includes breakfast & a gourmet lunch, souvenir photograph, certificate of completion, trainer's shirt and ball cap. Whether you are interested in a possible career in marine science or just want to experience the wonder of these mammals, it is sure to be memorable. The Dolphin Habitat is located just past the Shopping Promenade & Coconuts at the Mirage. Cost is about $500. Call 702-792-7889 for current pricing. Must be at least 13 years of age.
Dolphin Habitat Website
Love Theatre
Home to the popular Cirque du Soleil production, The Beatles.
Love Theatre Website
Players Card at The Mirage
MGM Mirage Players Club is the rewards program at the Mirage in Las Vegas. Sign up to earn rewards and gifts. This card may be used at any of MGM's casinos to earn credits. MGM's participating casinos include The Mirage, Bellagio, MGM Grand, Treasure Island, New York-New York, Mandalay Bay, Luxor, Excalibur and Monte Carlo in Las Vegas.
Players Card Website
Poker Tournaments at the Mirage
No Limit Texas Hold'em tournaments are held daily in the Mirage poker room.
Poker Tournaments Website
Secret Garden & Dolphin Habitat
The Dolphin Habitat at the Mirage is a 2.5 million gallon, 22-foot, home to Atlantic bottlenose dolphins. Coral reefs, sandy bottom & four connected pools help simulate their natural environment. The Dolphin Habitat is a training & research facility that offers educational programs & guided tours for the public. Guests can see these amazing mammals up close & observe their intelligent behavior.
The adjacent Secret Garden contains exotic jungle animals including lions, white tigers, leopards, a black panther and more. They roam freely in a simulated jungle atmosphere. Guests may view them through a glass wall. The Siegfried & Roy's Secret Garden & Dolphin Habitat is also available for private events for guests up to 650. Birthday party packages start at $40 per person. The White Tigers are rotated to appear at the White Tiger Habitat continually during the day.
It is located just past the Shopping Promenade & Coconuts at the Mirage. General admission is about $10-$15. Children under age 3 are free with an adult. For catering information call 702-791-7155 or 800-939-9389
Secret Garden & Dolphin Habitat Website
Terry Fator Theatre at the Mirage
The Mirage showcases headlining entertainment throughout the year in their Terry Fator Theatre. Laugh all night long with some of the best stand up comedians known in comedy.
Terry Fator Theatre Website
The Aquarium
The Aquarium at the Mirage is a 20,000 gallon saltwater aquarium located behind their front desk. It is a spectacular display of angelfish, puffer fish, tangs & many exotic sea creatures including over 1,000 coral reef animals representing 60 species from around the world. The tank is 53 feet long, eight feet high, six feet in width & four inches thick. The Aquarium is available for viewing 24 hours a day. Admission is free.
The Aquarium Website
The Rainforest Atrium
The Rainforest Atrium at the Mirage is a lush indoor rainforest under a 100 foot high dome. It is located inside their front entrance. It boasts over 60 foot palm trees, cascading waterfalls, meandering lagoons typical of tropical splendor with gorgeous bird of paradise trees, orchids & bromeliads. Walk through its misty embrace and see the palette of tropical brilliance basking in natural sunlight. More than 100 difference types of plants, 300 fresh orchids and 1,000 bromeliads are on display. Admission is free.
The Rainforest Atrium Website
Volcano
The Volcano features a thunderous display of smoke and fire spray 100 feet above the water below. Watch as a tranquil waterfall is transformed into streams of molten lava. The Volcano is set on three water-covered acres, is 54 feet high & circulates 119,000 gallons of water per minute. The Volcano erupts every evening at the top of the hour. Admission is free.
Volcano Website
White Tiger Habitat
The White Tiger Habitat at the Mirage is home to Siegfried & Roy's royal white tigers. These exotic, enchanting, exquisite tigers roam in a jungle atmosphere of palm trees & lush foliage. A special glass allows guests to view these amazing animals. The Habitat is designed to simulate their own natural environment & includes a swimming pool with fountains & mountain terrain. The White Tiger Habitat is located past the Casino near The Mirage Shop.
The Royal White Tigers are rotated continuously between the Habitat and Siegfried & Roy's Secret Garden also located at the Mirage. Open hours are 10:30 am - 5 pm. Admission is free.
White Tiger Habitat Website

Las Vegas Power Pass

The Las Vegas Power Pass offers huge savings off admission fees to the largest selection of top Las Vegas shows, restaurants and attractons. Skip the lines at many locations and save valuable time and money.

The Las Vegas Power Pass is a visitor's passport to popular exciting things to do in Las Vegas, and includes Meal Ticket dining passes too.

Las Vegas Power Pass


Las Vegas Perks

Experience Las Vegas at half price with Las Vegas Perks coupon book. For one low price, you'll receive a discount book worth over $1,200 in "2 for 1" Las Vegas dining, shows, tours, attractions, gaming credits and match play certificates.

Why pay full price, when Las Vegas Perks offers many two for the price of one specials. Enjoy Las Vegas at Half Price! Order your Las Vegas booklets today and save.