Las Vegas Strip Map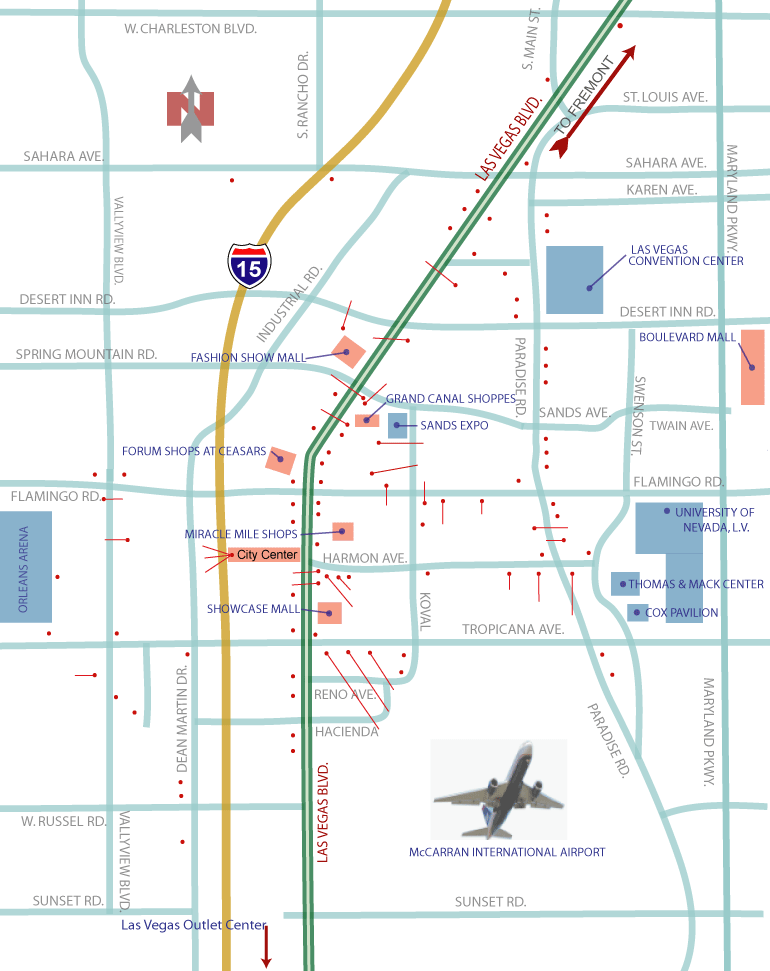 Aria
Alexis
Ambassador
America's Best Value
Artisan
Aruba Hotel & Spa
Atrium
Ambassador Strip Travelodge
Bally's
Bellagio
Best Western Mardi Gras
Best Western McCarran
Bill's Gamblin
Caesars Palace
Cancun Resort
Candlewood Suites
Carriage House
Casino Royal
Circus Circus
Clarion
Comfort Inn
Courtyard
Courtyard
Embassy
Suites
Embassy
Emerald
Suites
Emerald Suites
Tropicana
Encore at Wynn
Excalibur
Extended Stay
Deluxe
Fairfield Inn
Fairfield
Flamingo
Four Seasons
Gold Coast
Hampton Inn
Hard Rock
Harrah's
Desert Rose
Hilton Grand Vac.
Hilton Grand Vac.
Hilton Grand Vac.
Holiday Inn
Hooters Casino & Hotel
Howard Johnson
Hyatt Place
Imperial Palace
Jockey Club
La Quinta
La Quinta
Las Vegas Hilton
Luxor
Mandalay Bay
Mandarin
MGM Grand
Marriot Suites
Marriot Grand
Mirage
Monte Carlo
New York
New York
Orleans
The Palms
Palace Station
Palazzo
Paris
Planet Hollywood
Platinum
Polo Towers
Renaissance
Residence Inn
Residence Inn
Residence Inn
Rio
Riviera
Royal Vacations Suites
Sahara
Signature
Stratosphere
St Tropez
Summer Bay
Super 8
Terrible's
Travelodge
Treasure Island
Tropicana
Trump
Tuscany
Vdara
Venetian
Villa Roma
Westin
Wild Wild West
Wyndham
Wynn Las Vegas

Attractions at Circus Circus
Circus Circus Hotel & Casino
Adventuredome Theme Park
Five-acre Indoor theme park filled with thrilling rides for kids and adults. Open daily but hours are subject to change. Call Circus Circus hotline for up-to-date hours 702-794-3939.
Rides Include: (Minimum & maximum height restrictions may apply. Shorter kids are allowed on some rides when accompanied by a paying adult.)
Frog Hopper
(Jr. leaping tower ride) 36" min. / 58" max.
Miner Mike
(Jr. roller coaster) 33" min. / 58" max.
Thunderbirds
(Jr. plane ride, 1920's style) 36" min. / 58" max.
B.C. Bus
(bus ride, up-down-around) 42" min.
Circus Carousel
(merry-go-round) 42" min.
Drifters
(Ferris wheel) 42" min.

Lazer Blast
(laser tag adventure, zap with laser fire in action-packed arena) 42" min.
Road Runner
(scenery and slopes, mini-Himalaya ride) 42" min.
Sand Pirate
(swinging ship, hang on) 42" min.
Special FX Theatre
(4D Special Effects Film) 42" min.
SpongeBob SquarePants
4-D Ride (motion ride film, zany search for a pickle) 42" min.
Canyon Blaster
(double-loop, double-corkscrew roller coaster- up to 55 MPH) 48" min.
Canyon Cars
(bumper cars, behind the wheel crashing & defensive driving) 54" min. to drive / 42" min. ride
Chaos
(spinning & tilting ride with speed & intensity, whirl in three ranges of motions) 48" min.
Disko'O
(spinning ride) 48" min.
Inverter
(360° counter-rotation ride, endless flipping, high speed) 48" min.
Rim Runner
(water chute ride up a stream, fall fast & furious, 60 ft. waterfall) 48" min.
Sling Shot
(soar up a tower with 4 g's of acceleration, head rush down) 48" min.
All-Day Ride Pass cost varies ($15-$25), single ride passes may be purchased (about $4-$7 each ride)
Other Things to Do at Midway
AdventureDome Website
Xtreme Zone
– Rock climbing and bungee jumping indoors.
Pike's Pass
– Indoor 18-hole miniature golf.

Midway Games
–Over 200 of the most popular and classic carnival type games, with prizes. Fun for all ages.
Arcade
– Video games galore in this electronic wonderland
Highway 66 – Mini bowling
Free Clown shows
– Held on the Main Stage. Daily performances at Noon, 1 pm 3 pm and 4 pm. Additional shows on Fri. & Sat. at 6, 7, 8 and 9 pm. Show times subject to change. PHONE check
Carnival Midway
(Circus) - The world's largest permanent circus highlights the center stage at Carnival Midway. World Class circus acts include juggling, contortion, human pyramid building, flying acrobats, and hand balancing skilled acts, Admission is free. Performances are held daily from 11 am – Midnight
Flying acrobat shows are held daily in the Main Casino area as well. You will find them by the nets overhead and the excitement that fills the room.
Players Card at Circus Circus
Circus Players Club is the rewards program at the Circus Circus in Las Vegas. Sign up to earn rewards and gifts.
Players Card Website

Las Vegas Power Pass

The Las Vegas Power Pass offers huge savings off admission fees to the largest selection of top Las Vegas shows, restaurants and attractons. Skip the lines at many locations and save valuable time and money.

The Las Vegas Power Pass is a visitor's passport to popular exciting things to do in Las Vegas, and includes Meal Ticket dining passes too.

Las Vegas Power Pass


Las Vegas Perks

Experience Las Vegas at half price with Las Vegas Perks coupon book. For one low price, you'll receive a discount book worth over $1,200 in "2 for 1" Las Vegas dining, shows, tours, attractions, gaming credits and match play certificates.

Why pay full price, when Las Vegas Perks offers many two for the price of one specials. Enjoy Las Vegas at Half Price! Order your Las Vegas booklets today and save.