Las Vegas Strip Map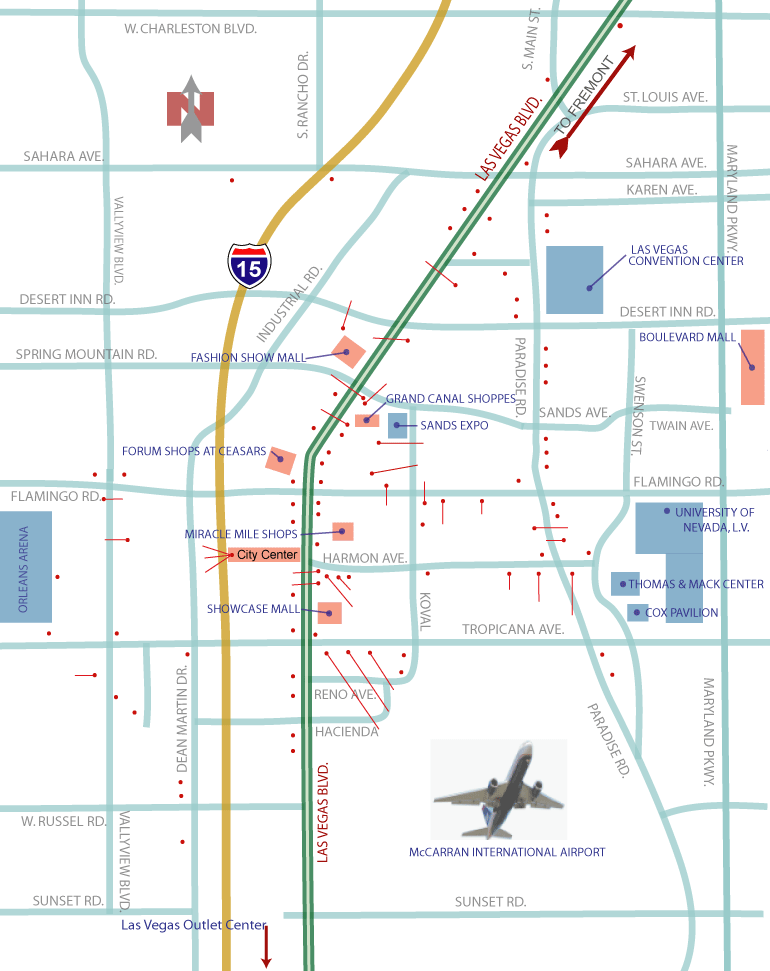 Get Started with

"Hotels"

Click the links in the left column or on

the map to find hotel & casino locations

on the

Las Vegas Strip.

Or rollover this icon

Aria
Alexis
Ambassador
America's Best Value
Artisan
Aruba Hotel & Spa
Atrium
Ambassador Strip Travelodge
Bally's
Bellagio
Best Western Mardi Gras
Best Western McCarran
Bill's Gamblin
Caesars Palace
Cancun Resort
Candlewood Suites
Carriage House
Casino Royal
Circus Circus
Clarion
Comfort Inn
Courtyard
Courtyard
Embassy
Suites
Embassy
Emerald
Suites
Emerald Suites
Tropicana
Encore at Wynn
Excalibur
Extended Stay
Deluxe
Fairfield Inn
Fairfield
Flamingo
Four Seasons
Gold Coast
Hampton Inn
Hard Rock
Harrah's
Desert Rose
Hilton Grand Vac.
Hilton Grand Vac.
Hilton Grand Vac.
Holiday Inn
Hooters Casino & Hotel
Howard Johnson
Hyatt Place
Imperial Palace
Jockey Club
La Quinta
La Quinta
Las Vegas Hilton
Luxor
Mandalay Bay
Mandarin
MGM Grand
Marriot Suites
Marriot Grand
Mirage
Monte Carlo
New York
New York
Orleans
The Palms
Palace Station
Palazzo
Paris
Planet Hollywood
Platinum
Polo Towers
Renaissance
Residence Inn
Residence Inn
Residence Inn
Rio
Riviera
Royal Vacations Suites
Sahara
Signature
Stratosphere
St Tropez
Summer Bay
Super 8
Terrible's
Travelodge
Treasure Island
Tropicana
Trump
Tuscany
Vdara
Venetian
Villa Roma
Westin
Wild Wild West
Wyndham
Wynn Las Vegas
3131 Las Vegas Blvd S
Las Vegas, NV 89109
(702) 770-3900


Las Vegas Hotels on the Strip
Wynn Las Vegas
This Five Star, Five Diamond mega resort offers impeccable service, luxury and elegance. The curved building, sheathed in bronze-tinted glass, arches high into the sky. Inside guests are greeted by a unique fusion of nature and opulence. The shimmering waterfalls, private lagoons, and floral fantasies are designed to excite your senses.
Number of Rooms: 2,716
50 floors


Click on Icons for Hotel Details
Wynn Hotel and Casino

Posh spacious guest suites are equipped with advanced technology, including bedside lighting and drapery controls. Floor-to-ceiling windows allow for an amazing view of the twinkling Strip or its own lush 18-hole country club style golf course.

Step into a world of fantasy and adventure. Enjoy breathtaking live performances held in their intimate aqua theater in the round. A place where dreams swim in the air and dance on water.

Their premier nightclubs offer a range of ambiance from a decadent vibe, to breathtaking and exciting, or intimate and sophisticated. Signature restaurants with award winning chefs, as well as casual retreats, provide a broad range of dining options.

The Penski-Wynn showroom on premises is home to the Maserati and Ferrari dealership. Find high glamour, sexy creations, fine collections, and designer masterpieces within the dozens of boutiques along the Wynn Esplanade.

Enjoy a customized massage or escape on an aromatherapy journey in their world-class spa. Take an early morning poolside Yoga class, or enjoy the amenities of a lavishly equipped fitness center. Their elegantly designed outdoor pools feature luxurious private cabanas for the ultimate lounging experience.

With over 110,000 square feet of casino space, let the gaming begin. Wynn offers the popular slots, table games, race & sports book, a 26-table poker room, and poolside Black Jack

Couples can get married in a private courtyard under a canopy of trees and flowers, or within one of their enchanting indoor salons. They offer an assortment of elegant ceremonies to choose from.

Wynn is designed for those that crave the ultimate in luxury and VIP indulgence.