Las Vegas Strip Map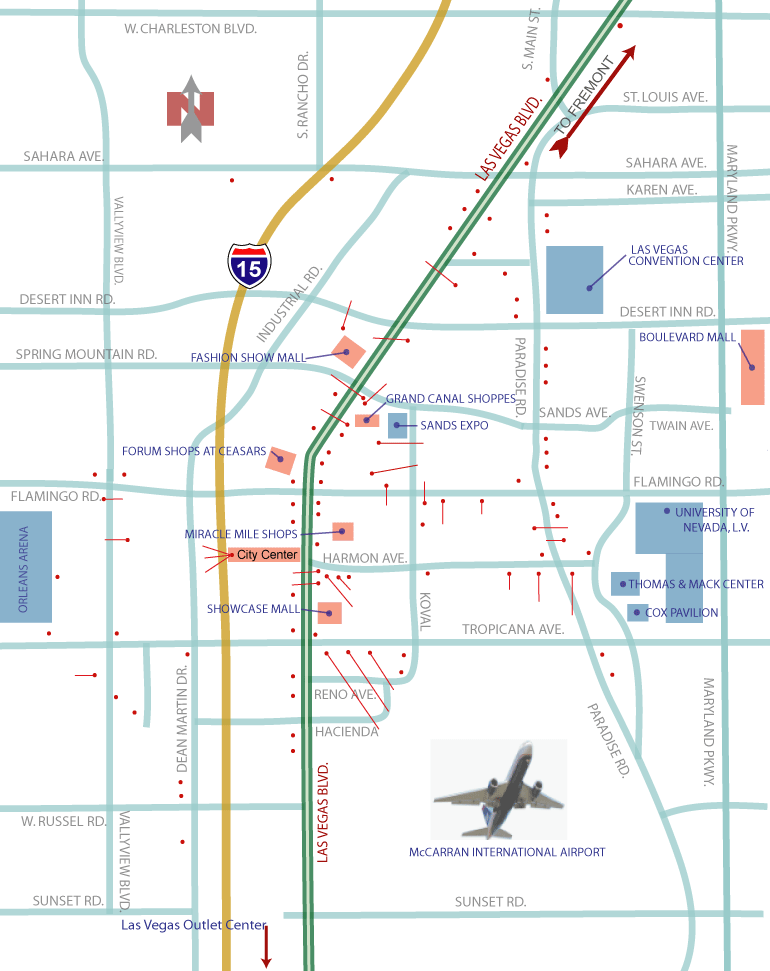 Get Started with

"Hotels"

Click the links in the left column or on

the map to find hotel & casino locations

on the

Las Vegas Strip.

Or rollover this icon

Aria
Alexis
Ambassador
America's Best Value
Artisan
Aruba Hotel & Spa
Atrium
Ambassador Strip Travelodge
Bally's
Bellagio
Best Western Mardi Gras
Best Western McCarran
Bill's Gamblin
Caesars Palace
Cancun Resort
Candlewood Suites
Carriage House
Casino Royal
Circus Circus
Clarion
Comfort Inn
Courtyard
Courtyard
Embassy
Suites
Embassy
Emerald
Suites
Emerald Suites
Tropicana
Encore at Wynn
Excalibur
Extended Stay
Deluxe
Fairfield Inn
Fairfield
Flamingo
Four Seasons
Gold Coast
Hampton Inn
Hard Rock
Harrah's
Desert Rose
Hilton Grand Vac.
Hilton Grand Vac.
Hilton Grand Vac.
Holiday Inn
Hooters Casino & Hotel
Howard Johnson
Hyatt Place
Imperial Palace
Jockey Club
La Quinta
La Quinta
Las Vegas Hilton
Luxor
Mandalay Bay
Mandarin
MGM Grand
Marriot Suites
Marriot Grand
Mirage
Monte Carlo
New York
New York
Orleans
The Palms
Palace Station
Palazzo
Paris
Planet Hollywood
Platinum
Polo Towers
Renaissance
Residence Inn
Residence Inn
Residence Inn
Rio
Riviera
Royal Vacations Suites
Sahara
Signature
Stratosphere
St Tropez
Summer Bay
Super 8
Terrible's
Travelodge
Treasure Island
Tropicana
Trump
Tuscany
Vdara
Venetian
Villa Roma
Westin
Wild Wild West
Wyndham
Wynn Las Vegas
3801 Las Vegas Blvd S
Las Vegas, NV 89109
800) 468-6876


Las Vegas Hotels on the Strip
Tropicana Hotel and Casino - Las Vegas
A beacon on the Las Vegas Strip since 1957, the legendary Tropicana is steeped in the nostalgia of the early Vegas years. They've since transformed into a modern version with an upbeat personality. The transformations are continuing from top to bottom, with exciting surprises to come.
From breezy rooms to luxury suites, accommodations run the gamut to suit your needs. The décor is warm, sunny with tropical tones and artwork from the hottest Cuban artists. Sleek styling invokes a hot island vibe.
Number of rooms: 1,876
22 stories


Click on Icons for Hotel Details
Tropicana Hotel and Casino

A legendary Strip hotel, the Tropicana preserves history and memories via many photographs of the entertainment giants who have performed here since the resort opened in 1957. Traditions such as dancers, comedians, and crooners prevail. The hotel draws both older and younger guests.

Amenity highlights: Sliding-glass doors separate a 1,500-square-foot heated indoor pool from the outdoor swim-up bar area. Swim-up blackjack is available. The lagoon-style pool meanders through a five-acre garden containing waterfalls and rock formations. The garden includes an adult pool and three eight-person spa tubs. For-rent cabanas come with television, phone, ceiling fan, and padded lounges. Insider tip: Open Memorial Day through Labor Day, the swim-up, waterproof blackjack counter features money dryers.

Hotel and Casino includes a fitness center. Sliding-glass doors separate a 1,500-square-foot heated indoor pool from the outdoor swim-up bar area. Additional facilities and services include a golf desk, a business center, and a video-game arcade. Swim-up blackjack is available. Texas Hold'Em Poker, a seven-card game made famous by the Travel Channel and ESPN, is also offered at the hotel. Various table limits are offered for novice to experienced players. $1-$3, $2-$6, and no-limit Texas Hold'Em are spread daily. The daily hotel resort fee includes two free drinks, incoming faxes, local phone calls, use of fitness center; and valet parking (gratuity not included). Please note: The spa is closed until further notice.

The Tropicana offers a total of 1,876 guestrooms in the Paradise Tower, the Island Tower, and the Garden Tower. The 22-story Paradise Tower is just off the casino floor and features views of the Las Vegas Strip. Guestrooms in this tower include refrigerators. The 21-story Island Tower is located near the Tropicana Convention Facilities and the five-acre tropical gardens and pool area; it is connected to the main casino by an enclosed walkway lined with specialty boutiques. The low-rise Garden Tower overlooks a five-acre garden/pool area with tropical foliage, waterfalls, and pools.