Las Vegas Strip Map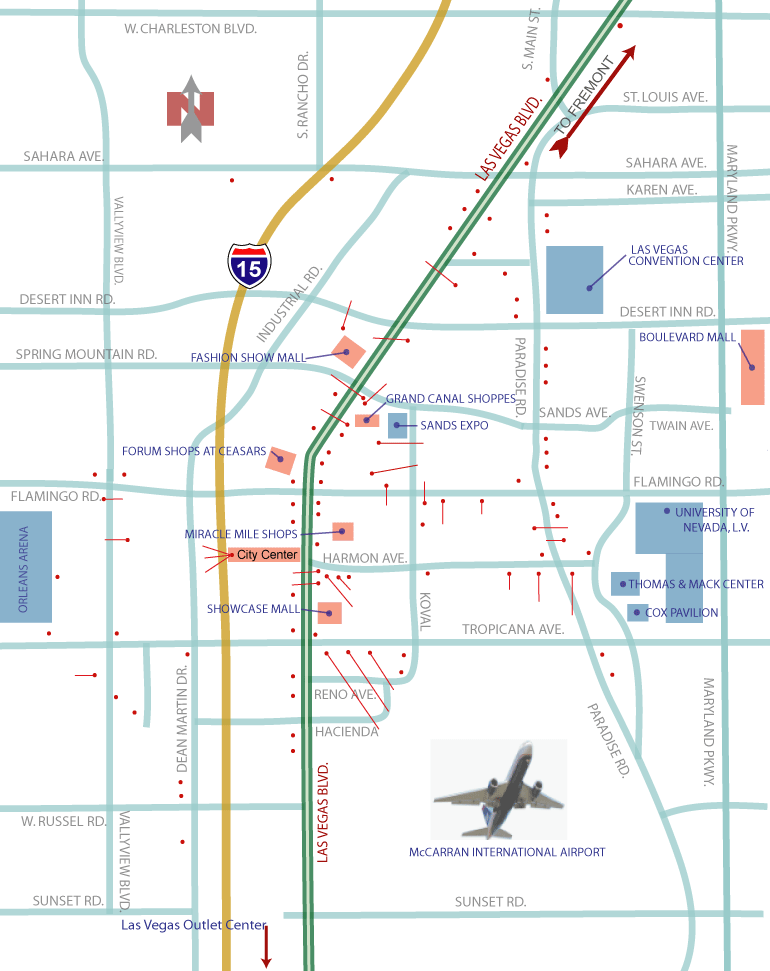 Get Started with

"Hotels"

Click the links in the left column or on

the map to find hotel & casino locations

on the

Las Vegas Strip.

Or rollover this icon

Aria
Alexis
Ambassador
America's Best Value
Artisan
Aruba Hotel & Spa
Atrium
Ambassador Strip Travelodge
Bally's
Bellagio
Best Western Mardi Gras
Best Western McCarran
Bill's Gamblin
Caesars Palace
Cancun Resort
Candlewood Suites
Carriage House
Casino Royal
Circus Circus
Clarion
Comfort Inn
Courtyard
Courtyard
Embassy
Suites
Embassy
Emerald
Suites
Emerald Suites
Tropicana
Encore at Wynn
Excalibur
Extended Stay
Deluxe
Fairfield Inn
Fairfield
Flamingo
Four Seasons
Gold Coast
Hampton Inn
Hard Rock
Harrah's
Desert Rose
Hilton Grand Vac.
Hilton Grand Vac.
Hilton Grand Vac.
Holiday Inn
Hooters Casino & Hotel
Howard Johnson
Hyatt Place
Imperial Palace
Jockey Club
La Quinta
La Quinta
Las Vegas Hilton
Luxor
Mandalay Bay
Mandarin
MGM Grand
Marriot Suites
Marriot Grand
Mirage
Monte Carlo
New York
New York
Orleans
The Palms
Palace Station
Palazzo
Paris
Planet Hollywood
Platinum
Polo Towers
Renaissance
Residence Inn
Residence Inn
Residence Inn
Rio
Riviera
Royal Vacations Suites
Sahara
Signature
Stratosphere
St Tropez
Summer Bay
Super 8
Terrible's
Travelodge
Treasure Island
Tropicana
Trump
Tuscany
Vdara
Venetian
Villa Roma
Westin
Wild Wild West
Wyndham
Wynn Las Vegas
3752 Las Vegas Blvd.S Las Vegas, NV 89109


Las Vegas Hotels on the Strip
Mandarin Oriental at City Center
Situated at the City Center's front entrance on the Las Vegas Strip, it is well located in the mini metropolis. Mandarin Oriental is a non-gaming upper-echelon boutique hotel geared toward high-end individual incentives.
At the ground level, guests will enter elevators that lift them up to its 23rd floor Sky Lobby. A spectacular aerial view of the dazzling skyline makes for a stunning arrival. In addition to lavish accommodations, guests are able to manage the lighting, entertainment systems, and room temperature at the touch of a button.
Number of suites: 392
47 Floors

Mandarin Oriental

Enjoy a scenic meeting place in their Tea Lounge. Diners can choose classic to authentic from the assortment of gourmet restaurants. The Mandarin Bar is a plush retreat to enjoy cocktails. Surrounded on three sides by floor-to-ceiling windows, guests enjoy a panoramic view.

Shoppers will be delighted to find a pedestrian bridge that connects Mandarin to Crystals, a half-million square foot retail and entertainment district. Shoppers may browse the numerous top name and designer retailers

The 27,000 square foot, two-level Spa offers a full menu of treatments, relaxation and water experiences that blend modern techniques and Eastern traditions. There is an expansive fitness center and separate Yoga studio.

Enjoy light fare, dim sum delicacies, and delicious beverages at their Poolside Café. The outdoor pool area has cabanas that offer a pleasant retreat.

The 7,650 square foot Oriental Ballroom, smaller function rooms, and intimate gathering spaces are all equipped with state-of-the-art technology systems.

Prestigious, exceptional luxury, innovative, and carefully designed to provide an exclusive experience of Oriental harmony.