Las Vegas Strip Map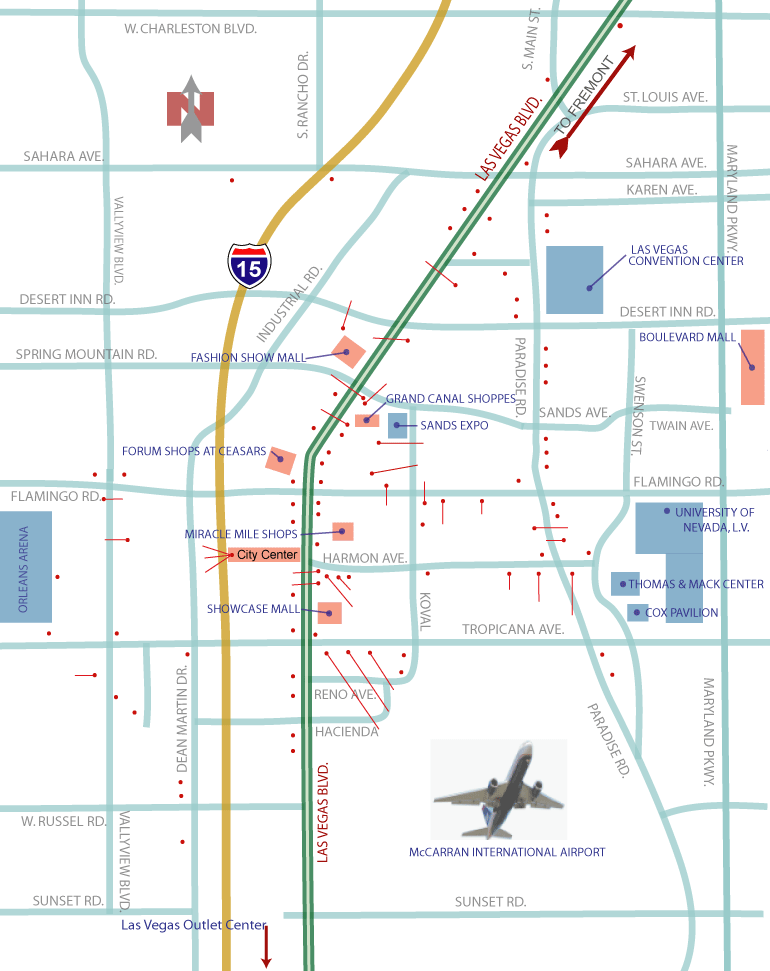 Get Started with

"Hotels"

Click the links in the left column or on

the map to find hotel & casino locations

on the

Las Vegas Strip.

Or rollover this icon

Aria
Alexis
Ambassador
America's Best Value
Artisan
Aruba Hotel & Spa
Atrium
Ambassador Strip Travelodge
Bally's
Bellagio
Best Western Mardi Gras
Best Western McCarran
Bill's Gamblin
Caesars Palace
Cancun Resort
Candlewood Suites
Carriage House
Casino Royal
Circus Circus
Clarion
Comfort Inn
Courtyard
Courtyard
Embassy
Suites
Embassy
Emerald
Suites
Emerald Suites
Tropicana
Encore at Wynn
Excalibur
Extended Stay
Deluxe
Fairfield Inn
Fairfield
Flamingo
Four Seasons
Gold Coast
Hampton Inn
Hard Rock
Harrah's
Desert Rose
Hilton Grand Vac.
Hilton Grand Vac.
Hilton Grand Vac.
Holiday Inn
Hooters Casino & Hotel
Howard Johnson
Hyatt Place
Imperial Palace
Jockey Club
La Quinta
La Quinta
Las Vegas Hilton
Luxor
Mandalay Bay
Mandarin
MGM Grand
Marriot Suites
Marriot Grand
Mirage
Monte Carlo
New York
New York
Orleans
The Palms
Palace Station
Palazzo
Paris
Planet Hollywood
Platinum
Polo Towers
Renaissance
Residence Inn
Residence Inn
Residence Inn
Rio
Riviera
Royal Vacations Suites
Sahara
Signature
Stratosphere
St Tropez
Summer Bay
Super 8
Terrible's
Travelodge
Treasure Island
Tropicana
Trump
Tuscany
Vdara
Venetian
Villa Roma
Westin
Wild Wild West
Wyndham
Wynn Las Vegas
2000 Las Vegas Blvd S
Las Vegas, NV 89104
(702) 380-7777


Las Vegas Hotels on the Strip
Stratosphere Tower Hotel
Stratosphere is noted to be the tallest freestanding observation deck in the U.S., reaching 1149 feet. During the day, guests can enjoy a 360-degree view of the mountain-ringed desert valley. At night, the skyline comes to life in a sea of neon lights.
There are thrills and exciting one-of-a-kind rides. Big Shot shoots passengers up to a height of over 1,000 feet and down again at a gut-wrenching 4 Gs of force. X-Scream propels passengers 27 feet out over the edge of the Tower at over 850 feet above the ground. Insanity, The Ride has a mechanical arm that extends 64 feet over the edge of the Tower, and spins passengers at a force of 3 Gs.
Number of rooms: 2,444
21 floors


Click on Icons for Hotel Details
Stratosphere Tower Hotel

They have a large array of deluxe guestrooms and suites with panoramic views of the Strip and surrounding mountains. The largest suite is over 2100 square feet of luxurious living space.

Live entertainment includes celebrity impersonator performances, and a topless production set in a Vampire theme.

There are lounges that feature live band entertainment, romantic view of the skyline, music video excitement in a neon lit atmosphere, and a bar to get a shot of liquid courage near the Big Shot rides.

Enjoy the Top of the World award-winning restaurant that revolves at the top of the Stratosphere needle. There are other casual dining options including the Buffet.

The Tower Shops has many unique stores and is themed in the marketplace streets of Paris, Hong Kong, and New York.

The swimming pool and 67,000 square foot recreation deck is located on the 8th floor of their Tower and features pool activities. There is a hot tub, poolside café, bar, and rental cabanas. They offer an adult-only pool environment at the Beach Club 25, located on the 25th floor with panoramic views of the city.

Roni Josef's Spa is an independent spa offering personalized treatments and therapies, and a full-service salon.

They have an 80,000 square-foot casino with over 1200 slot and video poker games, table games, Poker Room with daily tournaments, and race & sports Book fun.

Meeting, event and banquet facilities are located on the 103-104th floors of their Tower, and the 108-109th floor observation decks.

Their Chapel in the Clouds offers wedding packages. Select from a ceremony under the stars with a reception in the sky, an observation deck reception, or thrill ride ceremonies. They offer two modern chapels on the 103rd floor for traditional ceremonies.

Enjoy the high life, and experience the tallest view in Las Vegas at the Stratosphere.