Las Vegas Strip Map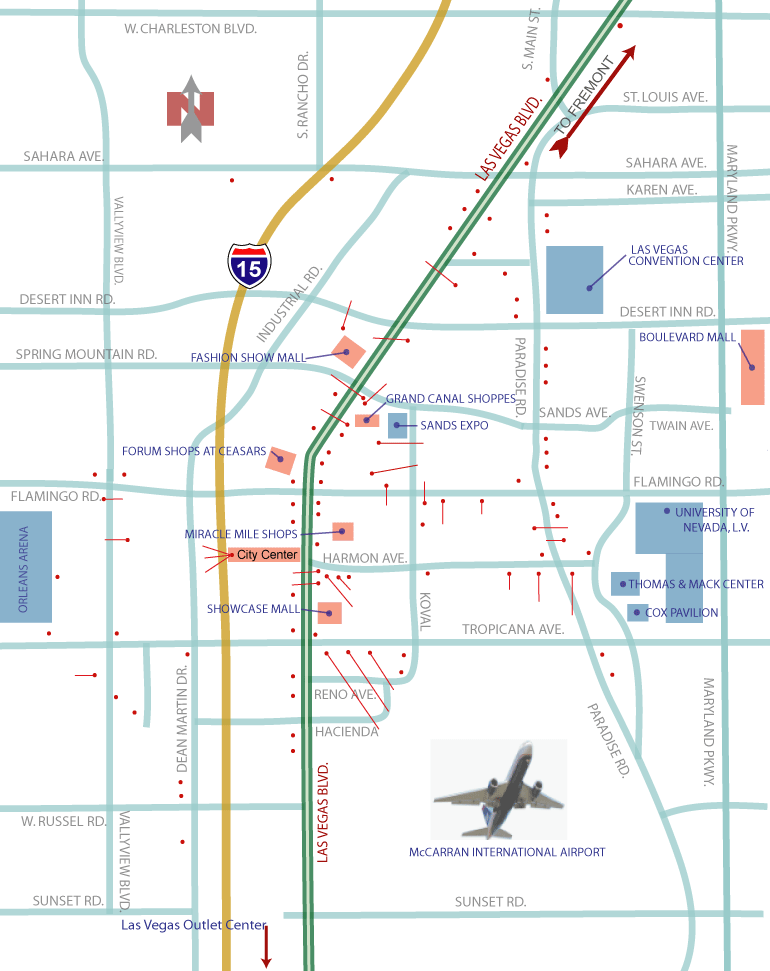 Get Started with

"Pools & Spas"

Click the links in the left column or on

the map to find Pool & Spa locations

on the

Las Vegas Strip.

Or rollover this icon

Aria
Alexis
Ambassador
America's Best Value
Artisan
Aruba Hotel & Spa
Atrium
Ambassador Strip Travelodge
Bally's
Bellagio
Best Western Mardi Gras
Best Western McCarran
Bill's Gamblin
Caesars Palace
Cancun Resort
Candlewood Suites
Carriage House
Casino Royal
Circus Circus
Clarion
Comfort Inn
Courtyard
Courtyard
Embassy
Suites
Embassy
Emerald
Suites
Emerald Suites
Tropicana
Encore at Wynn
Excalibur
Extended Stay
Deluxe
Fairfield Inn
Fairfield
Flamingo
Four Seasons
Gold Coast
Hampton Inn
Hard Rock
Harrah's
Desert Rose
Hilton Grand Vac.
Hilton Grand Vac.
Hilton Grand Vac.
Holiday Inn
Hooters Casino & Hotel
Howard Johnson
Hyatt Place
Imperial Palace
Jockey Club
La Quinta
La Quinta
Las Vegas Hilton
Luxor
Mandalay Bay
Mandarin
MGM Grand
Marriot Suites
Marriot Grand
Mirage
Monte Carlo
New York
New York
Orleans
The Palms
Palace Station
Palazzo
Paris
Planet Hollywood
Platinum
Polo Towers
Renaissance
Residence Inn
Residence Inn
Residence Inn
Rio
Riviera
Royal Vacations Suites
Sahara
Signature
Stratosphere
St Tropez
Summer Bay
Super 8
Terrible's
Travelodge
Treasure Island
Tropicana
Trump
Tuscany
Vdara
Venetian
Villa Roma
Westin
Wild Wild West
Wyndham
Wynn Las Vegas

Pools & Spas
Bally's Spa, Salon and Pool in Las Vegas
3645 Las Vegas Blvd S
Bally's Spa and Fitness Center
Bally's Spa in Las Vegas has a full-featured fitness center, that includes a weight room (free and mechanical weights) and cardiovascular equipment.
Bally's Spa has 18 treatment rooms with professional relaxation services available, separate men's & women's spas, multiple hot tubs, Eucalyptus steam rooms, wet and dry saunas.
Bally's Spa Las Vegas offers all types of tissue massages, hydrotherapy treatments, mineral body wraps, facials, waxing, and Vichey shower treatments.
Massage by appointment. Bally's Swedish Massage (50 minutes) Call 702-967-4366 for reservations or
more information.
Bally's Spa Service Menu
Bally's Spa Virtual Tour
Bally's Spa Website
Bally's Salon
Salon services are available at the Regis Signature Salon located at the Bally's Mall level. They offer hair styling for men and women, nail treatments, facials, body wraps, eyebrow sculpting and professional beauty
supplies are sold.
Regis Salon Locations in Las Vegas
Bally's Pool
Bally's Las Vegas pool offers a heated swimming area to ensure water is always pleasant and refreshing. There is a separate whirlpool area. The motif is lush and tropical.
Bally's offers poolside beverage service and a poolside restaurant (seasonal). Private cabanas are available for Bally's hotel guests. The private cabanas accommodate up to 8 people and are available daily from 10 am to 6 pm.
Private cabanas are complete with TV, refrigerator, telephone, ceiling fans, patio furniture, reclining lounge chairs, local/cable TV, towels complimentary raft rental and cabana Host/Hostess and Food Server.
Cabanas are limited. Reservations may be made two months in advance.
(Bally's Las Vegas Cabana Rental & Pool Hours)
Bally's Pool Virtual Tour
Bally's Cabana Virtual Tour
Bally's Pool Website