Las Vegas Strip Map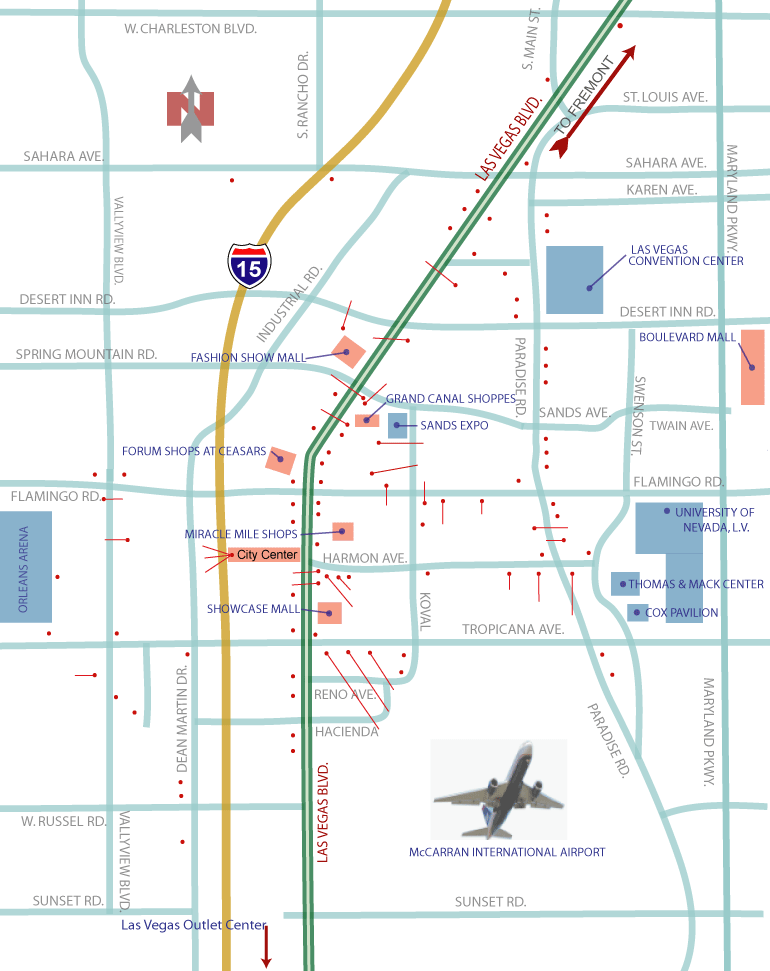 Get Started with

"Shows"

Click the links in the left column or on

the map to find shows & tickets on the

Las Vegas Strip.

Or rollover this icon

Aria
Alexis
Ambassador
America's Best Value
Artisan
Aruba Hotel & Spa
Atrium
Ambassador Strip Travelodge
Bally's
Bellagio
Best Western Mardi Gras
Best Western McCarran
Bill's Gamblin
Caesars Palace
Cancun Resort
Candlewood Suites
Carriage House
Casino Royal
Circus Circus
Clarion
Comfort Inn
Courtyard
Courtyard
Embassy
Suites
Embassy
Emerald
Suites
Emerald Suites
Tropicana
Encore at Wynn
Excalibur
Extended Stay
Deluxe
Fairfield Inn
Fairfield
Flamingo
Four Seasons
Gold Coast
Hampton Inn
Hard Rock
Harrah's
Desert Rose
Hilton Grand Vac.
Hilton Grand Vac.
Hilton Grand Vac.
Holiday Inn
Hooters Casino & Hotel
Howard Johnson
Hyatt Place
Imperial Palace
Jockey Club
La Quinta
La Quinta
Las Vegas Hilton
Luxor
Mandalay Bay
Mandarin
MGM Grand
Marriot Suites
Marriot Grand
Mirage
Monte Carlo
New York
New York
Orleans
The Palms
Palace Station
Palazzo
Paris
Planet Hollywood
Platinum
Polo Towers
Renaissance
Residence Inn
Residence Inn
Residence Inn
Rio
Riviera
Royal Vacations Suites
Sahara
Signature
Stratosphere
St Tropez
Summer Bay
Super 8
Terrible's
Travelodge
Treasure Island
Tropicana
Trump
Tuscany
Vdara
Venetian
Villa Roma
Westin
Wild Wild West
Wyndham
Wynn Las Vegas


Penn & Teller at the Rio Hotel
Penn & Teller performs at the Rio... abracadabra!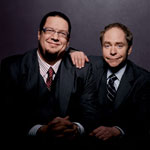 Penn & Teller is a popular headliner show now performing at the Rio Las Vegas. The duo can be defined as eccentric magicians with a psychotic twist.
This comedy duo presents an amusing show of magic, illusion, comedy with hilarious audience interaction. A jazz pianist accompaniment adds another unique touch to the show.
Their specialty array of gory tricks and clever pranks are designed for shock appeal, yet presented in a humorous manner.
Penn & Teller brings an extra special element through the expression of their own personalities. Penn presents himself as a narrator providing commentary of the comedic antics going on. Teller is the silent type, a la Harpo Marx., that keeps the audience engaged while providing the show's action.
Sometimes, the pair will claim to reveal a secret of how a magic trick is done. But, everyone knows that a magician should never reveal their secrets.
Many of the interesting illusions Penn & Teller present are invented by the duo for the purpose of exposing the secret to the the audience. Their creative intuitiveness is interesting and entertaining.
Some of their routines include the disappearing ball and cup, knife throwing with audience participation, disappearing and reappearing objects, and an array of card tricks. Some tricks are industry standards but Penn & Teller play them out in such a unique and talented manner that the audience gives rave reviews.
A repertoire of risky stunts that Penn & Teller have performed in their days include hanging upside-down over a bed of spikes in a straitjacket, being run over by an 18-wheel tractor-trailer and near drowning in a large container of water.
One thing is for sure, there's magic and lots of it. The show is creative and edgy. Illusion and humor are expertly blended in a manner designed to entice, stump, and most certainly amuse.
Experience the Penn & Teller show at Rio Las Vegas.
Las Vegas shows sell out fast. Book early for best seats.
Las Vegas Power Pass

The Las Vegas Power Pass offers huge savings off admission fees to the largest
selection of top Las Vegas shows, restaurants and attractons. Skip the lines at
many locations and save time and money.



Half Price Shows

Purchase shows, tours, and attraction tickets for 50% off box office price. With HalfPriceShows there is no reason to pay full price or stand in lines. New items are added regularly. Buy discount tickets online!



Club Viva Las Vegas

NO cover charges. NO waiting in lines. Nightlife connection to the hottest clubs. Luxury transportation, VIP entrance with host and cocktails onboard. Hit three clubs for $49. Bachelor & bachelorette party specials. They get you in!



Vegas Bite Card

Save Over $500 on Shows, Tours, Attractions, Restaurants, Golf and Weddings! Half price shows and food. Unlimited use for one year. Card with no coupons. Show your card to receive discounts. The premium discount card for Las Vegas.



Las Vegas Perks

Experience Las Vegas at half price with Las Vegas Perks coupon book. For one low price, you'll receive a discount book worth over $1,200 in "2 for 1" Las Vegas dining, shows, tours, attractions, gaming credits and match play certificates.



Golf Card International

Savings on golf at nearly 3,000 golf courses. Up to 50% savings on cart and green fee for two rounds per year at an additional 2,400 courses. Newsletter and 20% savings on product purchases.